JAY FAERBER

SEND THIS TO A FRIEND!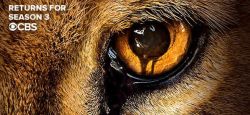 DF Interview: Jay Faerber uncages third season of Zoo at CBS
By Byron Brewer
Summer is here, and time for baseball and TV reruns! Right? Wrong!
Back is last summer's #2 fresh scripted series, Zoo, which will premiere on Thursday, June 29th at 10E/9C on CBS.

In Season 3 (three!), it's 2027 and the world is facing a tipping point as the human population continues to decline because of a sterility problem. At the same time, an equally devastating threat to the population is rising in the form of "the hybrids," an army of unstoppable lab-made creatures who are intent on destroying what's left of mankind.
Comics scribe Jay Faerber is also a writer on Zoo, and DF persuaded him to draw back the curtain on Season 3 of the series before its premiere (not that we threatened him with hybrids … not us!).
Dynamic Forces: Jay, comics fans of course know you for being the scribe behind a number of titles for a number of publishers, everything from The Titans to Dynamo 5. But tell us a little about your television writing experience.
Jay Faerber: I've been writing TV for about six years now, after going through the Warner Bros TV Writers Workshop, which is sort of a boot camp to train and develop new voices in television. From there, I got staffed on Ringer, a CW drama starring Sarah Michelle Gellar. Since then, I've juggled my comic book writing along with TV writing.
DF: How did you come to be associated with the CBS sci-fi drama Zoo?
Jay Faerber: I took a meeting on the show when they were staffing up for their first season. I knew Executive Producers Josh Appelbaum and Andre Nemec a little bit, as they produced Star-Crossed, a show I'd worked on previously. I was eager at the chance to work with them again.
DF: For those off on an island or under a rock during the past two summers, can you give us a thumbnail summary of what the show is about please?
Jay Faerber: Zoo is based on a novel by James Patterson and Michael Ledwidge.
It's about animals all over the world who rise up and rebel against humanity, and a group of people brought together to try to understand what's happening and reverse it — without killing the animal population.
DF: Can you introduce us to just a few of the key characters?
Jay Faerber: The core cast is Jackson Oz, an expert in animal behavior, Jamie Campbell, an investigative reporter, Mitch Morgan, a veterinary pathologist, Abraham Kenyatta, a former safari guide, Dariela Marzan, an ex-soldier, and Logan Jones, a mercenary.
DF: Zoo is set to enter its third season on CBS June 29th. What does a new viewer need to know to begin their journey with the program this summer?
Jay Faerber: Season 3 begins ten years after the events of last season, in a world where mankind has been rendered sterile. There have been no human births in the past ten years. Plus, hybrid animals — ferocious, lab-made creatures — have been let loose on the world, and have ravaged the western part of North America. Our heroes have been scattered to the wind, and season 3 picks up with them in much different circumstances than we left them last season. It's the perfect place for new viewers to dive in. It's also worth noting that the first two seasons are available on Netflix, so it's easy to catch up.
DF: Tell us a little about the rigors of making a show which is known to utilize such a variety of animals. I am sure there are concerns (animal rights groups, etc. etc.) and challenges to overcome in production. Is CGI involved in any way?
Jay Faerber: We use Computer-Generated Imagery quite extensively throughout the show, to accomplish various special effects — especially the hybrid animals that our heroes will be encountering this season.
DF: Any hints as to what our group of animal-associated professionals will be up to in S3?
Jay Faerber: This will be the first season where our heroes will be facing two monumental challenges — trying to find a cure for mankind's sterility and finding a way to contain the growing threat of the hybrid creatures. The stakes have never been higher.
DF: Jay, any other projects (from any medium) current or near-future you'd care to let our readers know about?
Jay Faerber: In addition to my writing duties on Zoo, I also write the Image Comics series Copperhead every month, and in August I'm launching a new series at Image called Elsewhere, about the adventures of Amelia Earhart trapped in an exotic world filled with strange creatures.
Dynamic Forces would like to thank Jay Faerber for taking time out of his busy schedule to answer our questions. Zoo premieres Thursday, June 29th at 10E/9C on CBS!
For more news and up-to-date announcements, join us here at Dynamic Forces, www.dynamicforces.com/htmlfiles/, "LIKE" us on Facebook, www.facebook.com/dynamicforcesinc, and follow us on Twitter, www.twitter.com/dynamicforces.
---
NEW! 1. 11/25/2020 - STEVE SKROCE
4. 11/16/2020 - RYAN O'SULLIVAN
5. 11/16/2020 - RYAN O'SULLIVAN