ANDY DIGGLE

SEND THIS TO A FRIEND!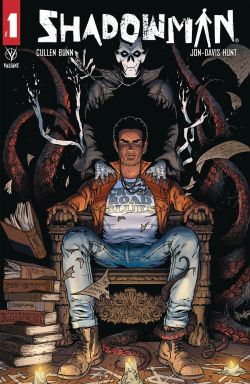 DF Interview: Andy Diggle unearths the true tale of the loa in Shadowman
By Byron Brewer
For years, Jack Boniface believed that he knew the true story of the Shadowman loa -- the true story of the curse inside him. As he begins to discover in issue #4, he was wrong.
For the first time, Boniface is about to discover the long-hidden history of the supernatural power that became his birthright. Unmoored in time and space, the loa is about to reveal its untold dimensions… and now, the last defender of the wall between our realm and the Deadside is falling backwards through the astral void, finding himself face to face with his forebears across the centuries -- from the paranoia-addled alleyways of 1940s New York to the fire-scorched plantations of the Civil War, all the way back to the primeval height of the African savannah in 40,000 B.C.!

In the shock-inducing aftermath of "Fear of the Dark," writer Andy Diggle (Green Arrow: Year One) leads a rotating cast of superstar artists -- including Shawn Martinbrough (Thief of Thieves), Doug Braithwaite (Justice), and Renato Guedes (Wolverine) -- to reveal the full scope and power of the Shadowman mythos, and how three of its forgotten champions stoked its earliest embers with a legend-fueled odyssey into eons past. "Dead and Gone" tells all!
To learn more about this all-new Shadowman arc, DF had to search no further than scribe Andy Diggle. Here's what he told us.
Dynamic Forces: First, Andy, how does it feel to be working on one of Valiant's most iconic characters
Andy Diggle: I'm having a lot of fun with it, and thrilled to be paired with amazing artists like Stephen Segovia, Shawn Martinbrough, Doug Braithwaite and Renato Guedes. There's a lot of untapped potential in combining voodoo mythology with the larger-than-life spectacle of the Valiant Universe, and we've only just scratched the surface.

DF: I hear that, with the publishing of Shadowman #4, an exciting new arc will be starting! What can you tell us about it?

Andy Diggle: Shadowman is dead. His soul has been cast out of his body and cast adrift in time. As he falls back through his family's timeline, he briefly manages to grab onto the lives of some of his ancestors who hosted the shadow loa in past eras. So we get to see the "pulp noir" Shadowman of 1940, the "first" Shadowman Marius Boniface in a post-Civil War Western, and even a neolithic hunter in prehistoric Africa. The shadow loa is an ancient entity, but it was only bound to the Boniface bloodline in 1865. Which begs the question, what was it doing before that?

DF: A lot of history here with this hero. Is issue #4 a good jumping-on place for new fans, or even returning veterans of the character? If so, why?

Andy Diggle: Any issue might be someone's first, so Valiant books always include a recap page to bring new readers up to speed. There have been various allusions to the history of Shadowman's ancestors, but we only ever saw brief glimpses of them in action. There are huge chunks missing from the history. Context is important for a legacy character, and it will give Jack a greater sense of his own untapped potential, and open up new possibilities for him moving forward and becoming a power player in the Valiant Universe.

DF: Tell us a little about your iteration of Shadowman. What's the same, and what is new/different?

Andy Diggle: I'm building on what was already there. The previous series put Jack through the wringer, and he had a tendency to lash-out self-destructively. We're sending him on a journey of self-discovery that will enable him to better control his powers. So the angry, guilt-ridden Jack will come to embrace his legacy, and revel in it, as he levels up.

DF: Jack Boniface meeting his loa-ridden forebears while at the same time revealing a new aspect of his origin has got to be one of the most fun plots for this character in some time. Andy, was there any inspiration for this storyline?

Andy Diggle: We'd heard that Jack's ancestors were better able to control the loa, and the first rule of writing is show, don't tell. I wanted to show them in action, so Jack could learn from them first-hand. Plus it's a great opportunity to play with a range of different genres and art styles. The 1940s Shadowman obviously harkens back to pulp characters like The Shadow and hard-boiled detective fiction, while the post-Civil War story channels my love of revisionist Westerns like The Outlaw Josey Wales and Unforgiven.

DF: Talk about working with the incredible Shawn Martinbrough.

Andy Diggle: As soon as the noir story was greenlit, I lobbied for Shawn to draw it. He literally wrote the book on "How to Draw Noir Comics", and I had a blast working with him on Thief of Thieves. He can do amazing things with light and shadow – just look at the Brooklyn Bridge sequence from Shadowman #4. I can't wait to work with him again!

DF: Andy, what other projects are you involved in that you can talk about here?
Andy Diggle: We've just announced Incursion, a Valiant crossover event drawn by Doug Braithwaite in which Shadowman will appear. An alien civilization moves to replace Earth's ecosystem with its own – and humanity's afterlife with its own! So, while Tama the Geomancer and her allies deal with the threat to the real world, Shadowman and other Valiant heroes tackle the menaces in the various realms that lie beyond death – from the Deadside to the Outer Limits. It's pretty crazy!

I also have a few other big projects bubbling away in the background which I'm not allowed to talk about yet, but watch for announcements at New York Comic-Con. It's a busy year for me.
Dynamic Forces would like to thank Andy Diggle for taking time out of his busy schedule to answer our questions. A new arc, beginning in Shadowman #4 from Valiant Entertainment, hits stores June 20th -- this Wednesday!
For more news and up-to-date announcements, join us here at Dynamic Forces, www.dynamicforces.com/htmlfiles/, "LIKE" us on Facebook, www.facebook.com/dynamicforcesinc, and follow us on Twitter, www.twitter.com/dynamicforces.
JAMES BOND: KILL CHAIN HARDCOVER - SIGNED BY ANDY DIGGLE
JAMES BOND: HAMMERHEAD TRADE PAPERBACK
JAMES BOND: HAMMERHEAD HARDCOVER
---
NEW! 1. 11/30/2020 - SKYLAR PATRIDGE
5. 11/16/2020 - RYAN O'SULLIVAN