JOHN LEES

SEND THIS TO A FRIEND!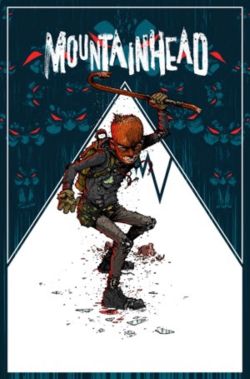 DF Interview: John Lees blends an exciting psychological thriller with hardcore horror in 'Mountainhead'
By Byron Brewer
Abraham Stubbs and his father Noah roam America in a nomadic existence. Convinced they are being pursued by sinister government forces, Noah has them living off the grid, burgling houses to survive. Elsewhere, on Mount Rector, the lone survivor of a climbing expedition staggers homeward, covered in blood. Both are on an inevitable collision course with the picturesque Canadian resort town of Braeriach.
From writer John Lees (Sink) and artist Ryan Lee (Archer & Armstrong), featuring colors from Doug Garbark and letters from Shawn Lee, comes IDW's Mountainhead! DF chatted up the book with scribe John Lees to bring you more on this macabre miniseries.
Dynamic Forces: John, tell us about the genesis of this psychological thriller, Mountainhead. Is this something that has been on the backburner in the Lees noodle for awhile, or something newly born?
John Lees: The road towards bringing Mountainhead to life has been long and winding. Long before the story of Mountainhead as it stands now existed, the character of Abraham Stubbs (name and all) was in my head. He's a figure who's inspired by a couple of real-life stories that had a major impact on me (I can't say who yet as that might give too much away), and so he was percolating in my brain for ages, a character without a story. I had his setup, sure enough, what makes up around the first half of this first issue in telling us who he is. But past that, any story I tried to develop fell flat, feeling like it wasn't good enough to sustain this rich character of Abraham Stubbs I'd created and grown so fond of. So, Abraham went into the mind archives.
Fast forward a few years, and I'm talking to the great Ryan Lee about us developing a story together. I come up with the central plot of Mountainhead, and I'm getting all these rich visuals of splashes of blood in the snow, the atmosphere I'm going for and that I know Ryan will kill at bringing to life. But it felt hollow, and I realized what was missing was a compelling character arc to ground everything. I had a story without a character. Then I thought back to that character without a story I had, and the two went together like hand in glove, one adding whole new layers of nuance and intrigue to the other, both becoming complete. I love when the creative process works like that. It can take years to pay off, but when it does, it's so satisfying!
DF: These days you hear a lot about people living "off the grid," some understandable and some rather extreme. Tell readers what you can about Abraham Stubbs and his father Noah. Describe their relationship, if you can, and how they see the world.
John Lees: The relationship, as they see it, is Abraham and Noah versus the world. For as long as he can remember, Abraham has been on the run. Him and Noah have been traveling across America, staying in cheap motels or hostels, scoping out houses and burgling them to survive, but never hanging around the same place long. But as far as they're concerned, they're not just on the move, they're being chased. Noah has told Abraham that mainstream society is a trap, that those living within the fold have been indoctrinated and brainwashed by the Government, turned into pliant slaves. And he's warned Abraham that those who refuse to live within the system are made to disappear. He says that's what happened to Abraham's mother, way back when he was too young to remember, and that if they stop, if they let their guard down, the faceless agents of darkness at the heart of America will knock down their door and take them. Abraham has never seen these agents himself, but has spent his whole childhood living in constant fear of them. Only now, Abraham is 14 years old, and he's starting to grow more curious about this regular world of stability and possessions he's missed out on. And he's become more questioning, and more aware of his father Noah's unstable, steadily deteriorating mental state.
DF: Other side of the coin: What can you tell us, if anything, about the sole survivor of a climbing expedition gone horribly wrong. (Are we talking any cannibalism here?) How does the climber's path cross with the Stubbses, and why are they at odds? (I am intrigued by the book already!)
John Lees: There's not much I can tell you, save for the fact that the survivor is called Theo Halbot, and that the disastrous climbing expedition takes place on Mount Rector, a little-known mountain in the Canadian Rockies. Mount Rector overlooks the scenic mountain town of Braeriach, which will turn out to be a crucial location in our story.
DF: This is a tale, I can see, that is really going to get into the heads of its characters. Do you enjoy this type of psychological thriller where there is a tautness and suspense every second?
John Lees: I absolutely enjoy this type of story, and I think one of the most effective means of generating that tautness and suspense is to put the reader into the mindset of your characters. Let me give you a movie example. Blue Ruin is a great film, and a big part of its power lies in how it utilities perspective. The plot is fairly standard revenge-based crime film fare, but because we're honed right in on the protagonist, clutching a gun in the dark, terrified, waiting for the killers to show up at his family's house, what could be a perfunctory gun-fight instead pushes into the border of horror. A story's genre can be determined by what character we're following, and how deep into their heads they are. And with Mountainhead, our aim is to wring maximum drama out of us experiencing this world through the limited perspective of Abraham, a world full of threat and uncertainty, where the rug is being continually pulled out from under our feet.
DF: Aside from the mentioned protagonists, any other characters readers need to know about as we begin our journey in August?
John Lees: Lauren and George Stensgaard. Nancy Furness. Nolan Devreux. They're all characters who will turn out to be significant. How? You'll have to read the story and find out!
DF: Talk a little about the art of Ryan Lee and the colors of Doug Garbark. What do they bring to your script?
John Lees: Ryan Lee and Doug Garbark bring so much to this book. I touched on it before, but Mountainhead first found life through Ryan and I wanting to work together on something. So, Ryan Lee came before the project did, and from its inception I was thinking about this book in terms of how it would look being brought to life by Ryan. I'd already been a fan of his for years, I think he's one of the most distinctive, exciting voices working in comics, and one of the things about this book I'm most excited about is more readers getting to discover what a special talent he is. And in Doug Garbark, he has found the perfect partner. Ryan has a highly rendered, detailed style that he himself will tell you can make it difficult to find the right colorist. But Doug just has an intuitive feel for how to bring the best out of Ryan's work. All the pages I've seen so far are magic. I don't think people are ready for just how stunning the visuals are going to be!
DF: John, what other projects can you tell readers about in which you might be involved?
John Lees: My current ongoing comics project is Sink, from ComixTribe. I work on that with artist Alex Cormack (currently knocking everyone's socks off in another new IDW comic, Road of Bones), and Mountainhead letterer Shawn Lee. It's a series of standalone pulp crime/horror tales, each connected by the shared location of Sinkhill, a forgotten district of Glasgow, Scotland where strange, violent and nightmarish things are known to happen. Volume 1 has been collected and is available to buy, and Volume 2 is currently drawing to a close in comic shops, with Sink #9 just released and Sink #10 on the way soon.
Another book I have in the works is Hotell, from Upshot Studios, with artist Dalibor Talajic and colorist Lee Loughridge. That's an anthology horror series in the Tales from the Crypt tradition, set in Pierrot Courts, an old roadside hotel off Route 66, where every room has a story. Look for more news on that in the coming months, as well as news about other things in development.
The other project I work on is Deep-Ender, a swimming-based sports comedy, which is very different from the rest of my output but up there with the projects I'm most fond of. To read the first two chapters for free, all you need to do is subscribe to my weekly newsletter at www.deep-ender.johnleescomics.com. Beyond that, you can check out original short stories from me each month along with a host of other exclusive content on my Patreon page, www.patreon.com/johnlees.
Dynamic Forces would like to thank John Lees for taking time out of his busy schedule to answer our questions. Mountainhead #1 (of 5) from IDW Publishing hits stores August 14th!
For more news and up-to-date announcements, join us here at Dynamic Forces, www.dynamicforces.com/htmlfiles/, "LIKE" us on Facebook, www.facebook.com/dynamicforcesinc, and follow us on Twitter, www.twitter.com/dynamicforces.
---
NEW! 1. 11/30/2020 - SKYLAR PATRIDGE
5. 11/16/2020 - RYAN O'SULLIVAN