GORDON RENNIE

SEND THIS TO A FRIEND!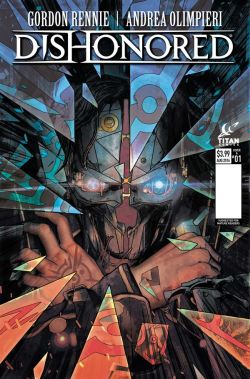 DF Interview: Gordon Rennie adds to Dishonored canon in new mini
By Byron Brewer
Having cleared his name of the Empress Jessamine's murder, Corvo Attano is setting his sights on the future and securing an apprentice to continue his legacy. But when confronted by an impossible face from the past, the magically-gifted assassin finds himself once again drawn into a supernatural conspiracy, one that threatens to shake the very foundations of the ancient city of Dunwall.
From the popular video game franchise comes Dishonored, a limited series from writer Gordon Rennie and artist Andrea Olimpieri. To get YOU the entire story behind this new mini, DF sought out the scribe on a quiet street in Dunwall.
Dynamic Forces: Gordon, tell us how you became involved in Titan Comics' newest teaming with a video game franchise.
Gordon Rennie: I'd wanted to work with Titan for a while. They knew that, in my other secret identity, I'm an award-nominated games writer, and thought I'd be a good match for one of one of the games licenses they'd picked up. The first one they'd offered me I didn't think was my kind of thing, but Dishonored seemed much closer to the sort of story and fictional world I like, so I said yes.
DF: Does this book fall within the gaming "continuity," if there is such a thing? And if so, where?
Gordon Rennie: The guys at Arkane and Bethesda have a very strong sense about their world, their characters and the stories that go with them, so this definitely fits into the continuity of the games. It's set twelve years after the events of the first Dishonored game, and two years before the start Dishonored 2. Quite a lot's happened in the world since the end of the first game, so my story's all about catching up with some of those things and showing some of the new conspiracy that's at the heart of Dishonored 2 starting to come together.
DF: What can you tell us of the storyline of the four-issue limited series you are writing? And do readers need to be familiar on the goings-on of the video game to follow the LS or is it reader-friendly?
Gordon Rennie: It's hopefully reader-friendly enough that readers who aren't committed fans of the game will get plenty out of it. I was only distantly familiar with the game world when I took on the job, so I wanted to make my story as accessible as possible, and not bury it in background detail and esoterica. (And, trust me, there's a lot of background detail to draw on; the game's designers have really put some serious thought and effort into giving their game world a rich and deep background.)
DF: For the uninitiated, can you introduce us to your protagonists and give a little background?
Gordon Rennie: The main character is Corvo Attano, who was the protagonist in the first game, and is still one of the two characters you can choose to play the sequel as. He's the royal protector and spymaster in the slightly steampunk-toned imperial capital of Dunwall. There are plots against the young empress, including supernatural ones, and it's his job to ferret them out and stop them.
DF: In as non-spoilery a manner as possible, what can you tell us about "the impossible face from [Corvo's] past"?
Gordon Rennie: Corvo's older sister Beatrici disappeared when he was a child. Her disappearance has always plagued him, and may be a chief unconscious motivating factor in his desire to seek out and punish wrongdoing and protect the life of the empress. Now, in my story, someone possibly majorly connected to his sister suddenly appears in Corvo's life, sending him searching for his sister at the same time as evidence starts to appear that there's another witchcraft-inspired plot against the empress starting to take shape.
DF: Tell us some of the challenges of writing a comic based on characters/happenings from other media, especially when they are ongoing.
Gordon Rennie: Well, you can play with the toys, but you have to put them back where you found them and in the same condition when you're finished. Interestingly, with adapting games to comics, novels etc – and I've done both before – the challenge is in fleshing out what sometimes sketchy information there is on the game world background and the character histories. With Dishonored, it was the exact opposite; the challenge was in deciding what to leave out, because there's so much background detail already there, just a fraction of which has even appeared yet in the games.
DF: How has it been to work with artists Andrea Olimpieri and Marcelo Maiolo?
Gordon Rennie: They've done a great job. Unfortunately, other than waving hi to each other on social media, I haven't really talked to them much. Everything's been done through the editors at Titan.
DF: Gordon, what other comics or related projects might you have going on now or near-future you may want to share with us?
Gordon Rennie: I'm working on a couple of game-writing projects that – true to the ever-secretive nature of the games industry – I can't really talk about at the moment. In comics, I'm wrapping up on the Doctor Who series that I'm co-writing for Titan, and working on a bunch of things for legendary UK title 2000AD. At some point soon, I'll also be starting a third series of my creator-owned series Department of Monsterology, and a sequel to my award-winning graphic novel Robbie Burns: Witch Hunter.
Dynamic Forces would like to thank Gordon Rennie for taking time out of his busy schedule to answer our questions. Dishonored #1 hits stores August 3rd!
For more news and up-to-date announcements, join us here at Dynamic Forces, www.dynamicforces.com/htmlfiles/, "LIKE" us on Facebook, www.facebook.com/dynamicforcesinc, and follow us on Twitter, www.twitter.com/dynamicforces
---
NEW! 1. 11/25/2020 - STEVE SKROCE
4. 11/16/2020 - RYAN O'SULLIVAN
5. 11/16/2020 - RYAN O'SULLIVAN