MIRKA ANDOLFO

SEND THIS TO A FRIEND!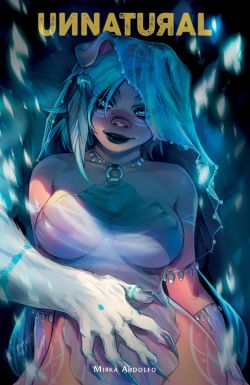 DF Interview: Mirka Andolfo brings her hit Italian series to American readers in Unnatural
By Byron Brewer
Leslie is a simple pig girl. She loves sushi, she's stuck with a job she hates, and she lives under a brutal totalitarian government – one that punishes transgressors for anything deemed "unnatural." Leslie dreams of something different for herself. But those dreams are becoming dangerous.
This Italian hit series by Mirka Andolfo (Wonder Woman, Harley Quinn, DC Comics Bombshells) will transport you into a colorful but terrible world – full of anthropomorphic creatures, but light on personal freedoms – by way of a breathtaking plot that travels between thriller and fantasy, with a hint of sensuality.
DF was anxious to know more about this special series, so we caught up with artist/writer Mirka Andolfo.
Dynamic Forces: Mirka, how does it feel to have your beautiful comic Contro Natura coming out in English to the American market for the very first time from Image Comics?
Mirka Andolfo: I can't say if I'm more thrilled, honored or anxious. When I started working on Contro Natura, it was a project that I was not even sure would be published. Then it had good success in Italy, and I dreamed about an American release (I'm used to American comics, so I had this kind of comics in my mind while working), but I never hoped for Image Comics. It's not so common for Image to publish translated comics, and, as far as I remember, this is the very first time for an Italian project. I'm very anxious about the reaction of the American audience, I hope they will like it!
DF: Tell us, if you will, the general storyline of what will be known in the States as Unnatural.
Mirka Andolfo: Leslie is a young common (pig) girl, living in a world not so different from ours, but where the government manages many aspects of people's personal lives: they are very interested in the conservation of the species, and so they are concerned to ensure the correct relational (and sexual) habits of people. Leslie is not interested in politics or civil rights: she has a boring life, with a bad job, and a lot of bills to pay. But, during the nights, she makes some strange (and sexy!) dreams, with an awesome white wolf. This is the beginning of a story, hovering among mystery, romance and fantasy.
DF: Can you introduce us to your protagonist, Leslie? From the writer's perspective, tell us about her as a character.
Mirka Andolfo: Well, in my mind, Leslie had to be a perfectly common character. Like a girl you can meet on the subway, or at a restaurant. She's absolutely ordinary at first sight. And she will be dragged into events larger than her, which she does not even fully understand.
Regarding her personality, in many aspects (not all of them… lucky me!) she is very similar to me: shy, introverted… And she adores sushi, as I do!
DF: Your villain (or at least one of them) for this comic literally IS a "big-bad," a mysterious wolf that has invaded Leslie's dreams. What can you tell us of this foe?
Mirka Andolfo: Are you sure he's a villain? I'm not. (smiles)
Sorry for the joke, but consider that not everything is so clearly identifiable and categorized in Unnatural. In Leslie's dream, we only see a big wolf (and he's really beautiful!), and some sensual situations between him and Les. And this kind of situation is considered "unnatural," so, when she wakes up, Leslie feel guily. That's it. Will he be a bad guy? Let's see!
DF: Any other characters readers should be aware of? If so, can you introduce us to them here please?
Mirka Andolfo: I think that two other important characters are Trish and Derek, Leslie's best friends. Trish is her roommate. They have been friends for many years, since they were at school, and have an almost fraternal relationship. And Derek is a very good friend (and work colleague) for Les: they they find strength in each other to face the long days in the diner where they both work.
And, finally: Pif. He's Leslie's pet, a small, cute velociraptor. I'd like to have one too!
DF: Mirka, this is certainly a timely tale, surrounded by your wonderful imagination but also ripped from today's news headlines. If you would, talk a little about the inspiration for Unnatural and any subtext you might be focusing on in your saga.
Mirka Andolfo: I promise that I do not try to talk about current events in my comics, at least intentionally, from the outset. But I'm surely influenced by the actual political and social situation we are living in Italy, and in general all over Europe. Personal freedoms too often are questioned, and sometimes I have the impression that we are going to fall back into a new Middle Ages.
Obviously in the narration there are some hyperboles, but not so many. For instance, in the first pages of issue # 1, you find an aberrant social campaign on posters on the street. Well, some months after I did this, in Italy we had a campaign that was not so explicit, but very very similar to comic's in its intention.
DF: For the re-presentation by Image of Contro Natura in English as Unnatural, were there any story elements or plot threads lost? If so, can you tell interested readers about it/those?
Mirka Andolfo: To be honest, I'm totally happy about the English version of Contro Natura. I had the chance (and it's more than what usually happens when a publisher decides to translate a comic book) to work together with the translators, and everything went in an amazing way. We decided, together with my Italian publisher and the studio where I work (Arancia Studio, based in Turin) to have a translation made by an Italian pro translator, and then do a sort of massive editing/re-adaptation of that. I must admit that, right now, when I read Unnatural, I find the American edition even better than the original.
DF: Mirka, what else are you working on in or outside comics that you can tell our readers about?
Mirka Andolfo: Well, I continue working as an artist at DC Comics (Harley Quinn, right now), and it was just announced what I have been working on during the last months: a new series called Hex Wives at Vertigo. Then I'm finishing right now the last pages of Unnatural #12 (the last issue), and thinking about a new upcoming creator-owned project.
Dynamic Forces would like to thank Mirka Andolfo for taking time out of her busy schedule to answer our questions. Unnatural #1 from Image Comics hits stores July 4th!
For more news and up-to-date announcements, join us here at Dynamic Forces, www.dynamicforces.com/htmlfiles/, "LIKE" us on Facebook, www.facebook.com/dynamicforcesinc, and follow us on Twitter, www.twitter.com/dynamicforces.
SWORDS OF SORROW: PANTHA / JANE PORTER SPECIAL
SWORDS OF SORROW: RED SONJA / JUNGLE GIRL #3 (OF 3) RARE JAY ANACLETO "VIRGIN ART" EDITION
SWORDS OF SORROW: RED SONJA / JUNGLE GIRL #2 (OF 3) RARE JAY ANACLETO "VIRGIN ART" EDITION
SWORDS OF SORROW: RED SONJA / JUNGLE GIRL #1 (OF 3) RARE JAY ANACLETO "VIRGIN ART" EDITION
LADY DEMON #1 RARE JOYCE CHIN "BLOOD RED" EDITION REMARKED BY JOYCE CHIN
LADY DEMON #1 RARE JOYCE CHIN "BLOOD RED" EDITION FEATURING GOLD ELITE EDITION SIGNATURE BY JOYCE CHIN
LADY DEMON #1 RARE JOYCE CHIN "BLOOD RED" EDITION
SWORDS OF SORROW: THE COMPLETE SAGA TRADE PAPERBACK
LADY DEMON: HELL TO PAY TRADE PAPERBACK
VAMPIRELLA: FEARY TALES TRADE PAPERBACK
---
NEW! 1. 11/25/2020 - STEVE SKROCE
4. 11/16/2020 - RYAN O'SULLIVAN
5. 11/16/2020 - RYAN O'SULLIVAN