FRANK GOGOL

SEND THIS TO A FRIEND!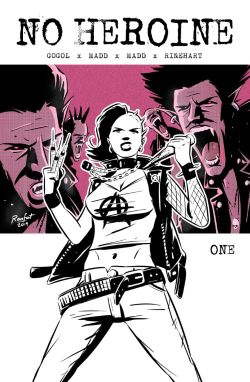 DF Interview: Frank Gogol explores drug addiction and recovery in 'No Heroine'
By Byron Brewer
Kayla Vasquez—a recovering heroin addict—just wants to go home to her family. But she's got wrongs to right first. When a friend goes missing, she starts down a long, dark road filled with vampires, werewolves and one really hard lesson: not everyone is cut out to be a hero.
Hot on the heels of last year's hit series Dead End Kids, Source Point Press presents No Heroine, a supernatural action-drama with a punk rock edge, from Ringo Award-nominated writer Frank Gogol, with art and colors by The 4th Monkey: Anthology of Awareness father-daughter team, Criss Madd and Shawna Madd. Beyond action and monsters, No Heroine is a deeply personal project for the creative team.
You wanna know more, DF wants to know more. So we sat down with scribe Frank Gogol.
Dynamic Forces: Frank, you hit it out of the park last year with Dead End Kids. Tell readers about the genesis of No Heroine (clever title word play, your idea?) and its important message.
Frank Gogol: The title of the book came from the book's sort of emotional hook. On the surface, No Heroine is very much a love letter to Buffy the Vampire Slayer -- a young woman fighting monsters -- but the core of the story is about a young woman dealing with being a recovering addict.
Pop culture has tended not to be particularly nuanced in its depiction of addiction. Either it's wildly demonizing -- showing us characters who aren't good people and don't care who they hurt -- or it's overly sympathetic -- and we get characters who we're told can't help their situation and we're supposed to feel sorry for them.
But my life experience has shown me that there's a lot of grey space between those two extremes.
I've been pretty open over the course of my career that I didn't have the best childhood. Growing up, both of my parents struggled with addiction and my dad ended up passing away from an overdose when I was very young. And seeing what that struggle is like up close showed me that troubled people can still be good people, but also that they can still do awful, hurtful things.
So, No Heroine is the story of a young woman -- Kayla -- who's a recovering addict and she's trying to make things right with her family so she can go home. But Kayla is kind of her own worst enemy in a lot of ways and her reasons for doing what she's doing -- fixing her relationships and slaying monsters -- aren't as pure as she thinks. This book is very much the story of a person realizing that not everyone is cut out to be a hero.
DF: Before we go on with the book talk proper, I understand that this was really an important personal story for your collaborator, artist Criss Madd. Can you tell us a little more about that? I know Criss has spoken of it.
Frank Gogol: I don't want to speak for him too much because it's not my story to tell, but Criss has been open about his struggles with addiction in his past. He's been sober for over twenty years, though, and comics and drawing comics were a big part of his road to recovery and filling that void in his life.
And I think there's an intimacy in his art for No Heroine where you can see it, too. I'm a big fan of quiet moments in comics and there are a lot of them in No Heroine. An extra beat on a character or wordless panel where the facial acting of the art has to sell the feeling. And Criss really nails those moments on the pages.
DF: What can you tell readers about Kayla as a character, and about her relationship with her missing friend, Sid?
Frank Gogol: I touched on this a bit earlier, but Kayla is, honestly, not a good person. She's a recovering addict and has hurt a lot of people in her life. But at the same time, she is trying to do the right thing, even if it's not necessarily for the right reasons. That's part of her journey in No Heroine.
Sid, on the other hand, is also a recovering addict, but he's a bit further along in his recovery and has found a way to be able to take care of himself. So Sid helps Kayla stay the course. He's an honest-to-god good guy.
One of the things the book looks at, especially in the first issue, is that fine line between asking for help and taking advantage. And for Kayla, she thinks she can't stay clean on her own, so she relies on Sid.
So, when he goes missing, she goes on a suicide mission to save him from the local gang of drug-dealing vampires. And while on the surface, saving him is the right thing to do, for her it's really about saving herself.
DF: What other characters do readers need to know about as we approach issue #1? Can you introduce some of them here?
Frank Gogol: Honestly, No Heroine is a pretty intimate story in that it doesn't have a sweeping cast. The focus is pretty solidly on Kayla and what she's going through, especially in #1.
But there are some key players, particularly Kayla's mother and her brother, Juan -- who both get a lot of attention in the second issue. In a lot of ways, No Heroine is about the inter-family trauma that addiction causes.
DF: Is there a behind-the-scenes big bad (separate from the demons of addiction in play) that you can clue us into, without spoilers?
Frank Gogol: I definitely can't say much about this without spoiling the story, but I can say this: One of the cool things about indie comics and serialized storytelling is that you have a lot of freedom to do things that are outside-the-box. And since No Heroine is my love letter to Buffy, I wrote the story to be a little more like a season of television than the typical structure of a comic book miniseries.
So, each issue of No Heroine can mostly stand on its own -- sort of a monster of the week, episodic kind of approach. But there are narrative and character arcs that run through all of the issues that add up to a whole story in the way a season of television would.
The last panel of No Heroine #1 has the first clues about this.
DF: Talk about the eye-popping art of father-daughter team Criss Madd and Shawna Madd.
Frank Gogol: Where to start?
Criss' art is very visceral. It's not clean in the way art in Dead End Kids was. His layouts are more frantic and his inks are grittier. It's the perfect aesthetic for a book like No Heroine. And this is something that we've talked about a lot. Criss is the first artist that I've collaborated with that I've known previously and who lives in the U.S. So we've talked a lot about what the book would look and feel like. And every time we finish a phone call about a page, he goes off, does it, and turns in something so much better than what I was expecting. This is a great looking book and that is, in large part, because of Criss.
And Shawna's colors are something else, too. I've made no secret over the years that colors are my favorite part of a comic. It's the part where the pages feel like they come to life for me. And Shawna is just killing it. This is a dark book story-wise, but the palette she's bringing to it -- there's lots of purple and orange in the first issue -- is such a unique and wonderful take that I'd never imagined and that fits perfect. I think a lot of people are going to be surprised by what she's bringing to the table.
That's one of the cool things about collaboration. As the writer you see it one way, but then other people with different talents bring the book to life in ways you never imagined.
DF: Frank, what other projects may be headed our way from your epic imagination?
Frank Gogol: Dead End Kids 2.
I'm writing it right now and it's tentatively scheduled for the winter. I can't say much yet, but we're taking a True Detective approach to the series. So it's tonally going to be like DEK -- a dark crime story about kids -- but it'll have a new cast and be set somewhere new in a different time period.
This time around, we're following the stories of three kids in 2008 who all lost someone on or because of 9/11.
And it's a heist story.
Dynamic Forces would like to thank Frank Gogol for taking time out of his busy schedule to answer our questions. No Heroine #1 from Source Point Press is slated to hit stores July 8th. Keep watching DF News and comics-related social media for more information.
For more news and up-to-date announcements, join us here at Dynamic Forces, www.dynamicforces.com/htmlfiles/, "LIKE" us on Facebook, www.facebook.com/dynamicforcesinc, and follow us on Twitter, www.twitter.com/dynamicforces.
---
NEW! 1. 11/30/2020 - SKYLAR PATRIDGE
5. 11/16/2020 - RYAN O'SULLIVAN