JIM ZUB

SEND THIS TO A FRIEND!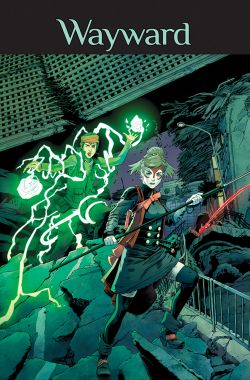 DF Interview: Battle lines are drawn for the final arc of Jim Zub's Wayward
By Byron Brewer
The Wayward are together at last, but is it too late? The Yokai have prepared a sacrifice that could change everything. This is war, and the battle lines will be drawn in Tokyo. Artist Steven Cummings (Legends of the Dark Knight, Dungeons & Dragons) and writer Jim Zub (Avengers, Samurai Jack) get ready to close out their modern supernatural spectacle with the same sweeping artwork and gut-wrenching drama that has made this series a fan favorite for the past four years.
The closing arc begins June 20th with Wayward #26, and in anticipation of that storyline DF sat down with Jim Zub.

Dynamic Forces: First and foremost, Jim, I have to ask: Why is such a great saga like Wayward, which first began publishing waaay back in August 2014, coming to an end? Comics with long, iconic print runs are becoming as hard to find these days as sex and vampires in an old CCA-approved mag.

Jim Zub: There's a bunch of reasons. First off, Steven and I feel we've reached a solid point where we can complete the story we wanted to tell and not wear out our welcome. We want to make sure that we are able to end the series on our own terms rather than having to rush a finish because of sales attrition or the changing market for single issues.

You're absolutely right. The market is shifting. Long runs, especially on creator-owned titles, is getting rare. Attention spans and the time between launches feels shorter than ever. People want tons of content but they also want to be able to binge it. For comics that means trades. Whatever creator-owned work I do next, it will probably have to reflect a different kind of release schedule. Four years has seen some real changes in the market.

DF: I hear that Wayward's final arc begins with the coming #26, and that this would be the best jumping-on point for new readers who'd like to get in on the exciting climax of a great series. Word has it you guys have put this issue together with the new reader in mind? 'Splain.

Jim Zub: The opening of the issue works well to summarize what's been happening and bring readers up to speed. A lot has happened in 25 issues and, of course, you can't get the full scope of that in a summary but, even still, I think we've done a good job at setting the stage and letting new readers know who's involved and what's at stake.

DF: Spinning off Q2, can you capsulize the saga of Wayward here so that the uninitiated (you know who you are!) can have as much of the 411 as possible?

Jim Zub: Wayward is an action-packed supernatural drama about mythology in the modern world. Teenagers battle creatures from Japanese folklore on the streets of modern Tokyo. Each Wayward teen has their own supernatural abilities that has put them on a collision course with the myths of old. That war has moved from hidden shadows to a very public and bloody conflict and now it's entering its final stage.

DF: OK, a question I wish I did not have to ask: Can you please tell us about the final storyline, or as much as you can without major spoilers, for the last arc of Wayward.

Jim Zub: The Nurarihyon, a leader among the Yokai (Japanese mythological monsters) is willing to sacrifice anything to wipe out the threat the Wayward represent to his kind's continued existence. He's used all earthly options at his disposal, and is going to go even deeper now. At the same time, the Wayward are trying to pinpoint the Yokai's seat of power, a strange factory where fate and destiny are manipulated, called the Loom. Put that together and it's go-time.

DF: What can you say about Steven Cummings' art for #26 (and onward)?

Jim Zub: Steven continues to dance through flaming hoops when it comes to delivering ridiculously detailed page art that really makes Tokyo and the other locations in the story come alive. He's a hell of a collaborator and I'm so proud of what we've been able to build together. Couple that with Tamra Bonvillain's stellar colors and Marshall Dillon's rock solid lettering and it really has been a dream team.

DF: I know how these creator-owned series can take on a life all their own. Is there some aspect of the plot or characters you wish you had done another way given that you now have knowledge of the book's ending?

Jim Zub: It's easy to look back and imagine how things could pace differently. As we were putting together a story bible for a possible animated Wayward series I moved around a few elements to foreshadow some later plot lines and it felt weird, like I was cheating on the original story.

Even still, that evolution is part of what makes building a series like this so great. It grows, it evolves. The destination is planned in some aspects, but always includes happy accidents and changes along the way.

DF: Wayward has been a part of your life – the readers' lives – for four years. How will it feel for you as a writer NOT to be producing Wayward? Are there any threads that may become a spinoff or sequel in a few years?

Jim Zub: Steven already wanted to dive into a new creator-owned or a Wayward spin-off as soon as we were done but realized that might be a bit much for both of us right off the bat. I want to have it complete and be able to step back and see it, all 30 issues/6 trades/3 deluxe hardcovers, before I even think about what comes next.

Even then, Wayward's going to stay around in some form or another. There's a cooperative board game coming in 2019 designed by Jon Gilmour (who created Dead of Winter) and the possibility of an animated mini-series we're hoping will go into production. That doesn't include foreign language editions coming out and who knows what else. Wayward's going to be part of my life still for some time to come.

DF: Jim, what else are you working on for readers that you can tell us about?

Jim Zub: Beyond Wayward, I've got a lot on my plate right now, and all of it is pretty exciting.

At Marvel I'm writing Champions, Marvel's heroic teen team of superheroes, on an ongoing basis. We just introduced a new Canadian hero on the team named Snowguard and she's been getting quite a bit of press. Beyond that, I'm wrapping up Hunt For Wolverine: Mystery in Madripoor and developing another Marvel project to be announced later this year.

At IDW I have Dungeons & Dragons: Evil At Baldur's Gate and I'm co-writing Rick & Morty vs. Dungeons & Dragons. Lots to keep me busy.
Dynamic Forces would like to thank Jim Zub for taking time out of his busy schedule to answer our questions. Wayward from Image Comics starts its final arc with issue #26 which hits stores June 20th!
For more news and up-to-date announcements, join us here at Dynamic Forces, www.dynamicforces.com/htmlfiles/, "LIKE" us on Facebook, www.facebook.com/dynamicforcesinc, and follow us on Twitter, www.twitter.com/dynamicforces.
PATHFINDER VOL. 1: DARK WATERS RISING HC - SIGNED BY JIM ZUB
PATHFINDER VOL.2: OF TOOTH & CLAW TRADE PAPERBACK
PATHFINDER VOL. 3: CITY OF SECRETS HARDCOVER
RED SONJA: TRAVELS VOL. 2 TRADE PAPERBACK
PATHFINDER VOL. 2: OF TOOTH AND CLAW HC
---
NEW! 1. 02/10/2022 - SIMON SPURRIER
4. 01/31/2022 - TIM SEELEY & AARON CAMPBELL
5. 01/27/2022 - TYLER BURTON SMITH