JUSTIN JORDAN

SEND THIS TO A FRIEND!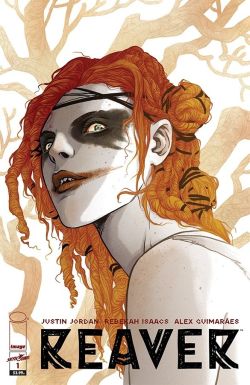 DF Interview: Justin Jordan unleashes Hell's Half-Dozen in 'Reaver'
By Byron Brewer
The continent of Madaras once promised a new start for settlers, but 200 years after its discovery, the war rages on. Deep within this savage and untamed land, a darkness builds that must be stopped at all costs. To do so, the Imperials assemble six of its most despicable prisoners – a turncoat, a skin eater, a sorcerer and his bodyguard, a serial killer, and the Devil's Son – the only ones who can stop the end of the new world. They are Hell's Half-Dozen!
Join Justin Jordan (Luther Strode) and Rebekah Isaacs (Buffy the Vampire Slayer) for Reaver, a dark, grim fantasy for a post-Game of Thrones world from Skybound and Image Comics. DF sat down with writer Justin Jordan to discuss just that!
Dynamic Forces: "A dark, grim fantasy for a post-Game of Thrones world." Gotta love solicit copy, LOL. Justin, tell us about the genesis of the concept for Reaver. Is this one of those things that has been percolating on the Jordan backburner for awhile?
Justin Jordan: It has!
This is one I've been noodling with for several years. Basically I wanted to a really dark fantasy that was mixed with other genres. Inspired, a bit, by Brian Wood's Northlanders, and how he'd tell different kinds of stories set in that time period.

The first arc is a mix of military adventure and fantasy, and the second one is noir and fantasy. But the Game of Thrones thing is pretty accurate; if you want something even more brutal and bloody, this is the book for you.
DF: From what I know, it sounds like you have this comics reality already keenly in your noggin. (Madaras?) Tell readers about the world you and artist Rebekah Isaacs are building here. Is this any iteration of Earth?
Justin Jordan: Madaras is the continent it's (mostly) set on, which we actually did the fantasy thing and developed maps of. The maybe not helpful way to describe it is that it's the fantasy equivalent of the U.S. in the decades right after the revolution. Madaras was colonized by the Empire and the Escalene Protectorate (think England and France) a couple centuries ago, and fairly recently the colonists declared their independence.

So there's a lot of political powers jockeying for dominance, and they're all fighting with the Rael, the people who were native to Madaras. Or in short, it's a world where everyone is trying to kill everyone else.
DF: And the storyline?
Justin Jordan: The first arc is essentially what you'd get if you set The Dirty Dozen in Game of Thrones: a group of the worst people the Imperials have in prison are given a suicide mission to kill a magic user who is allowing their enemies to win battles they shouldn't.
DF: Who ARE Hell's Half-Dozen? Can you do brief intros on your protagonists please?
Justin Jordan: Well, let's see, there's ...

Ash: an Imperial soldier of Escalene descent who is scheduled to be executed for cowardice.

Breaker: also called the Devil's Son. A legendarily brutal Imperial soldier, capable of winning battles by himself, who turned on his masters.
Styrian: An Imperial officer who turned out to be a serial killer.
Marris: A sorcerer whose plan these people have been forced to go along with.

Thes: His mute bodyguard.

Rekala: A Rael skineater and probably everyone's favorite character. And yes, she does eat people's skins.
DF: Besides these "prisoners," what other characters are important as readers go forward in this new series' first arc? Who are the Imperials, for example?
Justin Jordan: Basically, there's the Empire of the Common Isles, aka just the Empire, and the Escalene Protectorate. Despite the associations we have with the term empire, neither of these is good or bad. Like most world powers, they just are.

But character-wise, any more would be telling.
DF: Not to allow spoilers to rear their ugly heads, but can you clue us in at all to the "darkness … that must be stopped at all costs"?
Justin Jordan: Magic exists in this world, but it's brutal and always takes more than it gives. It might be possible to raise the dead, but you'd need to kill dozens of people to do it and what you get back might not be what died. And all magic is like that. It all requires sacrifice.

Now imagine someone finds a way to industrialize it....
DF: Talk just a minute or two about Rebekah's art. What does she bring to this collaboration?
Justin Jordan: Awesomeness.

I've loved Rebekah's art for years, so it was great to finally get to work with her. She brings a tremendous sense of action and storytelling to the book. She makes it look awesome and me look good, which is pretty much a win-win for me.
DF: Justin, what other projects do you have up either sleeve for your fans?

Justin Jordan: Well, I've currently got Urban Animal running at Webtoons. Beyond that, I've got a bunch of stuff I can't actually talk about: three OGN's, and three different series from various publishers. Some of those, hopefully, will be announced soon.
Dynamic Forces would like to thank Justin Jordan for taking time out of his busy schedule to answer our questions. Reaver #1 from Skybound & Image Comics hits stores on July 10th!
For more news and up-to-date announcements, join us here at Dynamic Forces, www.dynamicforces.com/htmlfiles/, "LIKE" us on Facebook, www.facebook.com/dynamicforcesinc, and follow us on Twitter, www.twitter.com/dynamicforces.
SPREAD #1 FIRST PRINTING SIGNED IN BLOOD RED BY JUSTIN JORDAN!
GREEN LANTERN: NEW GUARDIANS: FUTURES END #1 3-D MOTION ULTRA-LIMITED GOLD SIGNATURE SERIES ELITE EDITION SIGNED BY JUSTIN JORDAN!
SPREAD #1 SECOND PRINTING ACTION FIGURE VARIANT EDITION SIGNED BY JUSTIN JORDAN!
SPREAD #1 THIRD PRINTING VARIANT EDITION SIGNED BY JUSTIN JORDAN!
DEEP STATE #1 SIGNED BY JUSTIN JORDAN!
EVIL ERNIE: GODEATER PAPERBACK
---
NEW! 1. 11/25/2020 - STEVE SKROCE
4. 11/16/2020 - RYAN O'SULLIVAN
5. 11/16/2020 - RYAN O'SULLIVAN