MARC GUGGENHEIM

SEND THIS TO A FRIEND!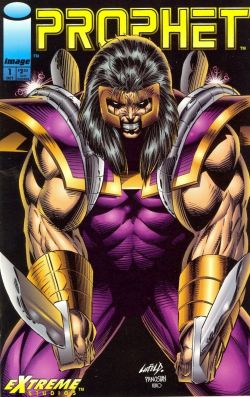 DF Interview: Marc Guggenheim talks developing 'Prophet' for film
By Byron Brewer
One of the architects of The CW's Arrowverse DC-TV stable of series, Marc Guggenheim is never far from the next big project. He, in fact, balances several from different media simultaneously like the swirling dishware of Senor Wences (dated but cherished ref).
One of Guggenheim's big projects at present is writing the screenplay for Rob Liefeld's Prophet film for Studio 8 with a goal of establishing a new franchise around the character, a DNA-enhanced super-soldier placed into a cryogenic freeze for a future mission only to awaken prematurely in the present.
DF caught up with one of the prime creators of TV's "Crisis on Infinite Earths" DC superheroes crossover to learn more about this movie project and, as always, Marc Guggenheim was a pleasure to interview.
Dynamic Forces: Marc, start us off by telling readers how you came to be involved with the development of comics creator Rob Liefeld's Prophet character into what is probably hoped to be a motion picture tentpole.
Marc Guggenheim: For ten years, I've been friends with one of the producers, Adrian Askarieh. Adrian gave me one of my very first movie gigs (Leonardo da Vinci and the Soldiers of Forever) and we've remained friends, flirting with working with each other again. A few months ago, he reached out about Prophet. I told him that I loved the character, but would only sign on if I thought I had a take that excited both of us. As it turned out, I ended up developing two very different takes.
DF: For the uninitiated, introduce us to Prophet. What's his story?
Marc Guggenheim: Well, at the risk of being negligently reductive, you could say that Prophet has a lot in common with Captain America except that he gained his abilities through a Nazi scientist in Germany. Like Cap, he's a "Rip Van Winkle" character insofar as he's displaced in time.
DF: I know it is early and, relatively, you just got the gig, but give readers your take on the character.
Marc Guggenheim: Ah, but that would be telling. I'll tell you this, though: Since Rob created Prophet in the 1990s, there have been three Captain America movies and four Avengers movies. With that kind of cinematic history -- recent cinematic history -- it's important to distinguish a Prophet movie from the way Cap's been portrayed in cinema beyond the mere fact that he became a super-soldier via the Nazis rather than the U.S. Army.
DF: Why is Prophet – his character, his story – a potentially good one to build a film franchise around?
Marc Guggenheim: I love the idea of a character who finds himself displaced in time. That said, I've tried to craft a story where Prophet not only has to acclimate himself with an alien future, but also make amends with the decisions of his past. And I'd be lying if I said the long hair, glowing eyes and twin swords didn't make for a very striking visual.
DF: What role if any does Liefeld have with this pic?
Marc Guggenheim: Rob's been involved every step of the way. He gets copies of everything I write in connection with the project and he keeps me honest. If, in my attempts to update Prophet for the 21st Century, I'm tempted to stray too far away from the core of the character, he reels me back. At the same time, he's as aware as I am of the challenges of adapting a character from 1992 for 2022 and is enthusiastic about making the necessary changes.
DF: Speaking of Liefeld, he has had so many rich and wonderful characters springing from his imagintion over the decades, is there a chance we may see some familiar faces (to comics fans, at least) in any initial Prophet movie? Play fan boy: What Liefeld character would YOU like to see in a Prophet pic?
Marc Guggenheim: I'm not sure I can say anything here that won't get me into some trouble, legal or otherwise. I will say that while it's still very early in the development process and things can and do -- and probably will -- change, Kirby and D.O.C.C. [Direct Orbiting Command Center] play important roles in my take.
DF: I will ask you a devil's advocate question that I am always asked: Are we getting too many superheroes/comic book-inspired properties on the silver screen?
Marc Guggenheim: I get asked this question a lot too. The funny thing about the question is that the people being asked it don't get to make this decision. Whether there are too many superhero or comic book movies is something that's up to the audience. They'll vote, as they always have, with their dollars. Once they've had enough, believe me, we'll know.
DF: Marc, everyone knows you are a busy man. What other projects, in any medium, can we expect to see from you soon? Any comic books?
Marc Guggenheim: With Arrow ending and "Crisis On Infinite Earths" over, I've been developing some new TV projects, but nothing has proceeded to a stage where I can talk about them yet. On the movie side, for the past two years, I've been working on the movie version of Jackpot (a character I helped develop while writing Amazing Spider-Man) for Sony. I'm also writing an adaptation of Gantz for Sony as well. There are a couple of other movies I have on my plate, but the details of them aren't public yet. On the comic book side, I'm working on three different creator-owned projects, but none have progressed to the point where we're ready to announce them yet. Finally, I would be remiss if I didn't plug Wizards, the third and final series in the Tales of Arcadia trilogy I executive produce with Guillermo del Toro. That premieres this summer.
Dynamic Forces would like to thank Marc Guggenheim for taking time out of his busy schedule to answer our questions. Keep watching DF News and comics-related social media for more information on the Prophet film project.
For more news and up-to-date announcements, join us here at Dynamic Forces, www.dynamicforces.com/htmlfiles/, "LIKE" us on Facebook, www.facebook.com/dynamicforcesinc, and follow us on Twitter, www.twitter.com/dynamicforces.
SPIDER-MAN: ORIGIN OF THE HUNTER - SIGNED BY STAN LEE!
SWASHBUCKLERS: THE SAGA CONTINUES TRADE PAPERBACK
BATTLESTAR GALACTICA CLASSIC OMNIBUS TRADE PAPERBACK
SWASHBUCKLERS: THE SAGA CONTINUES #1
SUPER ZOMBIES OVERSIZED HARDCOVER
---
NEW! 1. 11/30/2020 - SKYLAR PATRIDGE
5. 11/16/2020 - RYAN O'SULLIVAN