CHRIS SEBELA

SEND THIS TO A FRIEND!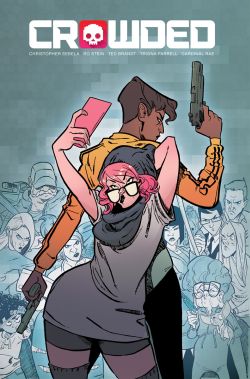 DF Interview: Christopher Sebela shows us how to crowdfund a hit in Crowded
By Byron Brewer
Ten minutes in the future, the world runs on an economy of job shares and apps, including Reapr: a crowdfunding platform to fund assassinations. Charlie Ellison leads a quiet, normal life until she's suddenly targeted by a million-dollar Reapr campaign. Hunted by all of Los Angeles, Charlie hires Vita, the lowest-rated bodyguard on the Dfend app. As the campaign picks up speed, they'll have to figure out who wants Charlie dead before the campaign's 30 days – or their lives – are over.
From Eisner-nominated writer Christopher Sebela (Heartthrob, We(l)come Back, Harley Quinn), Ro Stein & Ted Brandt (Captain Marvel, Raven: The Pirate Princess), Triona Farrell (Runaways, Mech Cadet Yu), and Cardinal Rae (Bingo Love, Rose) comes Crowded! To get the full 411, DF chatted it up with scribe Chris Sebela.
Dynamic Forces: Chris, from what I understand, Crowded involves a parody of sorts on the new practice by many of seeking funds over the internet to fund projects… crowd-funding. I don't know this, but the initial monies for this book weren't gathered through a crowdfunding platform, were they? (laughs)
Chris Sebela: No, but it was definitely inspired by my time crowdfunding comics. At least that's what I kept telling myself, that I was doing research on how crowdfunding worked up close and personal. I have a lot of anxiety and neuroses about asking for money so I just tried to channel a lot of those jittery feelings into the book itself.
DF: Tell us how you came up with the concept of Crowded. From what you've said, it has been percolating in the ol' Sebela noodle for awhile.
Chris Sebela: I had the initial idea maybe four years ago or so? It was just an idle thought, I was probably mad about something big and unfightable and had the idea of the best way would be to get everyone to gang up on the big bad wolf, and nowadays that would probably mean crowdfunding some badass to come to town and do the job for them. No guilt, no blood on their hands, but their world is "fixed" for the moment. And how when that happened once, the bell couldn't be unrung and how that would kinda change the world in a low-key but huge way. Then it took me about three years to figure out how to turn all that into an actual story with actual characters.
DF: So give us the elevator pitch for the series.
Chris Sebela: In the not very distant at all future, it's a lot like our world right now except there's a crowdfunding platform for assassinations called Reapr, where anyone can target anyone else and all they need is people to give money and someone to be willing to kill for whatever amount they've raised. Our main character, Charlie, wakes up one morning with a target of over a million dollars on her head on the first day and no idea why. So she hires a bodyguard — Vita — from an Uber-like app for protection called Dfend, and they have to stay alive for the next 30 days while everyone looking for a quick windfall is out there trying to kill Charlie.
DF: Can you introduce Charlie Ellison and any other of your protagonists to us?
Chris Sebela: Charlie proudly calls herself a cog. She's like anyone else out there in this world where a lot of the economy relies on jobsharing apps and people working multiple hustles to get by. She does stuff like drive people around, rent out her car to them, walk dogs, tutor strangers, her online life is how she stays alive, and it's also what's trying to kill her for some reason. She's kind of the Chernobyl of manic pixie dream girls.
Our other main character is Vita, who's been working as a bodyguard on the Dfend app for a couple years and mostly keeps quiet and to herself. Vita's actually kind of the main character of the book for me. She's got a lot of stuff in her past that she keeps hidden away and presents the usual movie-ish front of being the stoic, badass bodyguard who takes no guff and overcomes all obstacles with a witty punchline. All of which she's barely managing to pull off.
Also there's a Dog. His name is Dog.
DF: What can you tell us about Reapr and the folks behind it?
Chris Sebela: Reapr started as a way to strike back at a high-ranking member of government. Sort of all that frustration and anger people feel about things they have no power over. Instead of just being impotently mad, someone set up Reapr. And lots of people gave money to it, enough that someone actually went out and did it. It got shut down and went underground, but it's like inventing fire. Once people know they can do something like that, people are gonna be drawn to it. Even the most moral people could kick in a few bucks to something like this and still sleep fine at night. So while it's still kind of underground, it's also become so widespread that it's technically not illegal anymore. The only way they can stop it is with paperwork and bureaucracy, but that's not enough to dissuade someone from trying to collect an easy payoff with just a knife and a dream.
As for the folks behind it, that's something we'll be getting into down the road. Right now we'll just be dealing with the immediate repercussions of all of Los Angeles knowing who Charlie is and wanting to be a million dollars richer.
DF: Tell us about the artists you will be working with on the series.
Chris Sebela: Ro Stein & Ted Brandt are the penciler and inker on Crowded. They turn out really amazing pages that, in the first issue alone, made me fall in love with the characters that I didn't while I was writing it. Like, I liked them, but seeing them and how they interacted with each other in actual space, it's always like Christmas getting new pages from them. Triona Farrell is coloring it and she's totally in sync with Ro & Ted. It's kind of a perfectly running comics engine. I have the easiest job because I just write it, but it's also the best job because I get to watch the pages come in. It's one of the most gorgeous books I've ever worked on.
DF: Chris, what else is coming from your keyboard we can talk about?
Chris Sebela: I have two issues of Harley Quinn coming out in June, a self-contained story with Mirka Andolfo. I've got Shanghai Red also coming out from Image with Josh Hixson. My creator-owned book with Shawn McManus at Black Crown, House Amok, starts up in August and a few secret things I'm just gonna vaguely reference right here.
Dynamic Forces would like to thank Christopher Sebela for taking time out of his busy schedule to answer our questions. Crowded #1 from Image Comics hits stores Aug. 15th!
For more news and up-to-date announcements, join us here at Dynamic Forces, www.dynamicforces.com/htmlfiles/, "LIKE" us on Facebook, www.facebook.com/dynamicforcesinc, and follow us on Twitter, www.twitter.com/dynamicforces.
DAMNATION: JOHNNY BLAZE GHOST RIDER #1 SIGNED BY CHRIS SEBELA
KISS/VAMPIRELLA #1 ATLAS COMICS SIGNATURE SERIES - SIGNED CHRIS SEBELA EDITION
AGENT 47 VOL. 1: BIRTH OF THE HITMAN TRADE PAPERBACK
KISS/VAMPIRELLA TRADE PAPERBACK
AGENT 47: BIRTH OF THE HITMAN #1
---
NEW! 1. 11/25/2020 - STEVE SKROCE
4. 11/16/2020 - RYAN O'SULLIVAN
5. 11/16/2020 - RYAN O'SULLIVAN