CHAD BOWERS

SEND THIS TO A FRIEND!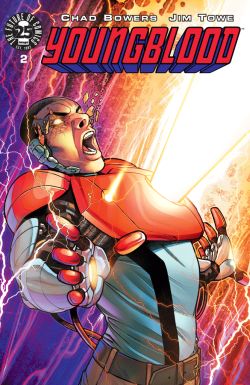 DF interview: Chad Bowers returns Youngblood to the comics page
By Byron Brewer
Twenty-five years ago, Youngblood launched the Image Revolution and turned the comics world on its head. Now the original blockbuster hit series returns with an all-new cast and a brand-new mission.
When a young hero goes missing, his friend's search for answers leads to some unexpected allies. Together, they'll do whatever it takes to find him… even if it means resurrecting the world's most infamous super-team.
Gear up, strap in and get ready to rediscover comics' most extreme universe with creators Chad Bowers (X-Men '92, Deadpool: Bad Blood) and newcomer Jim Towe.
Want to know more? So did we, so DF tracked down scribe Chad Bowers and got you, our readers, all the 411.
Dynamic Forces: Chad, a quarter-century ago creator Rob Liefeld's Youngblood hit stores as the flagship book of Image Comics. What does it mean to you as a comics creator to be a part of its latest revival?
Chad Bowers: It's incredible! From a purely fan position, I can't think of too many other comics properties I'd be more excited to write, honestly. And from a creative standpoint, the level of freedom that's been given to me and Jim is almost unheard of. Rob's handed us the keys to the ExtremeDom, and we're doing our best to see what's behind every door!
DF: Were you a fan of any iteration of Youngblood? Was Liefeld an influence on your comics career?
Chad Bowers: Yeah, man, Rob's a huge influence on me. First as a fan and now as a collaborator, which is still pretty surreal. I still remember picking up those early New Mutants issues off the stand, and I did that thing where you immediately dive into back issue boxes, looking for Hawk and Dove, and Rob's X-Men and X-Factor stuff. My only regret is I didn't buy multiples of New Mutants #s 87 and 98.
But I say this all the time, and I'll say it again because it's the truth -- Rob is to the 90s what Jack Kirby was to the 60s. You'd be hard pressed to find an artist of that era who was more influential. He changed the game. Rob's style was more visceral and over the top than just about anybody else working at the time, and his comics changed the language of big budget superhero stories.
I wish I could show you the comics I was making when I was 12. They were straight rip-offs of Rob and Erik Larsen – names like "Darkbow" and "Chimera" -- but if nothing else, they were heartfelt and exciting, and a testament to the influence of what I was absorbing at the time. You can draw a straight-line from there to what I'm doing right now.
Which brings us to Youngblood, and yeah, I was in the tank from the very beginning! I probably gave this away already, but Youngblood and Savage Dragon were my favorite Image books, and I went out of my way to get every issue. And as you point out, Youngblood's had its fair share of starts and stops over the years, but I think that sort of works in its favor. It's allowed for a lot of great voices on the book and some really interesting ideas to take hold. Both Alan Moore and Joe Casey did a lot to stretch the concept in directions that, I think, changed it for the better. And Rob was smart enough to know that putting their names on the cover would help to validate the characters and keep the idea relevant beyond the '90s.
DF: Before we begin on your series, reacquaint new readers with exactly what Youngblood was at its beginning please.
Chad Bowers: Youngblood was the superhero equivalent of the NBA Olympic Dream Team! A squad of market-tested and government-approved super agents committed to saving the world, and to looking good while doing it! The members of Youngblood were made to balance a life of public service with that of a modern day celebrity. They had endorsement deals, scheduled appearances and were each a brand unto themselves. The core membership was broken up into two separate units. The home team -- made up of Shaft, Vogue, Diehard, Chapel and Badrock – protected interests within the United States borders, while the away team – led by Sentinel, and featuring Riptide, Cougar, Psi-Fire and aliens Kombat and Photon – covered the rest of the world. The team roster changed regularly, swapping out members whose popularity might be waning for edgier, more marketable replacements. Since its inception, Youngblood has evolved a few times, becoming a reality television series for a little while, and later a teen super group. But ultimately, Youngblood returned to its government super team roots in the series directly proceeding our own.
DF: I believe your Youngblood has new protagonists as well as familiar faces, and some readers may have seen issue #1, already in stores. Can you introduce us please?
Chad Bowers: Yeah, our team is a surprising mix of new and existing characters. As far as the core team is concerned, we're dealing with mostly newbies, and one or two "Oldbloods" as we've taken to calling them. Petra Gomez is the all new, all different Vogue. When she realizes nobody's using it, she swipes the name without permission, and sets out to let the world know she's as good with a rifle as the previous iteration was at gymnastics. Her second in command is the armored-up Dolante Murray. He's something of a YouTube sensation, and already popular online for his "how-to" videos teaching young heroes how to do CPR, and properly set broken bones. They're soon joined by two other former Youngbloods, speed princess Doc Rocket and – here's your exclusive -- the all new Supreme! The maid of might has stepped in and taken the name of her absentee big brother!
DF: What is the new team mission? What brings the new Youngblood together?
Chad Bowers: What initially brings the new team together is Petra. She's the heart and soul of this new Youngblood, and when a close friend of hers goes missing in the first issue, she gets the bright idea to exploit the Youngblood name, and use its controversial reputation to get some much needed attention for her cause. But that quickly evolves into something else altogether, as the new Youngblood find themselves on the receiving end of some unfinished business left over from the original team.
DF: Who is our big-bad? Is it a new villain or someone Youngblood fans might recognize? (If you can hint at same in a non-spoilery manner …)
Chad Bowers: Yeah, I won't get too deep into who or what is behind anything that's happening in this first story arc. But if there was a "big bad", just like the new Youngblood team, they'd probably need to be a good mixture of both the old and the new, wouldn't you think?
DF: What is it like collaborating with Jim Towe? What does this artist bring to this iconic table?
Chad Bowers: Jim's astounding, and the dude just keeps getting better. He blows me away with every new page, and manages to throw in so much good stuff that I'm more than happy to take credit for! But seriously, he's a brilliant collaborator, and brings so much more to Youngblood than just a lot of pretty pictures. We've built this vision for the world of Youngblood together, but he's so much better at defining it than I am. He does a great job of keeping me on task, and correcting the ship when I'm pulling too hard in any one direction. From a technical standpoint, we're actually working more loose than I'm used to, with me basically plotting first, and scripting over the finished pages. But I think it's produced some amazing moments, and it's inspired me to take the story in some directions I maybe wouldn't have before.
DF: Chad, any projects in the works you'd care to tell readers about?
Chad Bowers: Lots of good stuff in the pipeline! Chris (Sims – my co-writer and pal) and I are working on two new series for the cool people over at Dynamite Entertainment. SwordQuest -- the first Atari comic in more than 30 years -- is the story of Peter Case, a guy whose midlife crisis takes him on a real world quest to find a prize from his childhood. And then there's Ash vs. The Army of Darkness, the only AoD comic that reads like a direct sequel to the original film! It's going to be a hoot. Beyond that, we've got a few things in the works that are too early to talk about, but I'm super lucky to be doing what I'm doing, and rest assured, 2017 is already shaping up to be a monumental year!
Dynamic Forces would like to thank Chad Bowers for taking time out of his busy schedule to answer our questions. Youngblood #2 from Image Comics hits stores June 7th, today!
For more news and up-to-date announcements, join us here at Dynamic Forces, www.dynamicforces.com/htmlfiles/, "LIKE" us on Facebook, www.facebook.com/dynamicforcesinc, and follow us on Twitter, www.twitter.com/dynamicforces.
ASH VS. THE ARMY OF DARKNESS #1 KEN HAESER REMARKED EDITION Co-written by Chad Bowers
SWORDQUEST #1 CHAD BOWERS & CHRIS SIMS SIGNED EDITION
---
NEW! 1. 11/25/2020 - STEVE SKROCE
4. 11/16/2020 - RYAN O'SULLIVAN
5. 11/16/2020 - RYAN O'SULLIVAN