PAUL TOBIN

SEND THIS TO A FRIEND!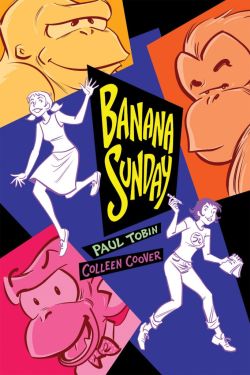 DF Interview: Paul Tobin goes ape with the return of Banana Sunday
By Byron Brewer
Kirby Steinberg is having a bit of trouble fitting into her new school. Sure, there's the usual problems associated with being from "somewhere else," but this time the new kid also happens to be the guardian for three talking primates. Chuck, the professorial orangutan. Knobby, the love-stricken spider monkey. Go-Go, the befuddled golden gorilla. These primates have learned to speak, thanks to the scientific processes of Kirby's father. Or have they? What's their real story? That's what Nickels—Kirby's new best friend and unfortunately dedicated school reporter—would like to discover. Can Kirby find time to develop a relationship with Martin, the dashing nerd? Steer clear of Skye, the high school's #1 pillar of arrogance? Keep Knobby, Chuck and Go-Go from causing untold catastrophes? And, above all, will Kirby be able to hide the real origin of these three simians from Nickels?
Oni Press brings back the all-ages comic Banana Sunday by Paul Tobin and Colleen Coover in a brand-new color edition courtesy of color artist Rian Sygh. DF spoke with Paul Tobin about the well-remembered book's return.
Dynamic Forces: Paul, for the uninformed (you know who you are), tell us about the history of Banana Sunday as a book and about this new collection from Oni Press.
Paul Tobin: Banana Sunday is a project that my wife (then girlfriend) Colleen Coover and I worked on for Oni way back in 2005 and 2006, when I decided that being a professional writer would be more fun than being an "I'll scribble things out occasionally" writer. The book went through MANY incarnations before Colleen and I were satisfied at our take. In particular, some of the early scripts/pages were heavily influenced by manga and anime, in particular the works of Rumiko Takahashi. In time, though, the work began to take on our own flavor, as we distilled our influences into a project that was entirely our own. The book was a huge step for both Colleen and I, both in terms of how we wanted to create comics separately, and together. We hardly fought at all! She wouldn't let me put any of those manga-inspired production pages in the collection's extras, though; so they remain a lost work.
DF: What insight can you give us on Kirby Steinberg and her adventure in this collection? How does this character reflect her writer, if at all?
Paul Tobin: Kirby is just a normal teen girl with two apes and a spider-monkey, all of which talk. Okay, I guess "normal" is stretching it, but Kirby's quest to become normal, or at least be accepted as normal, is a big part of the graphic novel. As is the real story of the talking primates. It's a poignant mix of high-school shenanigans mixed with trouble-making talking simians. Kinda the way high school SHOULD have been. As far as Kirby reflecting me, I'd say there's some. It's unavoidable. All writers write from their own viewpoint, so I suppose she has my optimism, and what I hope is my resiliency, and the dual desires to be both completely normal, and completely different.
DF: Tell us about some of the other important characters in Banana Sunday.
Paul Tobin: In a way, it's the apes and the monkey that are the most important characters. They're not only main characters, but all action revolves around them. There's Go-Go, a miniature gorilla who can talk, but he's rather befuddled. A good heart, overall. And terribly, terribly, terribly strong and sleepy. Then there's an oranguatan named Chuck, who's incredibly smart, and incredibly pompous. Then there's Knobby, an extremely flirtatious spider-monkey. I'd say that maybe I divided portions of my own personality, here, into these three primates. I probably identify with Go-Go the most, because I'm rather sleepy as I work on this interview.
DF: What do new readers, unfamiliar with the series, need to know to enjoy the book?
Paul Tobin: Nothing, really! I mean, they should love apes and monkeys, but everyone does, right? And, they should love great art, because this series is where Colleen first really began to pin down her genius. And readers should like interesting characters, and gorillas saying things, and spider-monkeys getting in trouble, and it wouldn't hurt to have an interest in those moments when you feel friendship growing, because that's a huge part of the book. But, no prior knowledge necessary, really!
DF: Talk about the dream collaboration you and Colleen seem to have in putting together books like this. Is there a process?
Paul Tobin: It's so simple! I come up with an idea, and then Colleen draws it! I'm endlessly fascinated by how lucky I am. It's like, people ask the best way of finding an artist to collaborate with, but then don't follow my wise advice of, "Find a multi-Eisner-award-winning artist and marry them." It's a great path to success! On the practical side, though, I don't work with Colleen any differently than I do with other artists. I write the full script, and then I give it to her. That's how we've done it for Banana Sunday, or the Gingerbread Girl graphic novel, and how we continue to do it on Bandette.
DF: Can you speak to the difficulties/differences of doing an all-ages book as compared to more mature comics usually found in stores today? Are all-ages comics having a renaissance?
Paul Tobin: I don't really see any difficulties, but I do agree that all-ages comics are having a renaissance. It's a strange renaissance, though. The market has always been there, but comics themselves have been ignoring that market for decades. "Comics" became synonymous with "superheroes," and for so long, comics have considered themselves a genre rather than a medium. The internet helped change that. Manga helped change that. A huge wealth of new material meant new readers, with new demands for what "comics" should be. I love the range of material in comics now. True horror comics. Crime comics. Humor comics. Cooking comics. Superhero comics. Etc. Etc.
DF: What can you say about the all-important colors of Rian Sygh?
Paul Tobin: I absolutely LOVE them! And that's a relief, because Colleen finds it very difficult to relinquish any of the controls for the visuals, so even a "pretty great!" job would have met with frowns on her part, so it's fantastic that Rian turned in an amazing job. The colors really add to the life of Colleen's art, giving it depth, extra atmosphere, and that elusive "oomph!" to the story. I'd like to give Rian two hundred high-fives. Of course that would hurt our hands and we have work to do.
DF: Paul, what other projects can you tell readers about?
Paul Tobin: Well, of course the main collaboration with Colleen is our ongoing Bandette series, about the world's greatest and most charming thief. And I also write all the Plants vs. Zombies comics. I have the Genius Factor series of novels for middle readers. There's also an urban fantasy novel on the way. And I've recently signed on to do another horror comic series, which is a genre I've really enjoyed. There's a web series that will be announced very very soon. And another graphic novel with one of my favorite collaborators, this time NOT someone I'm married to.
Dynamic Forces would like to thank Paul Tobin for taking time out of his busy schedule to answer our questions. Banana Sunday from Oni Press hits stores Oct. 24th!
For more news and up-to-date announcements, join us here at Dynamic Forces, www.dynamicforces.com/htmlfiles/, "LIKE" us on Facebook, www.facebook.com/dynamicforcesinc, and follow us on Twitter, www.twitter.com/dynamicforces.
AVENGERS ACADEMY GIANT-SIZE #1 - SIGNED BY PAUL TOBIN!
SPIDER-GIRL#1 (OF 5) - SIGNED BY PAUL TOBIN
MARVEL ADVENTURES SPIDER-MAN #59 - SIGNED BY PAUL TOBIN
TWO BOOK SET! BLACK WIDOW AND THE MARVEL GIRLS #1 AND #2 - SIGNED BY PAUL TOBIN
THE KING COLLECTION TRADE PAPERBACK
TUROK: DINOSAUR HUNTER VOL. 3 TRADE PAPERBACK
THE BIONIC WOMAN VOL 1: MISSION CONTROL TPB
---
NEW! 1. 11/25/2020 - STEVE SKROCE
4. 11/16/2020 - RYAN O'SULLIVAN
5. 11/16/2020 - RYAN O'SULLIVAN