MEREDITH FINCH

SEND THIS TO A FRIEND!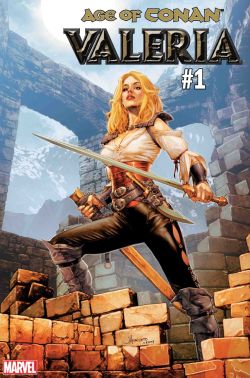 DF Interview: Meredith Finch tells an all-new tale of revenge in 'Age of Conan: Valeria'
By Byron Brewer
Journey into the Hyborian Age with Valeria, the hero from Robert E. Howard's classic Conan story "Red Nails," on an all-new quest set before the fan-favorite tale. Before her careers as a pirate and mercenary and before she crossed paths with the Red Brotherhood and the likes of Conan of Cimmeria, Valeria was a young woman from Aquilonia, seeking justice for a crime gone unpunished. But as the formidable Valeria makes her way in this world, proving her capability against those who doubt her abilities as a young woman, she will find more than she bargained for in her thirst for revenge. Her deadly fighting skills will be put to the test and her trust will be shaken as she hunts her brother's killer and comes into her own as a force to be reckoned with in the Hyborian Age!
Don't miss the start of an all-new classic in this five-issue miniseries from Marvel, by writer Meredith Finch (Wonder Woman, Savage Sword of Conan) and artist Aneke (Red Sonja, DC's Bombshells). DF wanted the full 411 on this S&S mini, so we sat down with scribe Meredith Finch.
Dynamic Forces: Meredith, are you a fan of the sword and sorcery genre of characters like Conan, Red Sonja and, of course, Valeria? Did you read any of Robert E. Howard's books when growing up?
Meredith Finch: I grew up in a very small rural community, so I don't really have any recollection of even hearing about Conan until the first movie came out with Schwarzenegger, and even then, it wasn't something my parents were about to take me to see.
It wasn't until I met my husband, David, who was and still is a huge Conan fan, that I got my first exposure to Robert E. Howard.
I have always been a huge fan of fantasy fiction, so it didn't take much for me to fall in love with the series and characters as well. I especially loved Robert E. Howard's ethical treatment of women. If a woman is bad, he doesn't hesitate to treat her in the same way he would treat a male character. He's just as likely to throw her to a sea monster, as stab her with a sword. If she's good, she can carry a sword and fight it out with the best of them. Enter Valeria.
DF: Tell readers your approach to this character Valeria, who first came to fame in REH's "Red Nails". Who is your iteration of Valeria – as a character, a warrior, a woman?
Meredith Finch: I always approach each of my characters as a human being first. Who are they? What struggles or challenges have they faced that make them who and what they are? Once I know that, it informs everything I do with the character. Almost immediately upon meeting Valeria, she stands out as strong-willed and noble. In the "Red Nails" story, there is a reference to her being on the run because she killed a man for hurting a woman. I wanted to explore that. I wanted to tell the story of how she gets to that moment in "Red Nails". What drove her to become an amazing swordswoman? Where is her family?
DF: What can you tell us about your miniseries? What challenges are in front of the warrior woman in this adventure?
Meredith Finch: The essence of all life is choice. Every day, we make choices for good or for evil, and those choices shape us into who and what we are. I've not given Valeria an easy road to walk, so that we can explore that idea, specifically with reference to those we love, and those we love who hurt us. Of course, Aneke has drawn some amazing fight scenes in this series, so we can see Valeria the warrior, but we also get to see a young woman teetering on the brink of a choice that will forever define her future.
DF: This story, I understand, is set before Valeria's careers as a pirate and mercenary – AND before meeting Conan. What was life like for the young woman in Aquilonia? Can you tell us about that land/province?
Meredith Finch: Much like the Middle Ages, Hyboria is a land in conflict; where kings and kingdoms are constantly battling for power and control. This is a land where the strong survive and the weak are left to fall where they may. This is a land where you must kill or be killed.
DF: What can you tell us about the relationship between Valeria and her brother? It is her hunt for her brother's killer that begins her quest, correct?
Meredith Finch: Like most younger siblings, Valeria adores her brother, and looks up to him as a role model and protector. There is quite an age gap between them, something common in a time where children could die of any number of ailments. Because of this, their relationship is, at times, a bit strained. They love each other, but don't really know each other.
DF: Can you introduce us to a few of the important characters in this quest story? Are there any familiar ones lurking about?
Meredith Finch: Valeria is the only character in this story that readers will be familiar with from the Conan universe. New characters include Mitran monks, knights, lords of the land, and the Aquilonian king. This is a sword and sorcery book, after all.
DF: Talk a little about the art of Aneke.
Meredith Finch: I feel so blessed to have Aneke on this project. Her story-telling and fight choreography are absolutely perfect for this book and this character. I could not have asked for more. But perhaps even more special for me are the ways in which she is able to capture the mix of strength and fragility in the facial expressions of our young Valeria. There are moments in this book, as a result of her talents, that will give you chills, and others that will take your breath away.
DF: Meredith, what other projects in which you are involved can you tell readers about?
Meredith Finch: Right now, I'm finishing up my second project, after The Light Princess, with a new publisher on the comic book scene: Cave Pictures Publishing. I also have a graphic novel that I've been working on for the past year, which should be wrapping this fall, and will come out, I'm guessing, early 2020.
Dynamic Forces would like to thank Meredith Finch for taking time out of her busy schedule to answer our questions. Age of Conan: Valeria #1 (of 5) from Marvel Comics hits stores August 14th!
For more news and up-to-date announcements, join us here at Dynamic Forces, www.dynamicforces.com/htmlfiles/, "LIKE" us on Facebook, www.facebook.com/dynamicforcesinc, and follow us on Twitter, www.twitter.com/dynamicforces.
---
NEW! 1. 11/25/2020 - STEVE SKROCE
4. 11/16/2020 - RYAN O'SULLIVAN
5. 11/16/2020 - RYAN O'SULLIVAN