PAUL CORNELL

SEND THIS TO A FRIEND!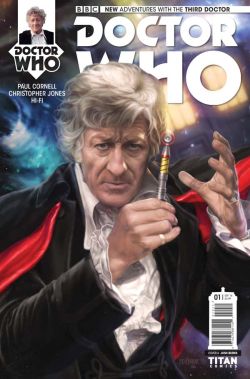 DF Interview: Paul Cornell returns to Doctor Who in August with new Third Doctor LS
By Byron Brewer
When something enormous and extraterrestrial crashes into Gloucestershire, Doctor Who, Jo Grant and the forces of UNIT under Brigadier Lethbridge-Stewart mobilize immediately to investigate – and find themselves in the middle of a pitched battle against a terrifying invader! But the shocking fate that awaits their return to base may tip their whole world off its axis.
Doctor Who: The Third Doctor, a new limited series from BBC and Titan Comics, sees the return of Who TV and comics scribe Paul Cornell to the character, along with Christopher Jones on art duties.
Want to know more? So did we, so DF caught up to scribe Cornell and quizzed him thusly …
Dynamic Forces: Paul, what is it about "The Third Doctor," this iteration of Doctor Who, that is so beloved by fans, both TV and comics?
Paul Cornell: I think his childlike qualities, combined with moral authority make an interesting combination, probably a rather too seductive one. His arc on television (in as much as any character had one in the 1970s) was about him realizing he was flawed, but his flaws are both attractive and interesting. He's fascinating to watch, but I'd hate to be trapped in an elevator with him.
DF: You have written Doctor Who both comics and television. Can you tell us about the differences? Not the fundamentals between writing for comics vs. TV, but maybe about approach to the character?
Paul Cornell: In media other than TV, you've got to fill in the little tics and traits an actor brings, actually put them on the page. For instance, David Tennant would multiply the number of times he said a word, hence the trademark 'no no no'. For a comic or book or audio play, the writer has to do that to make the character recognizable.
DF: What is going on in Gloucestershire?
Paul Cornell: Aliens have crash-landed, and that's just the start.
DF: For new Who readers – and they are out there – tell us a little bit of background on his companions for this adventure, Jo Grant and Brigadier Lethbridge-Stewart.
Paul Cornell: Jo Grant is ditzy on the surface, a sort of 1970s Goldie Hawn dizzy blonde, but underneath she's highly skilled, an actual intelligence officer, able to resist hypnosis and dig her way out of a cell with a dessert spoon. She almost deliberately underplays that, in a very non-threatening don't-challenge-the-patriarchy way. In the comic, I'm going to be glancing at those depths while not changing the integrity of the character. The Brig is a lovely, quick-witted and generally highly ethical soldier, always raising a wry eyebrow at the Doctor, who is actually his employee. It's an interesting friendship.
DF: And the "UNIT" … ?
Paul Cornell: The United Nations Intelligence Taskforce, an organization that deploys soldiers and science against aliens that land with hostile intent. The Doctor is their scientific advisor.
DF: Is "The Third Doctor," portrayed so brilliantly in the series by Jon Pertwee, your favorite Doctor Who incarnation? If so, why, and if not, which one is?
Paul Cornell: No. I don't like his occasional arrogance and rudeness to perfectly harmless and kind people, explicable by his situation as that manner is. (I'll be avoiding those aspects, but again, not doing anything out of character, I hope.) My favorites ... Capaldi, right now, is terrific, one for the ages. From the classic show, I alternate between Peter Davison and Sylvester McCoy, who both delight me with their characters and performances.
DF: In a non-spoilery manner, is there anything you can tell us about our invaders?
Paul Cornell: They're an odd mixture of technology and nature, and there's much more to them than meets the eye.
DF: Paul, what are some other projects you may have coming in the near-future?
Paul Cornell: I have some announcements about new comics later in the year! The second of my Lychford rural fantasy novellas will be released in November, and Who Killed Sherlock Holmes?, the third of my Shadow Police novels, is out now.
Dynamic Forces would like to thank Paul Cornell for taking time out of his busy schedule to answer our questions. Doctor Who: The Third Doctor #1 from BBC and Titan Comics hits stores August 31st!
For more news and up-to-date announcements, join us here at Dynamic Forces, www.dynamicforces.com/htmlfiles/, "LIKE" us on Facebook, www.facebook.com/dynamicforcesinc, and follow us on Twitter, www.twitter.com/dynamicforces
WOLVERINE #10 FIRST PRINTING CGC GRADED 9.8!
---
NEW! 1. 11/25/2020 - STEVE SKROCE
4. 11/16/2020 - RYAN O'SULLIVAN
5. 11/16/2020 - RYAN O'SULLIVAN