KIERON GILLEN

SEND THIS TO A FRIEND!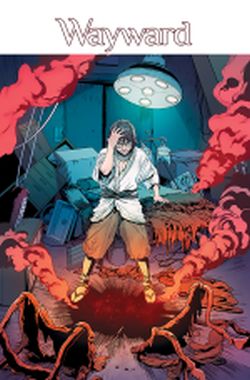 DF interview: More gods & pop stars: Kieron Gillen's Wicked + Divine begins new arc in July
By Byron Brewer
A hangover that will not go away opens a new arc on this veteran Image Comics book in July, so right out of the gate DF has tracked down writer/mastermind Kieron Gillen to fill us in on the goings-on in The Wicked + The Divine.
Dynamic Forces: Kieron, in this age of re-brands, re-boots and re-numbering, you are in pretty rarified air with this title approaching #29 in July. What does that feel like and tell us about the challenge of keeping the book fresh?
Kieron Gillen: It is an odd one. It says a lot about the current state of comics that none of the books I've done for Marvel have ever reached past 32 books. So this is about to become the single longest body of the work.
We did plan it from the beginning, in terms of being aware we wanted to reinvent the book regularly. Basically, every trade changes the status quo. Every second trade changes the status quo in a huge way, and defines the tone for the next year. This has been planned from the beginning. Execution varies, but those big landmarks loom on the horizon, and we set off marching towards them.
The main thing is that they've been so big, we're always wondering whether THIS is the one where we'll alienate the audience. As 31 starts the sixth trade, makes us suspect we may have pulled it off – there's probably to be eight trades in total, plus a specials trade. The end is a long way off, but we've certainly got it in sight.
DF: If you don't mind telling the story, I know there is a personal muse for you with the series involving your father …?
Kieron Gillen: It's an odd one. I hate talking about it, but there's also no way to not talk about it without lying, and I don't like lying. The core idea of the book hit me the week after my dad was diagnosed with terminal cancer. 12 gods, incarnating through history, living for two years and dying. It's my immediate response to grief, and comes from there.
DF: For those who have been under a rock recently (and who could blame them, lol), tell us a little generally about this Image Comics series.
Kieron Gillen: Every ninety years, twelve gods incarnate in the bodies of young people. They perform in front of huge crowds, inspiring them. They are rumored to perform secretive miracles. They are loved. They are hated. In two years, they are all dead. It's happening now. It's happening again.
The story is about the modern pantheon, and follows a fan Laura as she gets sucked into their world, and sees what's going on behind the curtain. It's a murder mystery. It's a conspiracy story. It's about art and the artist and death. Basically, the two years are a way to make a fundamental truth more clear. It doesn't matter if you have 2 years, or 10 years or 70 years – you're going to die, and that time is finite and all too brief. Why spend your life doing anything? In this case, why spend your life being an artist?
"Gods as pop stars and pop stars as gods" is normally the way we describe it.
DF: What do new readers need to know approaching The Wicked + The Divine, and why is #29 a good jumping-on place (if indeed it is)?
Kieron Gillen: We're deep in the book now. In terms of jumping on points, we normally view the new arcs as ways for people who've been following in trades to go "F*ck it – I want to have it as soon as possible! I can't wait for one trade every six months." And we also hype it generally, as it's never too late to jump on at the start and catch up. And then buy the singles. And then just send us wads of money, as we are that much beloved to you now. And we will spend the money on cats, and take photos of the cats, and people will retweet the photos of cats while going "Aww!
DF: Tell us about your protagonists.
Kieron Gillen: Right at the start I've described the books as about problematic people doing problematic things. That's them. The twelve gods, are a mixure of positive, inspiring traits and ones which render them utterly despicable. We get asked whether this is a celebration or a satire of being a creator a lot – in actual fact, it's a portrait. This is how creators tend to be... well, with the volume turned up anyway. Most creators don't engage in cannibalism, with the exception of Chip Zdarsky.
And the heroes no longer have a big bad. It's also at this point that people are increasingly realizing that there really are no heroes here. It's a messy book. The kinder characters are realizing that the big bads are the people in the mirror.
DF: What can you tell us, unspoilery, about the new arc coming with #29?
Kieron Gillen: The last arc was called IMPERIAL PHASE (Part 1). This one is IMPERIAL PHASE (Part 2). That means the whole of our third year is basically a single movement, slowly building to a climax. This is basically about the gods deciding what they want to do as the clock ticks closer to midnight. At the end of last arc, one of the gods kind of killed a lot of people. This arc falls out from there... and as other gods wrestle with their own demons.
Last one was spread out over months. This one is much more intense. Five issues, set over a few days.
DF: How is it working with the very talented artist Jamie McKelvie for such a length of time? Does it get where you can finish each other's sentences, like an old married couple? (laughs)
Kieron Gillen: We do finish each other's sentences. We finish it with "Ignore what I just said. I am a fool, and should be ignored" and then go on to give our actual answers.
We are a very old married couple, and it's fun now. We've spent so long together, we know our quirks and strengths, and also know what's never going to change. And we're so proud we've gotten to do this book. With Matt and Clayton, this is going to be this huge chunk of comics when it's over.
We'll be working apart when it's over, so it's kind of like a victory lap. It has been a fun time.
DF: Kieron, tell us about any other projects you can, current or near-future.
Kieron Gillen: I announced a book back in 2014 called The Ludocrats which I've co-written with Jim Rossignol (founder of video game company Big Robot) with art from David Lafuente. It's been delayed by tedious reasons – which is ironic, because a book about the bounds of human imagination being held up by paperwork is hilariously on the nose. Everything ready now – David is finishing off his current script, and then diving in. I'm not sure if it'll come out this year, but certainly not long after it.

And then there's another ongoing comic I'm writing now, which is code-named SPANGLY NEW THING. News on it soon. I'm so excited about it that it's almost embarrassing.
Dynamic Forces would like to thank Kieron Gillen for taking time out of his busy schedule to answer our questions. The Wicked + The Divine #29 hits stores July 5th!
For more news and up-to-date announcements, join us here at Dynamic Forces, www.dynamicforces.com/htmlfiles/
, "LIKE" us on Facebook, www.facebook.com/dynamicforcesinc
, and follow us on Twitter, www.twitter.com/dynamicforces
.
JAMES BOND: SERVICE SPECIAL Written by Kieron Gillen
DOCTOR APHRA #1 RARE BLACK KRRSANTAN ACTION FIGURE VARIANT! Written by Kieron Gillen
DARTH VADER #1 BLANK COVER FIRST PRINTING! Written by Kieron Gillen
ORIGIN II #1 SIGNED BY STAN "THE MAN" LEE Written by Kieron Gillen
IRON MAN #9 DF EXCLUSIVE GOLD SIGNATURE SERIES SIGNED BY STAN LEE Written by Kieron Gillen
X-MEN #10 - SIGNED BY COVER ARTIST TERRY DODSON Written by Kieron Gillen
---
NEW! 1. 11/25/2020 - STEVE SKROCE
4. 11/16/2020 - RYAN O'SULLIVAN
5. 11/16/2020 - RYAN O'SULLIVAN