BRIAN JOINES

SEND THIS TO A FRIEND!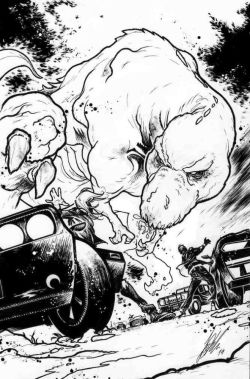 DF Interview: Brian Joines takes us on a death race across time in 'Backtrack'
By Byron Brewer
If you had a chance to fix a mistake from your past, would you take it? Alyson Levy's life as a "wheelman" for various criminals resulted in a tragedy which left her heartbroken to this day. When she hears news of a massive cross-country car race granting the winner the opportunity to correct a single mistake in their life, Alyson couldn't say no. But there's one small catch. Each leg covers a different period in history. Drivers will have to contend with the world outside: barbarian hordes, dinosaurs, medieval warriors, even the far-flung future…all while keeping ahead of the competition and contending with treacherous roadways. Survival may be the only way to win; and to right history, Alyson will drive from the Big Bang to the death knell of the universe.
From Lion Forge comes Backtrack, by writer Brian Joines and artist Jake Elphick. DF wanted to know more about this wacky race, so we hopped into our turbo-timecar and caught up with scribe Brian Joines.
Dynamic Forces: Brian, you've described your new series Backtrack as a "story of racing, redemption, and raptors out for a spin." A little exposition, please.
Brian Joines: Everybody makes mistakes and sometimes those mistakes are so bad you'd do anything to correct them. In the world of our series, that means being approached to enter a massive car race where each leg is run in a different period of history. And if you win, you get to go back along your own timeline and make that correction.
DF: Has this saga been something you have been planning a while? Any particular inspiration for the series? I know it's been described as "one part Fast and Furious, one part Back to the Future, with a healthy dash of The Hunger Games." [Lion Forge solicit]
Brian Joines: I first had the idea after my friend and I saw one of the recent Fast & Furious movies and we started joking about how ludicrous that franchise had grown and where they could go next. My first inclination was to merge it with the other big Universal property, Jurassic Park. Even though it was just a joke, I wasn't able to shake the idea and continued to play with it.
Beyond that, there's lots of influences involved, especially driving-centric films like Cannonball Run, Vanishing Point, Death Race 2000, and my personal favorite, The Great Race, which gets a very specific Easter egg/shout-out in the book.
DF: Introduce us to Alyson Levy. Who is she as a character, in your writer's eye?
Brian Joines: Alyson is someone who had a rough upbringing that she's buried under layers of emotional detachment and jaded sarcasm, something that's served her well in a life of crime as a getaway driver. But she does have chinks in the armor so when tragedy strikes, she's completely ill-equipped to handle it and falls to pieces, her façade of cool reserve gone. This makes her a perfect target … er, candidate for the race.
DF: Not wanting any spoilers here, but can you clue readers in at all about the heartbreaking tragedy in Alyson's past?
Brian Joines: Hah…oh, man. Let's just say actions have consequences and leave it at that.
DF: I understand it was a year or so ago at ECCC that you pitched the bare bones of Backtrack to Lion Forge editor Jasmine Amiri. Tell readers what you remember of that experience, and how has the story evolved since that pitch to what we'll be seeing in September on comics stands.
Brian Joines: What's funny about that meeting is that I'm terrible at verbal pitching…you put me on the spot and it's flopsweat central. I knew Jasmine from her time at BOOM! Studios and reached out to her to learn more about Lion Forge as a company. But the chance to pitch the book came about organically and, for once, I was spot-on with the story, the characters, everything. So I'm declaring that a major victory.
As far as what's changed since that pitch? Not a lot. Just some fine-tuning, some streamlining, a couple of surface bits. The majority of the series can be found in the original pitch.
DF: Any other important characters readers need to know about as issue #1 goes on sale? If so, can you introduce a few of them here briefly?
Brian Joines: The only one I'll talk directly about is Casper Quellex, the man who organizes the race. He's part used car salesman, part Willy Wonka, part Mr. Dark, someone offering an incredible proposition whose motivation should always be second-guessed. Beyond him, Alyson's competition includes a disgraced NASCAR driver, a former street racer, a disowned heiress and her driver, and a mysterious figure who has done this race numerous times before because…reasons.
DF: Talk about the art of Jake Elphick.
Brian Joines: Jake's a titan, the real deal of talent, no question. Jasmine showed me his stuff while we were considering artists and I liked what I saw, even though the work was older. But then she showed me some of his more recent work, which demonstrated so much character work and dynamic energy that I knew he was the one. The pages he's delivered so far have been phenomenal and if people are paying attention, he should be getting multiple gigs out of this.
DF: Brian, what other projects of yours, in or out of comics, can you tell readers about?
Brian Joines: The biggest news is that work continues on the IMAGINE Agents film adaptation, which has a script that absolutely captures the heart of my story. I've met with the producers and the director and if stars align just right, we're going to have a really great movie on our hands.
Beyond that, I'm just developing some new comic projects, including looking at venues I haven't before like a web series or Kickstarter, and working to dip my toe into the screenwriting world. I always say being a writer is like being a shark…you stop swimming, you die. And I'm nowhere near ready to stop swimming.
Dynamic Forces would like to thank Brian Joines for taking time out of his busy schedule to answer our questions. Backtrack #1 from Lion Forge hits stores in September!
For more news and up-to-date announcements, join us here at Dynamic Forces, www.dynamicforces.com/htmlfiles/, "LIKE" us on Facebook, www.facebook.com/dynamicforcesinc, and follow us on Twitter, www.twitter.com/dynamicforces.
---
NEW! 1. 11/25/2020 - STEVE SKROCE
4. 11/16/2020 - RYAN O'SULLIVAN
5. 11/16/2020 - RYAN O'SULLIVAN