JOHN LAYMAN

SEND THIS TO A FRIEND!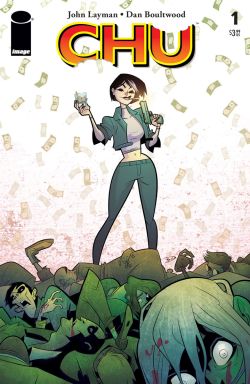 DF Interview: John Layman serves up a new dish in 'Chu'
By Byron Brewer
Tony Chu is a cibopath, able to get psychic impressions from what he eats. Saffron Chu is a cibopars, able to learn secrets from who she eats with. Tony is a cop. Saffron is a criminal. They are brother and sister, and they are on a collision course.
Spinning out of the multiple Eisner Award-winning and New York Times bestselling series Chew comes Chu, a felonious new food noir about cops, crooks, cooks and clairvoyants, from writer John Layman and artist Dan Boultwood. DF pulled up a seat to this award-winning table to, between courses, speak to scribe John Layman about this coming culinary spin-off.
John Layman: Let's go into this getting one thing out of the way before we go into the interview. While a lot of comic creators have been pencils-down [during the COVID-19 pandemic], Dan Boultwood and I have been going full steam ahead with Chu. We have almost a full mini-series in the can and ready for the world.
Dynamic Forces: That is awesome! … John, I knew you were working on something new in the CHEW-niverse, but this is really outta left field. Tell us about the genesis of Chu – not the character but the book and how it came to be. Something you've had on the back burner cookin' (LOL) a little while?
John Layman: The idea of returning to the universe of Chew was always there, I just needed to find the right avenue. I have no interest in coming back solely for the sake of coming back. I wanted to say something new, not just rehash with "lost case files of Tony Chu," or something like that. I needed to find a way to go forward in a new and different way, and this took some time. A new character was the answer, and to flip Chew into something different and… opposite? So… a female, food-powered criminal instead of a male, food-powered cop seemed to be the answer.
DF: For the uninitiated, introduce readers to Saffron Chu … and maybe explain what a cibopars is and how that applies to our gal.
John Layman: Saffron is able to learn things from the people she eats with. If she shares a meal, or even a drink or cigarette—whenever she has the same thing at the same time as someone else, she is able to flash on something. Learning other people's secrets is a handy talent, especially if you are a crook, which is exactly what Saffron Chu is.
DF: What can you tell readers about the overall storyline of Chu? Is it a Chew prequel?
John Layman: The first mini is a prequel. That is, Chu will run separate and concurrent with Chew, but it will spin out of it (and explain why Saffron was never featured or even mentioned in Chew). The first Chu mini – and the book will be told in irregularly-scheduled minis – will take place in the early days of the bird flu, before Tony Chu was partnered with John Colby, before Tony Chu's family hated him, and before Saffron Chu gets in the trouble that eventually defines her entire life going forward.
DF: Is our favorite law enforcer, Tony Chu (Saffron's brother), involved in this comic crime caper at all?
John Layman: Absolutely. This mini is equal parts Tony and Saffron. Chu will very quickly evolve into its own thing, but in this first mini, at least, there is a lot of connective tissue to the original series. Both Tony and Saffron are from the very same large family, after all. Lots of siblings, though the focus will eventually be on different family members than were the focus of Chew.
DF: Describe a little the food-noir world you and artist Dan Boultwood are endeavoring to create.
John Layman: It's CHEW-adjacent, and I don't want to go into too many details about how Chu is different from Chew. It's recognizably the same world, but I'm taking steps that this book will be distinct as its own thing. Obviously, you'll get more out of it if you've read Chew, but this new book is not dependent on you reading the old stuff, if you want to make this your jumping-on point.
DF: Speaking of Dan (I was), tell us what he brings to the table here. (See what I did there? Sorry.)
John Layman: In the same way Chu is adjacent to Chew, I'd say Dan Boultwood is adjacent to Rob Guillory. Not so different the change in artists is going to be jarring, but Dan is clearly his own artist, and doing his own interpretation of the world. The hunt for Dan took more than a year, and I couldn't be more happy with the partnership.
DF: This is a tough question to phrase in a book whose star is a food-powered female criminal, but who/what will be Saffron's challenge, her big-bad … or big-good? Law enforcement?
John Layman: Saffron's problems, beyond staying one-step ahead of the law and other criminals, are largely self-inflicted. She makes bad decisions, and is constantly one step ahead of disaster, usually a disaster that is ultimately of her own making. That's kinda the first rule of noir, isn't it? And Chu is definitely a little more noir than Chew was.
DF: John, what other projects of yours can you tell readers about?
John Layman: As comics start up again, we're currently wrapping up a mini where Chew crosses over with Outer Darkness, my sci-fi/horror Skybound series. I have the high-adventure series Bermuda coming up with Nick Bradshaw and IDW, and am wrapping up The Man Who F#%&ed Up Time, a sci-fi, time-travel comedy with Karl Mostert and AfterShock, and I'm working on another truly incredible crossover with my friends at Dynamite… can't wait until I am able to talk about that one.
Dynamic Forces would like to thank John Layman for taking time out of his busy schedule to answer our questions. Chu #1 from Image Comics is slated to hit stores July 22nd! Keep watching DF News and comics-related social media for more information.
For more news and up-to-date announcements, join us here at Dynamic Forces, www.dynamicforces.com/htmlfiles/, "LIKE" us on Facebook, www.facebook.com/dynamicforcesinc, and follow us on Twitter, www.twitter.com/dynamicforces.
DETECTIVE COMICS #19 FIRST PRINTING MAD RETAILER INCENTIVE COVER SIGNED BY JOHN LAYMAN!
DETECTIVE COMICS #19 FIRST PRINTING STANDARD COVER SIGNED BY JOHN LAYMAN!
RED SONJA/CLAW #1 JIM LEE/ALEX ROSS COMPLETE COVER SIGNED PAIR - SIGNED BY WRITER JOHN LAYMAN AND ANDY SMITH!
RED SONJA/CLAW: DEVIL'S HANDS TRADE PAPERBACK
ARMY OF DARKNESS/XENA COMPLETE OMNIBUS
CHARLIE'S ANGELS VOL. 1 TRADE PAPERBACK
XENA: WARRIOR PRINCESS VOLUME 1 OMNIBUS TRADE PAPERBACK
THE TWILIGHT ZONE: SHADOW & SUBSTANCE TRADE PAPERBACK
---
NEW! 1. 11/23/2020 - CHUCK BROWN
3. 11/16/2020 - RYAN O'SULLIVAN
4. 11/16/2020 - RYAN O'SULLIVAN