MAGDALENE VISAGGIO

SEND THIS TO A FRIEND!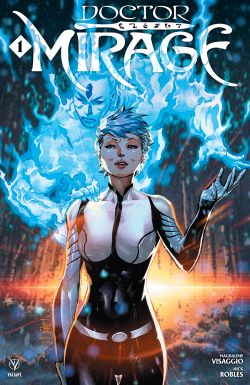 DF Interview: Magdalene Visaggio takes our hero on a journey to parts of Hell even the Devil is afraid to roam in 'Doctor Mirage'
By Byron Brewer
How do you solve the case of your own death? Paranormal detective Doctor Shan Fong Mirage had the ability to see and talk to the dead. Except the dead have gone silent, their spirits mysteriously vanished, including Hwen, her deceased husband. Now, Doctor Mirage must face the most challenging question of her life: Is she dead but doesn't know it?
A brand-new Doctor Mirage series will be conjured by Eisner Award-nominated writer Magdalene "Mags" Visaggio (Eternity Girl), artist Nick Robles (Euthanauts), Eisner Award-nominated colorist Jordie Bellaire (The Vision), and letterer Dave Sharpe (Harley Quinn).
To get to the heart of this book, DF spoke with scribe Mags Visaggio, who graciously went out of her way for this interview, which is much appreciated.
Dynamic Forces: Mags, Doctor Mirage is one of the bedrock characters of Valiant, IMHO. What does it feel like to be adding to this hero's iconic legend?
Magdalene Visaggio: I've always been intrigued by the concept of Doctor Mirage, but she really felt too much in Hwen's shadow; both of her first two arcs center around attempts to rescue him, as though that's going to bring about some kind of restoration ante bellum to her life. So, when Valiant approached me about doing a book where Hwen was gone, I got really excited. What would it be like to bring Shan into her own?
DF: Your storyline is one of my favorite types, a true hero's journey. Shan Fong faces the arduous task of reassembling her own life from its wreckage. Tell us a little about it.
Magdalene Visaggio: The key thing to know is that Shan has suffered a terrible loss, and for the first time she has to really deal with finality, something she's never had to endure. She's seen dead people her entire life, so she's always known death wasn't the end. And she only went without Hwen for a brief period after his death. So at the start, she's somewhere she's never really had to be: real, final grief, and what's worse, a grief she blames herself for.
So, rather than telling yet another story about trying to get Hwen back, I wanted to do a story where she has to learn how to move on, and own her own life and her own destiny instead of just endlessly circling around her husband. Getting there is going to mean going through hell in a whole new way.
DF: Beginning her own personal Year Zero (as they like to say on multiple variant comics covers these days, LOL), Shan is also facing her task with the unaccustomed sounds of silence. The dead have gone as quiet as … well, the dead, and even the spirit of her late husband Hwen is nowhere to be heard. Can you offer some clues as to how the Doctor will cope, and what may have happened to her powers?
Magdalene Visaggio: That's the mystery. You'll have to read to find out.
DF: Before we go further, and since you have stated you are a fan of the character: Tell readers about your iteration of Doctor Mirage. Who is this woman, this hero to you as a writer?
Magdalene Visaggio: I'm still getting to know her as a writer, and I'm eager to see what she's like in "real life." But for the purposes of this story, she's someone who's never really…failed. I mean, the whole ghost thing contextualizes loss for her. It's temporary at best, and she is quite literally haunted. She's given her life in service to the dead, and so has never really lived her own. So, what I wanted to do was make her take control of that life for the first time.
DF: Another aspect of this hero's journey is that it can be really fun for new fans, yes, but also established Valiant U buffs as you are going to explore its vast and mostly undefined magical universe. Tell readers a bit about what the good Doctor MAY find or who she may encounter, if you would.
Magdalene Visaggio: She's got a new friend, a new ally—and a new enemy that's going to change things for her in a big way. She's going to go on a quest through hell, and that's going to irrevocably change her.
DF: Talk about the works of artist Nick Robles (Euthanauts) and Eisner-nominated colorist Jordie Bellaire (The Vision).
Magdalene Visaggio: I knew Nick would be perfect for the book as soon as [Editor] Lysa [Hawkins] brought him up. If you saw his work on Euthanauts, you know he has a very unique, very moody style that would blend well with the story I was telling. And Nick is really just extraordinary; I've been lucky to work with some of the best artists in comics, and I'd absolutely rank him up there. Everything from the emotional expressiveness of his characters to the rank insanity of the magical realms I've called on him to conjure just goes above and beyond.
This is my second time working with Jordie, and she always elevates anything she touches. What I'm struck by in her work on Doctor Mirage is how she brought this very unique kind of…chunky colors to it, with lots of subtle blocks. It's really fascinating, and it does a lot to give this story a very one-of-a-kind look.
DF: Mags, are there any other projects on which you are working that you can share with readers?
Magdalene Visaggio: I can't talk about pretty much ANYTHING that hasn't already been announced.
Dynamic Forces would like to thank Magdalene Visaggio for taking time out of her busy schedule to answer our questions. Doctor Mirage #1 from Valiant Entertainment hits stores in August!
For more news and up-to-date announcements, join us here at Dynamic Forces, www.dynamicforces.com/htmlfiles/, "LIKE" us on Facebook, www.facebook.com/dynamicforcesinc, and follow us on Twitter, www.twitter.com/dynamicforces.
---
NEW! 1. 11/25/2020 - STEVE SKROCE
4. 11/16/2020 - RYAN O'SULLIVAN
5. 11/16/2020 - RYAN O'SULLIVAN