MATTHEW ROSENBERG

SEND THIS TO A FRIEND!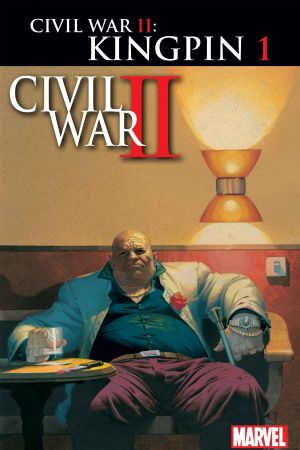 DF Interview: Matthew Rosenberg shows us Wilson Fisk is a survivor in Civil War II: Kingpin
By Byron Brewer
An Inhuman with the ability to predict the future has helped the heroes of the All-New All-Different Marvel U. clamp down on crime before it can even happen. While this thwarts most criminals, one man has found a way to keep doing what he does best.
Wilson Fisk, the Kingpin, has managed to stay one step ahead of the good guys and his crime enterprise is booming! Writer Matthew Rosenberg (We Can Never Go Home) and Ricardo Lopez Ortiz (Wolf) present a gritty, street-level view of the event raging through Marveldom in the four-issue miniseries, Civil War II: Kingpin.
Oh, what is the Kingpin's secret, you ask? We wanted to know too, and much more … so DF hit the streets and spoke with Matthew Rosenberg.
Dynamic Forces: Matthew, tell us how this Civil War II event miniseries came about.
Matthew Rosenberg: Last year, I was lucky enough to get to do some work for Marvel. I did a short X-Men story for Secret Wars Journal and I wrote the SHIELD: Quake one-shot. Off of those I had been talking with a few folks at Marvel about doing more stuff. I really wanted to do a villain book but the timing just wasn't right. When Civil War II started rolling Wil Moss reached out to me and we figured out a way to make my villain idea tie into Civil War II. It worked out nicely because the story I wanted to tell fits really well into the shadows that the larger Civil War II casts.
DF: Norman Osborn really cashed in big-time during Secret Invasion, almost conquering the U.S. government AND the Avengers – and as a hero! What does Wilson Fisk have in mind for Civil War II?
Matthew Rosenberg: Well, Norman and Wilson operate on different levels. Both of them are probably megalomaniacs, the scope and scale of how that manifests is different, though. Partially because Wilson Fisk isn't insane. He has a very twisted moral compass and is willing to do a lot of awful things, but he understands his boundaries and his needs. Where Norman Osborn wants to rule the world, Wilson Fisk just wants to rule his tiny piece of it. So this story is more about Wilson Fisk trying to carve out his piece of the world and using the backdrop of Civil War II to help him get it. Wilson Fisk wants nothing more than to have his plans succeed and be left alone. It just happens that his plans are to run all crime in New York.
DF: Tell us, in your mind as a writer, what makes the Kingpin such a fascinating character to write. What aspects of his character do you enjoy?
Matthew Rosenberg: It's hard to differentiate the "writer" side of me from the "fan" side, so I'll try to answer for both. The thing that draws me, and I think most fans, to Marvel books is the nuanced characters. The idea of the troubled, imperfect, fallible hero is so relatable, so inherently optimistic and beautiful in a lot of ways. What the early Marvel architects did was build a template for characters that were both aspirational and almost attainable. But the Kingpin is the opposite side of that coin. He is human, relatable, and proves to be a cautionary tale. Like a lot of the greatest heroes his rough childhood, his unfortunate circumstances, his differences, they all met head-on with his drive and his determination. But where Peter Parker, Luke Cage, Matt Murdoch or Scott Summers went in one direction, Wilson Fisk went in the other. And in doing so he became a truly tragic figure in a lot of ways. Fisk is smart, determined, strong and passionate. He could be one of the great heroes, but his own greed and lack of empathy turned him into something we are supposed to hate. For me, watching his plans fall apart, the woman he loves leave him, his own child betray him... just watching him get beaten over and over, it is heartbreaking in a way. But it's his own doing and I love that about him.
DF: Will we see any of the feuding Marvel heroes in this four-issue series?
Matthew Rosenberg: Yup. The war for the soul of the Marvel Universe will hit every corner. Even the shady ones that are trying their best to stay out of the spotlight.
DF: Will there be any other big-bads perhaps going against Fisk's finely-tuned plans? There's a lot of competition out there!
Matthew Rosenberg: It's a hard time for the bad guys to operate. Watching Fisk rise up is going to bring a few of the big baddies out of the woodwork, for sure. But when Wilson Fisk is going there aren't a lot of people who are going to rush out to stand in his way. Also, Fisk isn't going to climb to the top without stepping on a few backs on the way. So you will definitely some unsavory types come and go.
DF: I know this is a limited series, but can you tell us (non-spoilery, of course) if there are any major turns in the overall Civil War II event coming in Kingpin that those perhaps not reading the "side" books may need to look out for?
Matthew Rosenberg: I think what we are trying to do is do a book that matters if you read Civil War II and stands on its own if you don't. It's a bit of a tightrope act, for sure. Wilson Fisk's plan definitely plays into the bigger world and he is going to interact with a lot of pieces of that world. So if you want to see Civil War II from multiple sides, we are definitely giving you a Civil War story you won't get anywhere else.
But if you want to read a book about one of the best bad guys in the Marvel Universe as he fights his way back up to the top of the heap... we got that book for you too. As for major changes to the status quo? You'll have to read it and see.
DF: What is it like working with artist Ricardo Lopez Ortiz?
Matthew Rosenberg: Ricardo is amazing. I've known him for a bit from around the New York comic scene and have always been a big fan of his work. I said once that "his stuff is just so cool" but I think that's a disservice. His stuff is jaw-droppingly cool. It's stylish, striking and feels unique. But he is a lot more than that. He is a great storyteller and puts so much character and humanity into his work. And that is where he really shines. There are a lot of artists who can do one or the other, be stylish or be fundamentally good storytellers. It's the rare artist who is both. I think we are going to see a lot of folks who don't care about Kingpin, or Civil War, or me, picking up the book to stare at his pages. And they are getting their money's worth, I promise.
DF: Finally, Matt, any other projects you are involved with, present or near-future, you can share with us?
Matthew Rosenberg: Hey, yeah. I have a creator-owned book with my buddy Tyler Boss coming out now called 4 Kids Walk into a Bank. If you want to see a comic where children commit crimes, this isn't your only option but it is an option. Also my series We Can Never Go Home about teens with strange abilities and how that can go wrong is coming back later this year, but you can grab Volume 1 now to get yourself ready. I am co-writing Archie Meets Ramones with my buddy Alex Segura for Archie. And then I have a whole bunch of stuff coming up that I can't talk about but will keep me pretty busy.
Dynamic Forces would like to thank Matthew Rosenberg for taking time out of his busy schedule to answer our questions. Civil War II: Kingpin #1 hits stores July 6th!
For more news and up-to-date announcements, join us here at Dynamic Forces, www.dynamicforces.com/htmlfiles/, "LIKE" us on Facebook, www.facebook.com/dynamicforcesinc, and follow us on Twitter, www.twitter.com/dynamicforces
---
NEW! 1. 11/25/2020 - STEVE SKROCE
4. 11/16/2020 - RYAN O'SULLIVAN
5. 11/16/2020 - RYAN O'SULLIVAN