CULLEN BUNN, KYLE STRAHM & BALDEMAR RIVAS

SEND THIS TO A FRIEND!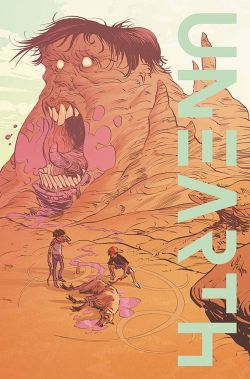 DF Interview: Cullen Bunn, Kyle Strahm & Baldemar Rivas mix the supernatural with disease in 'Unearth'
By Byron Brewer
When a flesh-warping disease ravages a remote village in Mexico, a scientific task force travels to the inhospitable area to investigate the contamination. Tracing the source of the disease to a nearby cave system, the team discovers a bizarre, hostile ecosystem and a supernatural revelation from which they may never escape.
DF was curious about this new subterranean nightmare brought to readers by writers Cullen Bunn (Regression) and Kyle Strahm (Spread), and artist Baldemar Rivas … so curious, in fact, that we sat down with all three to talk this new Image comic.
Dynamic Forces: Cullen, you've become the unarguable master of horror in the mainstream comic book world, IMHO, and you've had a lot of locales for your stories. What led to this "horror at the center of the world," Unearth?
Cullen Bunn: Kyle Strahm and I have been talking for a long while about working on something together. We have very similar sensibilities when it comes to horror, but with enough differences that when we work together we come up with something completely new and, frankly, bat-poop crazy. I say "bat-poop" because (A) bats live in caves and (B) because I'm not sure how family friendly I should be in this interview. The initial seed for Unearth came from Kyle, I think. I'm not sure, because this all came together a few years back. From that seed, we started developing this book. There was a period of time when every time we hopped on the phone to discuss the project, one or both of us would come up with some game-changing idea to ensure that this comic would make readers poop their pants. I say "poop their pants" because (A) I'm still trying to be family friendly here and (B) because readers will need new undergarments after reading this action/horror epic.
DF: Kyle, you're best known as an artist, also with a knack for horror. How did you become involved in this project?
Kyle Strahm: Most comic book artists I know learned to draw because they want to create stories. I'm the same way and have always been interested in writing comics, I just took the long way to get there.
I met Baldemar Rivas through an illustration class I teach at the Kansas City Art Institute. Baldemar was creating awesome work, and after he graduated I called up Cullen. We'd been talking about doing a project so I told him "this is the guy."
From there, the three of us developed a story based on the sorts of things Baldemar was the most interested in drawing. You almost got a killer doll story, but luckily you got Unearth instead.
DF: How are you guys divvying up the duties? What is the process?
Cullen Bunn: Kyle and I get on the phone or meet in person and outline every issue. We plan each scene and assign a number of pages we think that scene will require. Then, we just assign each scene to one of the two of us. Almost always, it breaks down pretty evenly, and we haven't gotten into a fight yet about who will write which piece of the story!
DF: Baldemar, what is it like working with these guys?
Baldemar Rivas: It's been a blast to work with Cullen and Kyle! They are very receptive in the art direction and tone I want to show in the book. The duo does challenge me in pushing the grotesque side which frankly I am proud to be a part of. Haha!
DF: What can you tell me (without using the Image solicit since I am stealing it for another part of this interview, bwahaha!) about the world you are building here? Sounds very intriguing, in a nightmarish sort of way.
Cullen Bunn: This story takes place in "our" world, or at least a comic book version of our world. The heroes are very much real people. But this awful disease, as you will see very quickly, is nothing of our world at all. And once the medical team and their military escort descend into the cave system that might be the source of the disease, all bets are off. At that point, the world DOES become very, very nightmarish. One of the things that's most exciting for me is that this is just the tip of the iceberg in terms of where we are going. Baldemar, Kyle and I just had a brainstorming discussion about the second and third arcs that just blew my mind!
DF: Can you introduce us to the members of your scientific task force, give a little about their characters/roles in the saga?
Cullen Bunn: We've got a big cast in this story, so I'll only mention a couple of them. We've got Dr. Amelia Reyes, who is a bit disconnected from the world due to a tragedy in her life. Trying to solve the mystery of this disease is her way of trying to make up for failures in her past. Frankie McCormmick is a biologist who may have a little too much conscience for the military escort that accompanies her. Then we have King and Nails, a couple of favorite characters from the military team. And since they are my favorites, they get treated horribly.
DF: Is the flesh-warping disease the task force is investigating a mere MacGuffin in Unearth, or does it factor heavily into the consequences of the tale down the road?
Cullen Bunn: It is not a MacGuffin. It is the key to something really, really awful that is right around the corner. I'd say it is the building block of our world-building, but it's more of a wrecking ball for our world-destroying.
DF: Tell us from whence comes your love of the horror genre?
Cullen Bunn: My love of horror goes way back, and I see it stretching into the infinite, impossible future. As a writer, horror offers so many different types of stories. Unearth, for example, is nothing like any of the other horror books I've worked on and it is still something that is very much one of my stories.
Kyle Strahm: My love of horror comes from being an '80s kid bombarded with gross-out toys. I embraced all that stuff without being aware of how disturbing it was. I've done a lot of cartoon horror, but with Unearth I'm excited to be telling a story that's grounded in reality. There are no Boglins in our story.
Baldemar Rivas: My love of horror would have to come from my love of monsters. I've been a sucker for transformations like the Werewolf and the Fly. That's something I wanted to focus on in Unearth.
DF: What else are you each up to? What other projects can you tell our readers about?
Cullen Bunn: Well, the same month that Unearth comes out, I have a new AfterShock comic titled Knights Temporal and a Dark Horse book titled Manor Black hitting the shelves. They are three very, very different books, but I think readers will dig them all. Kyle and I are also working on something new, but it is a little early to talk about that!
Kyle Strahm: I wish I could talk about it all! I've spent the last couple of years developing projects as a co-writer and another project I'll be drawing myself. Unearth is the first of many, which is very exciting for me! Along with writing, I'm drawing variant covers for Unearth and have a lot of covers on the way from various publishers.
Baldemar Rivas: Unearth is my baby, haha! I'm doing all the art, covers and color on this book which is my main focus. I do have covers I did for Kino from Lion Forge coming out this month which were a lot of fun to do. I'm also an avid sketchbook doodler, and so I post those on social media to help me unwind.
Dynamic Forces would like to thank Cullen Bunn, Kyle Strahm & Baldemar Rivas for taking time out of their busy schedules to answer our questions. Unearth #1 from Image Comics hits stores July 10th!
For more news and up-to-date announcements, join us here at Dynamic Forces, www.dynamicforces.com/htmlfiles/, "LIKE" us on Facebook, www.facebook.com/dynamicforcesinc, and follow us on Twitter, www.twitter.com/dynamicforces.
VAMPIRELLA VS. REANIMATOR #1 ATLAS EDITION - SIGNED BY CULLEN BUNN
DEADPOOL: SPECIAL MISSIONS #1 SIGNED BY CULLEN BUNN
VENOMVERSE #1 ULTRA-LIMITED SYMBIOTE SILVER EDITION - SIGNED BY CULLEN BUNN
X-MEN: BLUE #1 SKOTTIE YOUNG VARIANT ULTRA-LIMITED BLUE SIGNATURE SERIES SIGNED BY CULLEN BUNN
X-MEN: BLUE #1 ULTRA-LIMITED BLUE SIGNATURE SERIES SIGNED BY CULLEN BUNN
DARTH MAUL #1 ULTRA-LIMITED CRIMSON RED SIGNATURE SERIES EDITION SIGNED BY CULLEN BUNN
DEADPOOL BACK IN BLACK #1 SIGNED IN BLOOD RED BY CULLEN BUNN
KISS: THE DEMON TRADE PAPERBACK (Kyle Strahm)
PUMPKINHEAD #1 (OF 5) (Kyle Strahm)
KISS/ARMY OF DARKNESS #1 (OF 5) (Kyle Strahm)
HACK/SLASH VS. VAMPIRELLA #4 (OF 5) (Kyle Strahm)
KISS #9 (Kyle Strahm)
ARMY OF DARKNESS/XENA: FOREVER... AND A DAY #5 (OF 6) (Kyle Strahm)
EVIL ERNIE #2 "OLD SCHOOL" EXCLUSIVE SUBSCRIPTION VARIANT COVER (Kyle Strahm)
---
NEW! 1. 11/25/2020 - STEVE SKROCE
4. 11/16/2020 - RYAN O'SULLIVAN
5. 11/16/2020 - RYAN O'SULLIVAN