MICHAEL DIALYNAS

SEND THIS TO A FRIEND!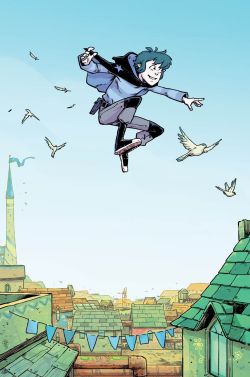 DF Interview: Michael Dialynas begins new limited series on learning to spread your wings in 'Wynd'
By Byron Brewer
Wynd lives a quiet life in Pipetown -- working at the local tavern, out of sight in the secret rooms beneath the floorboards, often stealing away to catch glimpses of Thorn, the castle groundskeeper's son, as he works. But Wynd also has a secret… magical blood betrayed by his pointed ears, forbidden within the city limits. His shaggy hair has obscured them for most of his life, but now that Wynd is a teenager they are growing too unwieldy to hide.
Joined by his best friend Oakley, Wynd's strange dreams and an encounter with the city guard send him on an adventure more dangerous than he could ever imagine, where Wynd will discover the magic in the world around him and, most importantly, the magic within himself.
From BOOM! Studios comes Wynd, an all-new limited series by the award-winning superstars writer James Tynion IV (Something is Killing the Children, Batman) and artist Michael Dialynas (Teenage Mutant Ninja Turtles), with letterer Aditya Bidikar (Isola). DF caught up to Dialynas to inquire about this new book.
Dynamic Forces: Michael, before we discuss this new limited series, Wynd, how does it feel to be reunited with writer James Tynion IV with whom you won the GLAAD Award for The Woods?
Michael Dialynas: Byron, to be honest, I never felt James and I stopped collaborating after finishing The Woods. Working together on that for four whole years was a bonding experience and, once we had finished, we started brainstorming and looking into what we would do next straight away.
DF: Tell readers about that, how you came to be a part of this project?
Michael Dialynas: James had visited Greece for the Thessaloniki Comic Con two years ago when the ninth and final TPB of The Woods came out, and throughout the three days we were passing notes and sketches and early concepts of the boy called Wynd. By the time the con was over, James had written out a treatment for the whole series. And that was that, we had brainstormed a new series based on a story he wanted to do in high school and my urge to create a new fantasy world! Once we had straightened out our schedules and jammed with our awesome editor Eric Harburn, who was a big part of our journey making The Woods, we were good to go.
DF: What can you tell readers about Wynd, the character?
Michael Dialynas: I can tell you that Wynd is such a good boy! Loving, caring and hard working. But he's afraid of what he is, touched by magic, and living in a town where magic is prohibited.
DF: Talk a little about building the world Wynd will inhabit with your artist's toolbox. In your work, discuss how things change between calm and emotion, quiet and adventure, etc. I love an artist's mind.
Michael Dialynas: I have a habit of changing my style a bit to accommodate the story. This is something that stuck with me in my early years before breaking into the U.S. comics market. I loved experimenting with different looks, that was a good thing to be able to do when freelancing.
So when Wynd came around, I just wanted to go back to my roots a bit and draw in a more "cartoony" way and have loads of fun coloring.
In Wynd, the walled-off-from-nature city called Pipetown is our main setting. I didn't want to go with a typical steampunky look, so I aimed to make something new, so the "roots" of Pipetown are the pipes that run throughout the city and the buildings are clustered on top of them, giving them a look of something you would see in shoreline towns. And since the city is cut off from nature, there is a lot of street art with paintings of trees and flowers to give the place a little color for the inhabitants to enjoy.
There's a [part of the series] that takes place under the city, in the pipelines, that was really creepy to draw!
DF: Can you give us a capsule summary of the storyline?
Michael Dialynas: Wynd is a coming-of-age story about a boy touched by magic and living hidden away in a city called Pipetown, where his kind is prohibited. But he is suddenly forced to go on the run when the mysterious Bandaged Man arrives to purge the city of everything magical.
DF: Did you do the character designs? If so, tell readers a bit about that and your collaboration on same with James.
Michael Dialynas: James gave me some board strokes to work with that encapsulates the meaning of each character, which was more than enough for me to add the elements that I wanted to draw. I'm very happy with Wynd's mini-cape.
DF: Do you have a character you enjoy drawing more than others? A set piece that you are excited about, or dread perhaps?
Michael Dialynas: I gotta say that I have had a lot of fun drawing Titus, the burly tattooed cook of the Dark Spout where Wynd works serving people using the water-powered dumbwaiters connected to the patrons' tables. He has a good shape to him that's fun to draw and he's got the words COOK and FOOD tattooed on his knuckles and NOT in that order.
Dynamic Forces would like to thank Michael Dialynas for taking time out of his busy schedule to answer our questions. Wynd #1 from BOOM! Studios is slated to hit stores June 17th!
---
NEW! 1. 11/23/2020 - CHUCK BROWN
3. 11/16/2020 - RYAN O'SULLIVAN
4. 11/16/2020 - RYAN O'SULLIVAN