ROB GUILLORY

SEND THIS TO A FRIEND!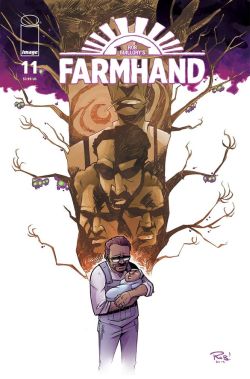 DF Interview: Rob Guillory brings us a bumper crop of human organs in Farmhand
By Byron Brewer
Jedidiah Jenkins is a farmer, but his cash crop isn't corn or soy. Jed grows fast-healing, plug-and-play human organs. Lose a finger? Need a new liver? He's got you covered. Unfortunately, strange produce isn't the only thing Jed's got buried. Deep in the soil of the Jenkins family farm, something dark has taken root, and it's beginning to bloom.

From Rob Guillory, Eisner-winning co-creator and artist of Image Comics' Chew, comes Farmhand, a new dark comedy about science gone sinister and agriculture gone apocalyptic.
For more ag news on this precious produce, DF sat down with writer/artist Rob Guillory.
Dynamic Forces: All right, Rob, so after drawing Chew for eight years – a feat in itself in today's industry, same amount of time the late Gene Colan drew and became synonymous with Daredevil – what has brought your creative hands to the keyboard for Farmhand?
Rob Guillory: Well, before Chew, I wrote most of my own stuff. None of it ever saw print, but I always had a love of writing and seeing those ideas translate into my art. As you said, Chew was a major undertaking and a full-time job by itself. So for the duration, I sort of hung up my writing and dedicated myself to making Chew the best comic I could make. But I always planned on writing my own stuff again. Now that Chew is over, a lot of doors have been opened to me, so it was just the right time to pick up the writing again. And Farmhand just happened to be the only story I cared to tell right now.
DF: Relate for us the genesis of Farmhand as a concept. How did it come to you?
Rob Guillory: It began as a really striking image in my head at first. Back in January 2016, I just had this image of a tree with human limbs growing off it. Really creepy, but really powerful. And immediately, the idea of an organic farmer who grew human organs began to take shape. It just made sense to me, as odd as it is. So it started there, and as I developed it slowly over the next year, it became a really rich family drama with these elements of horror and quirky humor.
DF: Can you give us the elevator pitch for the book?
Rob Guillory: Farmhand is the story of a farmer named Jedidiah Jenkins who is hit with a seemingly supernatural vision that instantaneously downloads highly advanced scientific data into his brain. This data leads to the creation of the Jedidiah Seed. This seed, when watered, grows into human body parts. So overnight this shabby family farm turns into this one-stop shop for fast-healing, plug-and-play organ transplants. Jed changes the world, gets richer than he ever dreamed…but then everything goes horribly wrong. And that's where we pick up the story.
DF: Tell us more about Jed.
Rob Guillory: Jed is a black farmer from a long line of black farmers in south Louisiana. He's the last of a dying breed, and to make things worse, he's just not a very good farmer. So he always had this chip on his shoulder. Enter the Jedidiah Seed. It enters his life from out of nowhere, and suddenly he goes from town laughingstock to world renowned in an instant. He's a prideful man, but he's also a family man, so there's tension there. And that's really the question the book poses: Is Jedidiah Jenkins a good man?
DF: Can you give us more non-spoilery details about this "Jedidiah Seed"?
Rob Guillory: The Jedidiah Seed is bio-engineered from a new type of stem cell, the design for which was a product of Jed's mysterious vision. When planted and watered, the seed grows into a variety of plant/human hybrid body parts. These things are fast-growing, fast-healing, with no medications or rejection issues. They acclimate to the body of their host, recreating their lost limbs down to their original scars and whatnot. The cells seem to have a will of their own, as if they're downloading cell data from some unseen blueprint. They're mysterious, and no one really understands them. But they seem to work miracles, so no one thinks twice about their existence.
DF: What is Jenkins' son Ezekiel's role in this story?
Rob Guillory: Ezekiel is Jed's first fruit. Jed's relationship with his son is the one thing he hasn't been able to heal. He's brought wholeness to countless transplant recipients, but ultimately Jed realizes his life's work is pointless if he can't have a relationship with his family. When we meet him, Zeke has been estranged from Jed for several years, and the two are just beginning the process of reconciliation. But every time they make two steps forward in the reconciling, there's always some past secret that pops up and pulls them two steps back. So Zeke is the embodiment of a person that lives in the tension between past pain and future hope. He's the everyman, struggling to let go of the past, so he can embrace a brighter future. And he's not very good at it.
DF: What was the response to the ashcan edition of Farmland at C2E2?
Rob Guillory: Response has been incredibly positive. I think folks are really curious about this weird little book. And as folks have read the ashcan, they're surprised that it wasn't what they expected. They went into it expecting it to be a goofy gag-filled romp, but were shocked to find the story has real weight and heart to it. So I'm thrilled.
DF: Rob, what other projects current or near-future might you be involved in?
Rob Guillory: I've got a few side projects that I'm kicking around, but nothing I'm ready to talk about. For the time being, I'm just focusing on Farmhand. This story's just starting to reveal itself, so I'm excited to dig in and see it through to its finish. I think it's going to be a fun, really fulfilling ride.
Dynamic Forces would like to thank Rob Guillory for taking time out of his busy schedule to answer our questions. Farmhand #1 from Image Comics hits stores July 11th!
For more news and up-to-date announcements, join us here at Dynamic Forces, www.dynamicforces.com/htmlfiles/, "LIKE" us on Facebook, www.facebook.com/dynamicforcesinc, and follow us on Twitter, www.twitter.com/dynamicforces.
CHEW / REVIVAL #1 ULTRA-LIMITED BLOOD RED SIGNATURE EDITION SIGNED BY TIM SEELEY!
CHEW #37 FIRST PRINTING TWO BOOK CONNECTING COVER SET CGC GRADED 9.8!
CHEW #37 FIRST PRINTING OLIVE COVER CGC GRADED 9.8!
CHEW #37 FIRST PRINTING TONY COVER CGC GRADED 9.8!
---
NEW! 1. 11/25/2020 - STEVE SKROCE
4. 11/16/2020 - RYAN O'SULLIVAN
5. 11/16/2020 - RYAN O'SULLIVAN