STEVE ORLANDO

SEND THIS TO A FRIEND!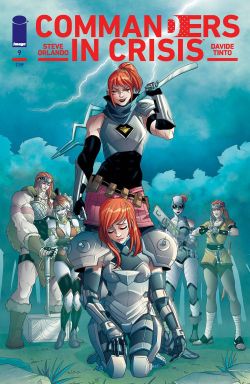 DF Interview: Steve Orlando brings the story-threads together as he guides 'Commanders in Crisis' toward its climax
By Byron Brewer
Frontier has journeyed from the birthplace of ideas to the dawn of civilization, all to find a way to resurrect empathy... but what if resurrection was never what we needed? Frontier and Originator dive right into that question in a face-off with Doctor Dracula as the Extinction Society begins its final push... to kick us all off the edge and into destruction – the Revenge Regiment strikes!
From writer Steve Orlando and artist Davide Tinto comes a new story arc as Commanders in Crisis reaches its climactic issues. I wanted to discuss the waning days of this Image Comics limited series, so I sat down with scribe Steve Orlando.
Byron Brewer: Steve, with June's issue #9, we are three-quarters of the way through this fantastic limited series, Commanders in Crisis. I cannot recall if we discussed this the last time we talked about this Image comic, but what was the inspiration for the series? Just a love for the genre, or more?
Steve Orlando: Love of the genre, for sure! Commanders in Crisis came out of my desire to tell a broad, sweeping comic book event with all its oddness and diversion, something out of the meat of Secret Wars or Crisis on Infinite Earths, but also something that engaged bigger concepts that are important to the day. I didn't want to just talk about comics past, but analyze concepts and tropes many consider rote in modern comics, and approach them with a no-sacred-cows, blisteringly modern lens. After years of working within the expected rules of characters that have been around for more than 80 years, Commanders in Crisis was a chance to lay some foundation and work from whole cloth, with no rules, and tell the biggest, most provocative story possible.
BB: Readers SHOULD know what this book is about, but we should've had an actual year of life in 2020, so… Can you give us a summation of what has occurred in Commanders and where the book finds itself as a new arc begins in #9?
Steve Orlando: The Multiverse is real, but unfortunately…every single reality inside has died, and only one remains. There, the Crisis Command are the world's greatest heroes, protecting us with their set of esoteric abilities. No one knows their secret: each hero on the Crisis Command is actually a survivor of the Multiverse! Each was previously the President of the United States on their world, and in those worlds…each of them failed to stop the apocalypse. They were rescued in their final moments by Frontier, a super-intuitive scientist, and brought to Earth-Z, the final Earth. Now, they fight to keep us all good enough, long enough, to hold off the creeping threat that otherwise destroyed the Multiverse.
To do so, they've had to change their ways, in spite of adversity. They've come clean about who they are to the world, and they've come clean about the existence of the Multiverse. But knowing they are the last reality left has only put people at each other's throats more. Half the world wants to save themselves, the other half wants to work together, and they're all willing to fight over it. It's all part of the Extinction Society's plan, a group led by the Executrix, a scientist in her own right, but also a fatalist. The Extinction Society believes sentient life is inherently toxic, and responsible for the destruction of every other reality. So here, on the last Earth, they're trying to hasten the end, and put us out of our own misery. To them, sentient life is like a virus, but a virus that can think, and has a conscience. So knowing we're bad for reality, they're trying to wipe themselves, and us, off the board.
As we reach issue #9, things look bad for the Crisis Command. All the Extinction Society does is continue to pour gasoline on the fire that is our world. And everything the Command has done has failed. To save us, they're going to have to give up being heroes…and find a way to be something better.
BB: Introduce your main protagonists.
Steve Orlando: FRONTIER is the leader of the Crisis Command, a super-intuitive scientist who can make wondrous science-fiction devices into science-fact on the fly. Supposedly the first female president of our world…but in fact, she's not from this world, she's also from a reality lost to the Multiverse. What she's kept secret about this, the last Earth left, splits the Crisis Command apart.
SAWBONES is the Crisis Command's action surgeon, a former president from a lost reality, just like the rest of the team. His abilities give him Bio-Spectral vision, a look inside the human body's biology. He pairs that with incredible reflexes and combat medical tools to save lives in the heat of battle, but he's equally adept at putting an end to battles in the most succinct, hands-on, and final manner.
SEER wields what she calls her Quantum Moment. She's gifted with the senses of a god, the abilities to connect to, and notice, the entire universe from micro to macro. Unfortunately, the senses are so powerful and so overwhelming, she can only access them for one minute at a time. And lately, she's been learning to collate and share the sensory input she receives, making herself a devastating opponent.
PRIZEFIGHTER is cut from the classic superhero mold, the cape, the belt, the look…but the catch is, he's only as strong as people believe he is. So he has to stay present, he has to stay on the tip of everyone's tongues, because if not, he'll lose his strength and invulnerability. If enough people forget he's a superhero, he won't be one anymore.
ORIGINATOR is perhaps the team's most powerful member, with the ability to alter reality for 24 Hours at a time, just by creating new words. Once she imagines a new word, its effect becomes reality. And if it weren't for her limiting herself with her first, and only permanent word, the daylong restriction wouldn't even exist. Originator is so powerful she can't even inflect her voice, or use contractions, for risk of accidentally warping reality itself.
BB: What is the storyline for the new arc? I assume this is taking us to the book's climax and finale?
Steve Orlando: We're definitely on our way to the climax! We're mid-arc now, having kicked off our back half with #7, but in truth this was announced as, and planned as, a 12-issue limited series, so we were always building to a big, blockbuster climax with stakes that couldn't be higher. As we kick off our final issues, the world is a powder keg, but Frontier has returned to the Crisis Command with the challenge to not resurrect empathy, but find something better. As the Crisis Command battles the Executrix's hit squad, the Revenge Regiment, Frontier uncovers her hidden stronghold. From then, it's a fist fight between Frontier and Executrix, two sides of the same coin, as the Crisis Command fights to figure out how to bring the world together, with tomorrow hanging in the balance.
BB: Can you in non-spoilery fashion talk about the face-off coming with Doctor Dracula?
Steve Orlando: Doctor Dracula is definitely not what you'd expect, I'll say that! For most of the series, Executrix is one step ahead of Frontier. And why not? They're two versions of the same person. So Frontier has to do something she'd usually never do, she has to abandon science and look to the supernatural. And that path is what brings her face to face with the elusive, strange, Doctor Dracula.
BB: How is it working with artist Davide Tinto?
Steve Orlando: There would be no Commanders in Crisis without Davide Tinto! Each issue of this book is a challenge, full of new ideas, strange action, and an ever-growing list of new faces and places to design. Davide's constant energy and constant innovation is key to what we do every issue, and it wouldn't be the same without him. We promised more creativity, more new, and more innovation than any book on the stands, and Davide is why we can deliver!
BB: As this 12-issue LS comes to a close soon, Steve, are there any threads which readers may hope will lead to a second volume of Commanders in Crisis?
Steve Orlando: You'll have to see once you hit the last page! I'll say this, Commanders in Crisis is a complete story, a complete event, that leaves its world somewhat different than when it started. But like any comic book event, the world the characters live in moves on and evolves once victory's been found. So while THIS story with the characters might come to a close, the universe will always be ever-growing.
BB: What other projects, inside or outside comics, do you have coming up that you can tell readers about?
Steve Orlando: There are many! I've been busy since going freelance. Curse of the Man-Thing just wrapped up, with an Avengers, Spider-Man and X-Men issue each. DC Pride and Marvel Voices: Pride are both out in June for Pride Month. Extreme Carnage kicks off in July. Starward is ongoing in Heavy Metal right now, not to mention Project Patron from Aftershock and this August's Rainbow Bridge, which launches Aftershock's Young Adult line. And that's just the stuff I can talk about right now!
Dynamic Forces would like to thank Steve Orlando for taking time out of his busy schedule to answer our questions. A new story arc begins in Commanders in Crisis #9 from Image Comics and is slated to be on sale June 2nd!
For more news and up-to-date announcements, join us here at Dynamic Forces, www.dynamicforces.com/htmlfiles/, "LIKE" us on Facebook, www.facebook.com/dynamicforcesinc, and follow us on Twitter, www.twitter.com/dynamicforces.
COMMANDERS IN CRISIS #1 CGC GRADED!
MARVEL'S VOICES: PRIDE #1 SIGNED BY STEVE ORLANDO
THE SHADOW/BATMAN HARDCOVER - SIGNED BY STEVE ORLANDO
BATMAN/SHADOW #1 ULTRA LIMITED SHADOW SILVER SIGNATURE EDITION SIGNED BY STEVE ORLANDO
HEROES REBORN MAGNETO AND MUTANT FORCE #1 SIGNED BY STEVE ORLANDO
AVENGERS: CURSE OF THE MAN-THING #1 SIGNED BY STEVE ORLANDO
TALES FROM THE DARK MULTIVERSE: CRISIS ON INFINITE EARTHS #1 SIGNED BY STEVE ORLANDO
WONDER WOMAN #51 STANLEY ARTGERM LAU COVER ELITE GOLD SIGNATURE SERIES EDITION SIGNED BY STEVE ORLANDO
JLA/DOOM PATROL SPECIAL #1 SIGNED BY STEVE ORLANDO
DOOM PATROL/JLA SPECIAL #1 SIGNED BY STEVE ORLANDO
---
NEW! 1. 06/10/2021 - CHRIS CONDON
3. 06/04/2021 - PHILLIP RUSSERTT