JON TSUEI

SEND THIS TO A FRIEND!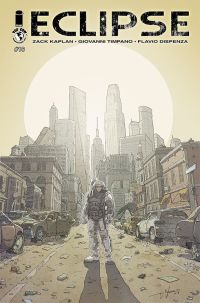 DF Interview: Jon Tsuei delivers Asian high fantasy in 'Sera & the Royal Stars'
By Byron Brewer
Civil war rages in the Empire of Parsa, and famine has struck. As the seasons refuse to turn, Princess Sera receives a vision from the deity Mitra telling her to find the Royal Stars and restore them to the heavens. Despite her kingdom and her troops' need of her command, Sera embarks on a quest to find the fallen stars – now trapped on Earth – and save her people from dearth and death.
From writer Jon Tsuei and artist Audrey Mok comes a quest saga unlike any other, brought to you by Vault Comics. DF wanted to know more about this series, so we sat down with scribe Jon Tsuei.
Dynamic Forces: Jon, before video games and even Conan, when Gerry Conway was writing Mighty Thor for Marvel he did several "quest" stories that were not seen anywhere else in comics at the time, and I loved them. What was for you the inspiration for this seeming "quest" adventure, Sera & the Royal Stars?
Jon Tsuei: My first exposure to the fantasy genre and the quest trope was from video games, specifically Final Fantasy IV and VI. Shortly after that, I found the Dragonlance novels and Robert Jordan's Wheel of Time series. So, I've always had a soft spot for the "grand adventure to save the world" that we find in fantasy, but I didn't necessarily think I would write a story in that mold. A few years back, I was re-watching the Lord of the Rings movies while also being neck deep in Game of Thrones and Vikings television shows. Those works are a lot of fun for me to watch, but I also thought to myself that we've had decades of European-centric fantasy. What would a fantasy story look like if we moved the setting to somewhere that wasn't all broadswords and castles? That question is what started me on the path to writing this story.
DF: This adventure takes place in Persia, as I understand it, but also blends dozens of Asian mythologies into its fantastical saga. Can you tell me what kind of research, if any, was involved by you and/or artist Audrey Mok in building this "world"?
Jon Tsuei: I would say this story takes place in a land heavily inspired by ancient Persia and mythology of the region. It's not a historical retelling, so you won't be able to track to a specific timeline of events. Most of my research began with the mythology of the stars. It was fascinating to find that the stories tied to specific stars and constellations are very similar throughout the world, even between cultures that didn't have contact with one another. You can arguably make the claim that the stories we see when we look up at the night sky are universal.
As I continued down that path, it led me specifically to Zoroastrian texts. Zoroastrianism is the oldest religion still in practice and was the dominant religion of ancient Persia before Islam. I also spent time reading books on astrology and brought in some ideas I picked up reading the work of C.G. Jung. This is essentially a mashup of mythology, astrology and philosophy.
As for Audrey, I can't speak to her specific process, but I know in the early stages she spent a lot of time looking up the history of the region to understand what the clothing, armor and architecture looked like. From there, a lot of the costumes and locations you see in the book have been adapted to fit the overall aesthetic we're going for.
DF: Give me an elevator pitch for this limited series, so readers can know what to expect.
Jon Tsuei: This story follows Sera, a princess in the famine-stricken kingdom of Parsa, as she is given a quest by the deity Mitra to free the Royal Stars, which will allow the seasons to turn again. Sera must find a way to balance her familial duty and her divine calling while visiting far off lands and dreamscapes. There're ancient star spirits, Underworld gods, fantastical creatures, magic and a great cast of characters that I think people will really enjoying reading about.
DF: Can you introduce us to Sera (who is a princess in a land of civil war and famine, so she's not having a grand time even before her quest)? Who is she: as a ruler, an adventurer, a young woman? Why did the deity Mitra choose Sera for this responsibility?
Jon Tsuei: Sera is the oldest child of three. She has a great tactical mind and is a skilled soldier, specifically as an archer. She's decisive and the principle commander on the battlefield. She shares a deep familial bond with her family which makes her decision to leave on a divine quest all the more difficult. As for why Mitra chooses Sera? You'll find that out as you read the series, but I can hint that it has something to do with her family.
DF: Tell us about any other important characters we may need to know from #1 going forward. Can you tell us a little about them here?
Jon Tsuei: Aside from Sera, you'll meet her father Melchior, sister Roya and brother Jahar, who all play important roles in the story. Sera's uncle Shaheen is the principle figure on the other side of the civil war. Of course, there's the Royal Stars, ancient star spirits who are Sera's companions throughout most of the story, but if I speak on them in too much detail it might spoil things to come.
DF: So maybe I shouldn't ask my next question … but I will: Who/what are the "Royal Stars"?
Jon Tsuei: I'll talk a little about what my research taught me, so I don't spoil anything. From what I can tell, the idea of the Royal Stars comes from the Budahishn, a Zoroastrian text dating back to the 8th or 9th century CE. In the text, stars are all conscious beings and they will come down to our world to fight Ahriman and his forces of chaos in the final showdown of "good vs evil". There are four Royal Stars, each one representing a cardinal direction, and they will lead the other stars in this great battle. You also find mention of the Royal Stars in astrology and occult magic, but from what I gather they originated in the Budahishn.
In our story, the Royal Stars are both conscious and physical beings who are the focal point of Sera's quest. Throughout the story, readers will learn about who they are, their history and how they ended up on this world.
DF: What can you say about the art of Audrey Mok and the color palette of Raúl Angulo?
Jon Tsuei: I've been a fan of Audrey's work for years now and I'm so happy she's the artist drawing this book. I'm regularly blown away not only by her draftsmanship, but by her storytelling as well. But it was her character designs that really helped me as a writer. I find a lot of inspiration in art and it was her designs that helped me solidify ideas and spark new ones. I really can't say enough about Audrey and her work. It's an absolute joy to be working with her as both a collaborator and fellow storyteller.
Audrey and I were both drawn to Raúl's work on Power Rangers and Buffy. He's great at balancing the page with colors that pop, delicate lighting and mood. Colorists are storytellers just as much as the writer or artist and Raúl absolutely gets that. I'm biased here, but I think the combination of Raúl's colors with Audrey's inks has created one of the best-looking books out there.
DF: Jon, what other projects which involve you in the near-future can you tell readers about?
Jon Tsuei: Unfortunately, it's too early in the developmental stages to talk about, but I have a couple of projects at different publishers right now. Hopefully I'll have some news for you soon. In the meantime, I ask readers to give Sera and the Royal Stars a chance. I think you'll enjoy reading our book just as much as we enjoy working on it.
Dynamic Forces would like to thank Jon Tsuei for taking time out of his busy schedule to answer our questions. Sera & the Royal Stars #1 from Vault Comics hits stores July 17th!
For more news and up-to-date announcements, join us here at Dynamic Forces, www.dynamicforces.com/htmlfiles/, "LIKE" us on Facebook, www.facebook.com/dynamicforcesinc, and follow us on Twitter, www.twitter.com/dynamicforces.
---
NEW! 1. 11/25/2020 - STEVE SKROCE
4. 11/16/2020 - RYAN O'SULLIVAN
5. 11/16/2020 - RYAN O'SULLIVAN