JOE HENDERSON

SEND THIS TO A FRIEND!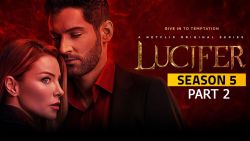 DF Interview: Joe Henderson, co-showrunner of Netflix's 'Lucifer', takes a look at the dark days of the pandemic and peeks ahead at Seasons 5B and 6
By Byron Brewer
Joe Henderson is an executive producer and co-showrunner of one of the most fan-supported television series of all time, Lucifer. He also enjoys writing comic books as well.
For the uninitiated (you know who you are), the former Fox now Netflix series is based on the DC Comics character created by Neil Gaiman, Sam Kieth and Mike Dringenberg taken from the comic book series The Sandman. Lucifer later became the protagonist of a spinoff comic in DC's Vertigo imprint. The TV series is produced by Jerry Bruckheimer Television, DC Entertainment and Warner Bros. Television.
Lucifer has had some rough spots in its five (eventually to be six and last) season life: canceled by Fox, picked up by Netflix and halted like us all by the pandemic. Through it all, Lucifer fans have stood behind the show and the character.
I caught up with Joe Henderson and we chatted about the Lucifer TV series, which is prepared to continue the second half of its fifth season on Netflix on May 28th. A sixth and final season has already been confirmed with production having recently wrapped.
Byron Brewer: Joe, Lucifer's sixth and final season has wrapped production with the second half of season five getting ready to stream on Netflix on May 28th. Take readers back through your own showrunner's lens and tell us about the many steps of coping with the pandemic as it involved Lucifer.
Joe Henderson: It was a huge learning curve – we had about 8 days left of shooting for season 5 before we had to shut down, and we started production on the biggest scene we'd ever shot before, the fight in the season 5 finale. But our amazing line producer Joan Cunningham spent the entire summer figuring out how to keep our cast and crew safe while still shooting something beautiful and worthy. It was actually really cool to watch the industry come together and share tips; one show would come up with an idea, and then suddenly every show was using it. There was a camaraderie that was inspiring, a sense that we all had to get through this together.
As a showrunner, we had to approach season 6 story differently. Season 6 is a much more intimate season, more character-focused. Which, as a writer, I absolutely loved. And, for a final season, it felt quite appropriate.
BB: The obvious answers to this question are the very real threat of the virus with ramifications and having to terminate production; outside of those horrors, what would you consider the worst (perhaps recurring) affect of Covid-19 on the series?
Joe Henderson: Not being able to celebrate the end of 93 episodes of television together. Our cast and crew work SO hard, but in the end, everyone has to wear masks and stay 6 feet away. You lose a sense of crew chemistry when that happens; this season should have been our victory lap. And it was, in many ways. But all the writers were on zoom and the cast and crew couldn't hug, so there's that lost sense of shared accomplishment. Hopefully, once things are safer, we can all finally get together and hug the living crap out of each other.
BB: There was fandom jubilation of the series getting picked up by Netflix for season four after being canceled by Fox. And then an almost bigger surprise! Talk, if you would, about Netflix's decision to extend the still-airing season five from 10 to 16 episodes, and what the show did/will do with that unexpected opportunity.
Joe Henderson: We were four weeks into breaking the season when they asked if we could do 16. At first, our reaction was "Hell no". Because we LOVED our season! But, within a day, we already had figured out a way to extend to 16 to a point where we couldn't imagine the season any other way. That's the fun to TV; rolling with the punches, and discovering wonderful surprises you wouldn't have gotten.
We hadn't initially planned on the noir episode; that wouldn't have made it. The Dan-focused episode in the back half probably wouldn't have either, and both would have been tragic losses. And just in general, we let the season breathe a bit. Initially, in 5A, Michael only impersonated Lucifer for a couple acts. When we had more time, we embraced the idea of an entire episode without Lucifer (well, OUR Lucifer at least). And boy was that fun to do!
BB: Half of season five has aired. With 5B coming at the end of this month, can you briefly bring us up to speed on where storywise we find our protagonists as the first 5B episode begins?
Joe Henderson: It appeared Lucifer was about to tell Chloe he loves her, Chloe got frozen in time just as she waited for Lucifer to finally say those words, Amenadiel is facing his fears of fatherhood and froze time to protect Charlie from his mortality, Maze made a pact with Michael, Dan found out the truth about Lucifer, Ella dated a serial killer, and Linda tracked down her long-lost daughter.
Oh, and God came down to stop his children from squabbling. That's a kind of big one, isn't it?
BB: What will be some of the highlights of the coming 5B? Are there any new characters you can tell us about?
Joe Henderson: The big new character is God himself! And we were so lucky to get Dennis Haysbert to play him. For one, Dennis' voice alone carries the heft of God. Add in his physical presence, and you have a mixture of authority and warmth, which I like because it contradicts the seemingly distant God we've learned about through Lucifer's POV.
But the best part is that Dennis is FUNNY. He can do comedy so well, and we really embraced it in 5B!
BB: Tom Ellis has certainly been an anchor and advocate for this DC Comics-inspired program. Talk about working with Ellis through the strife we as people in general, and Lucifer in particular have suffered.
Joe Henderson: Tom is the best – he's such a damn professional, always prepared, always bringing incredible insight to this character. He loves Lucifer, just as much if not more 6 seasons in. He loves digging into the character's pathos, while always finding ways to bring a sense of humanity to the devil.
BB: Look back on all these many months and your duties and beyond-duties with this series. What is your own personal, most uplifting moment and/or when you felt the writing was on the wall and all was over before its time?
Joe Henderson: I'll go uplifting: when we figured out what the story for season 6 would be. We were determined not to do season 6 UNLESS we had a story worthy of it. When we found it, we were elated. The family we've forged on this show has been incredible, and a chance to all be together one final time, ending entirely on our terms, was amazing.
BB: Elephant in the room: As you can and what you can, whet our fan appetites for season 6.
Joe Henderson: Bittersweet endings, tears and joy and a fitting goodbye to the characters we love so much.
Dynamic Forces would like to thank Joe Henderson for taking time out of his busy schedule to answer our questions. Lucifer returns to Netflix for the completion of Season 5 on May 28th!
---
NEW! 1. 12/05/2023 - JASON LOO
5. 11/08/2023 - OLIVIA CUARTERO-BRIGGS