SEAN LEWIS

SEND THIS TO A FRIEND!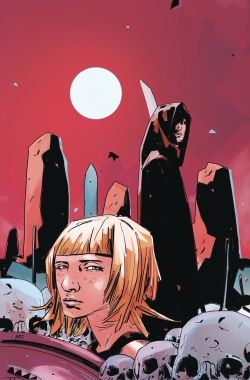 DF Interview: Sean Lewis brings murder to Ireland in Clankillers
By Byron Brewer
Finola has a problem: her father is losing his mind. All the old king cares about is power… and Finola thinks power is stupid. Finola thinks her vicious older sisters are stupid. Finola thinks the royal court is stupid, and above all she thinks the clans across the country are stupid. So she makes a plan with her good friend, Cillian: kill all the clans. And then, go for dad!
From writer Sean Lewis (Betrothed, The Few) and artist Antonio Fuso (James Bond, G.I. Joe) comes Clankillers, an epic revenge thriller. How epic? DF sought out scribe Sean Lewis to learn just that.
Dynamic Forces: Sean, tell us the genesis of this new AfterShock comic. Is this something that has boiled on your creative back-burner a while?
Sean Lewis: This actually happened really fast. Betrothed was already set and one afternoon I started thinking about all the weird myths and stories I grew up reading about. It wasn't even fully formed. I reached out to AfterShock and was like, I want to do something that takes from the Children of Lir myth (a Celtic story that some of King Lear is connected to) and I want it to have the bogs and all the weird-ass monsters and freaks in Irish myth.
AfterShock green-lighted it basically immediately.
DF: The world that this tale will be set in is very sword-n-sorcery, very exotic. Tell us about this realm of ancient Ireland.
Sean Lewis: I'm first generation Irish, so my house had lots of books on Celtic myth, spells and history. My family didn't read the books together or anything like that but after school I'd steal myself away in my grandpa's study and just pull things off the shelves. There was one book, I remember, that my uncle saw me reading and he lost his temper and screamed at me. It was a book of Celtic spells and occult histories and he treated it like it was real. I never bought fully in but I was definitely hooked at that moment.
Ireland before Catholicism is a very strange and dark place. An isolated island with much poverty and a history of invasion and war. Clans rule the different areas of this world and in the bogs, the dead are maintained in soot and mud. The hills have Deargs- precursors to Bram Stoker's version of the vampire -- and in the woods the damned souls wander, their heads on fire and a witch controlling them. It is a country split by demonization and mythology. It's also a place where life is hard which turns the people savage.
DF: Spinning out of the above for a moment, in many of your works, Sean, the locale almost becomes a character of its own. Did you or artist Antonio Fuso do much research about this darkest of times on the Emerald Isle? If so, can you tell us about that and how important is such research to your comics scripts?
Sean Lewis: I can't speak for Antonio. I've been to Ireland. I've grown up with books and stories for sure. I knew the stories but I also like to make it my own. My big interest was the Celtic myths and the story of King Lear. A father who is so desperate and lonely he demands his kingdom and specifically his daughters to profess their love to him publicly is totally f*cked. I loved that idea. A king who needs everyone to love him even as he behaves horrendously.
DF: What can you tell readers about your protagonists, Finola and Cillian?
Sean Lewis: Finola is a bad ass and Cillian is a psychopath. Cillian was an orphan at the church run orphanage. That place was like a grotesque orgy and he's grown up scarred from it. So he attacks and lashes out. He likes blood. He likes violence. Finola is headstrong and fearless and she will kill the clans if it means she can wake her father up… if she can't, she will kill him.
DF: What other characters populate this world? Can you introduce some of them to us here please?
Sean Lewis: Finola's sisters Regan and Una are prominent. Regan is behind the scenes plotting against her father AND her youngest sister, Finola. Una has magic in her that she is only starting to learn how to control. They've lived under their oppressive father. It's made them angry and savage but ready to get rid of the old man if they get a chance.
DF: Allow me to curb my fanboy enthusiasm, but … tell us about THE MONSTERS!!
Sean Lewis: The monsters are the best part of this one, I think. Our main villain is Queen Balor. Balor is typically a male in the Celtic myth, but is a god of destruction and darkness. In our story it is a "she," and she has driven Finola's father mad. Finola's beef is with her. But the clans she fights are led by great Irish monsters: the Dearg (who are forerunners to Bram Stoker's Dracula), the Dullahan (like a headless horseman), the sinners who wander the woods like the undead… and the Banshee. The Banshees are giant and powerful and whose side they are on is always in question.
DF: Talk more about Antonio's art and what it brings to this very moody series.
Sean Lewis: Antonio is amazing. I love it. He really designs the page in ways that remind me of old school Vertigo books. It's like working with David Gibbons. I'm constantly impressed and excited by his pages.
DF: Sean, what else are you working on that you can tell readers about?
Sean Lewis: Well, Clankillers is the second in a two-book deal I had with AfterShock. The first book was another Shakespeare adaptation (R and J this time) called Betrothed. Caitlin Yarsky and I launch the second arc of Coyotes in August and then my partner in The Few, Hayden Sherman (who is killing it on Cold War and Wasted Space right now) and I have an AWESOME new book with no home right now called Thumbs!
Dynamic Forces would like to thank Sean Lewis for taking time out of his busy schedule to answer our questions. Clankillers #1 from AfterShock Comics hits stories July 18th!
For more news and up-to-date announcements, join us here at Dynamic Forces, www.dynamicforces.com/htmlfiles/, "LIKE" us on Facebook, www.facebook.com/dynamicforcesinc, and follow us on Twitter, www.twitter.com/dynamicforces.
---
NEW! 1. 11/25/2020 - STEVE SKROCE
4. 11/16/2020 - RYAN O'SULLIVAN
5. 11/16/2020 - RYAN O'SULLIVAN