MAX BEMIS & ERYK DONOVAN

SEND THIS TO A FRIEND!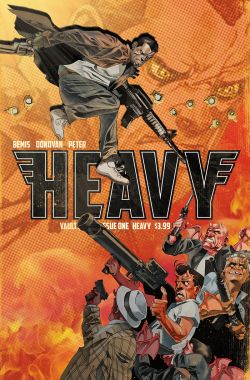 DF Interview: Max Bemis & Eryk Donovan bring a tale about the existential purpose of dumb boys with big guns in 'Heavy'
By Byron Brewer
Bill may be dead, but he's got a job to do.
Welcome to the Big Wait, where folks who don't quite make the cut go to work off their debt. Everyone in the Wait's got a job. Bill is a Heavy, whose job is policing the multiverse, making sure bad eggs get what's coming to them. He's on track to earn his Climb and reunite with the woman he loves... until he meets his new partner: the worst dude of all time.
Heavy is the Punisher for neurotics; Inception for the impatient; Preacher for... well, it's a lot like Preacher. From Vault Comics comes this new series by writer Max Bemis and artist Eryk Donovan. DF chatted the new series up with both creators.
Dynamic Forces: Max and Eryk, this new book Heavy seems very special to both of you for different reasons. Tell us the story behind the series and what it means to you.
Max Bemis: Heavy was the first idea for a comic I'd had since I was 13 drawing Liefeld-esque books in the middle of class. I met with numerous awesome (and some sketchy) publishers about working on it before I had ever made an issue of comics. Obviously most of them were only semi-interested in working with me because of my mildly successful punk band.
For the next ten years, I've fallen in love with writing comics, and even have given up touring recently to focus on doing so. I've gotten to work on my own stuff, superhero stuff, indie rape-zombie epics and more. All the while I've kept Heavy in mind as what would probably be my definitive work for this phase of my career. During a break between books, I pitched it to Vault and Adrian immediately got it. Essentially, Heavy was conceived to explore my fear of losing my wife when we are separated by death.
Eryk Donovan: Obviously my background with Heavy is a bit different than Max's, as I joined the team in late 2019. While I may not have the same level of personal connection with the story over the years that Max has, I was immediately struck with the possibilities of where we can take these characters with this story, and a deep feeling of resonance with a book like this. It's like so many of my favorite action tales growing up.
It's over the top, it's action packed and reeks cool, but it also serves to challenge our masculinity, what it means to be strong, or loving, or worthy of respect in a culture that values strength and aggressiveness over all else. One of the biggest draws for me is the throughline in Heavy about our (especially male) relationship with violence and violent media. It's something that I've spent a lot of time thinking about as I've gotten older and have a more nuanced and critical eye when it comes to the stories and characters that have meant a lot to me over the years.
There is definitely alot of id in these pages, it's exciting, it's cathartic, but it will also challenge us about our fears, our desires, and our relationship with strength, power and sexuality.
DF: Max, tell readers what you can about the storyline of Heavy.
Max Bemis: Heavy is about a dude seeking vengeance for the murder of his wife. Sound familiar? If it doesn't, you've never seen a Liam Neeson movie or read a Punisher comic. Our comic, however, is a homoerotic metatextual comment on why we dudes connect to this toxic archetype. So it's boy meets girl, boy and girl get murdered, boy must earn passage through purgatory by teaming up with another boy who murdered them. That doesn't mean it's an irony sandwich; again, this is the most important to me a comic has ever been so expect to be invested. It's also a violent, darkly comic buddy film from hell, where our murdered protagonist has to team up with the guy who snuffed him out in order to navigate the weird world of purgatory and beyond.
DF: Who is Bill and what is his place in the Scheme of Things?
Max Bemis: Though I think the term "everyman" can be used (and is necessary to the kind of understanding we're seeking by writing this), Bill has quirks and is more neurotic then any Sly Stallone or Neeson character. He's awkward, easily annoyed, romantic, and possibly depressive.
DF: … And his partner?
Max Bemis: I don't want to spoil too much about Slim, but suffice to say he's both Mel Gibson in Lethal Weapon and the Joker in….Joker? He's not a good guy, and probably an actual psychopath. But you will fall in love with him.
DF: Eryk, tell us how you are approaching this world Max and you are building artistically. How are you making this universe unique with your artist's toolbox?
Eryk Donovan: Well, for one, this is a fantastical world of purgatories, multiverses, heavenly bodies and mysterious creatures, as much as it is a story about two interdimensional assassins with chips on their shoulders and fear in their hearts. I don't feel like ANYTHING is entirely off the table with Heavy, and that is exciting (and just a bit terrifying).
This gives me a lot of room to play with design, costuming, set pieces and worldbuilding, as much as it does to experiment with visual storytelling and layouts. I'm switching up a few things artistically, pushing in some new directions, and I hope that everyone who reads the book or has followed my work can appreciate it.
DF: Did you design the characters? If so, was there one which was more difficult/more enjoyable to design. Is this character your favorite of the work you have thus far done, and why?
Eryk Donovan: I did design the characters! Aside from the general collaborative nature of comics, and the occasional editorial nudging and direction, I'm in complete control of the look and feel of this book. Knowing what is coming next in the first arc of Heavy, I can tell you that we're going to be in for some REALLY WILD STUFF and I'm thrilled to have an opportunity to really play with and design everything.
Bill was definitely the biggest challenge. He's the primary protagonist and our introduction to the world, so if he doesn't fit, the rest won't fit. I spent a while sketching, experimenting, and conceiving his final look. He's a bit flabby, but strong. He's angry and sad, but not a cruel man, and while we want to nod to many of the brooding violent action heroes we've grown up with, he needs to be his own person visually, and on the page. Once I had Bill designed, it made designing Slim and the rest of the Heavy universe that much easier. Bill is the anchor by which all other extremes can push or pull away from.
I'm not sure if I have a FAVORITE from any of the characters I've created, they all have things to love about them, and I approach my character design very deliberately, but I will definitely say this: Bill, Slim and the rest of the crew have been some of the most utterly fun characters for me to work on designing in quite some time. I have so many influences and loves from science fiction, fantasy, noir, action and crime stories to bring with me into the designs, and it's been a thrill from the start.
DF: I know this book will call for elaborate set pieces. Has there been one that has been so awesome for you to design that you almost hated to leave that page?
Eryk Donovan: Definitely each chapter will have some of its own set pieces. In issue #1, we have a couple of different huge set pieces: predominantly The Big Wait, as well as a dark steampunk/alternate renaissance Rome, featuring a sex-crazied Leonardo Da Vinci who has erected monuments to his own phallus. They're both ridiculous and cool in their own rights, and I did everything I can with the time I had to illustrate all of these scenes as lushly as possible.
One of my personal favorites from the book is a page where Bill, seething in rage and in full HEAVY MODE, wastes a room full of villains with a huge machine gun. I haven't had a chance to draw scenes like this for a book in some years, and challenging myself to find fun new ways to approach it aesthetically has been a great artistic challenge, and wonderful experience.
DF: Eryk and Max, what other projects do each of you have coming that you can tell readers about?
Max Bemis: I'm relaunching an awesome adventure comic called Savage with Valiant Comics. I also just completed work on my first totally independent work, a super-dark graphic novel about a kidnapping at a Jewish summer camp, called Do Well Camp, with a great newcomer named Maxim Mel.
Eryk Donovan: Heavy is the big project on the horizon to look out for from me right now, and I think it's my best work to date! I have also been working on a YA (very different appeal than Heavy, which is decidedly adult-oriented) apocalyptic graphic novel story with some great folks that I hope we'll all have a chance to see on shelves sometime in the near future, but until that gets closer I won't say more!
In the meantime, now is as good a time as any to mention – If you aren't familiar with my previous work, I highly recommend checking Memetic, Eugenic, Quantum Teens Are Go, and last year's The Ghost of Ohio.
Dynamic Forces would like to thank Max Bemis & Eryk Donovan for taking time out of their busy schedules to answer our questions. Heavy #1 from Vault Comics was slated to hit stores on May 27th. Due to ramifications of the coronavirus pandemic, this date may have changed. Keep watching DF News and comics-related social media for more information.
For more news and up-to-date announcements, join us here at Dynamic Forces, www.dynamicforces.com/htmlfiles/, "LIKE" us on Facebook, www.facebook.com/dynamicforcesinc, and follow us on Twitter, www.twitter.com/dynamicforces.
HEAVY #1 COVER A/B COMBO PACK - SIGNED BY MAX BEMIS!
HEAVY #1 COVER B - SIGNED BY MAX BEMIS!
HEAVY #1 COVER A - SIGNED BY MAX BEMIS!
BLACK TERROR VOL. 2 #1 - MAX BEMIS SIGNED ATLAS EDITION
CENTIPEDE #1 SIGNED BY MAX BEMIS & REMARKED BY KEN HAESER
FOOLKILLER #1 SIGNED BY MAX BEMIS
EVIL EMPIRE #5 SIGNED BY MAX BEMIS!
---
NEW! 1. 11/30/2020 - SKYLAR PATRIDGE
5. 11/16/2020 - RYAN O'SULLIVAN