CHRIS SEBELA

SEND THIS TO A FRIEND!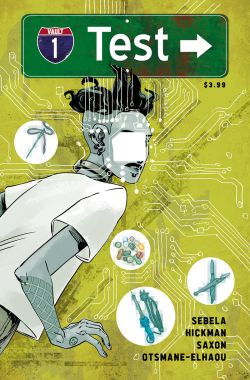 DF Interview: Chris Sebela tells of a human guinea pig in search of a promised land in 'Test'
By Byron Brewer
Aleph Null is a lot of things: An orphan, a human guinea pig undergoing medical tests for cash, a bodyhacker, a hardcore future junkie, and a corporate asset. But now, Aleph is on the run from their old life, in search of a mythical, Midwestern town named Laurelwood—where they're test-marketing the future with tech that can't possibly exist yet, and won't for decades.
From Eisner-nominated Chris Sebela (Crowded, High Crimes) and Jen Hickman (Moth & Whisper) comes Test, the story of a town out of time, full of mysteries, and populated by guinea pigs in need of liberation by the misfit least likely to be their savior. DF wanted to put our storyteller to the test (!), so we sat down with scribe Chris Sebela.
Dynamic Forces: Chris, I hear you have an amusing (and somewhat telling) story behind Test, your new series from Vault Comics? Something to do with your job at a market research firm during your "drifting 20s"? (laughs)
Chris Sebela: Yeah, it's more inspired by all the stuff happening behind the scenes that I was privy to at the time. We hosted and recruited focus groups, so we sort of helped shape public opinion about certain products that either helped them get approved or rejected. And so much of it was just lies upon lies upon lies. The further away I got from that job, the more it all kind of fascinated me, especially as marketing keeps taking over the world more and more. So I started thinking about worst case scenarios, because that's how I like to spend my free time, I guess.
DF: A bit from above, tell readers what Test Towns are.
Chris Sebela: They're towns that fit certain demographic spreads that advertisers and corporations consider to be their perfect window of consumerism. Companies will pick these towns to unveil new products in, and they're only available there, where the people who live there vote on it with their wallet and comment cards and focus groups. It's all very benign, really, but it turns towns into giant conference rooms with two-way mirrors where everyone is kind of being watched to see what they think of this stuff.
DF: Is Laurelwood such a town? What can you tell us about this midwestern city (in a non-spoilery manner)? Why is it key to your story?
Chris Sebela: Laurelwood is a Test Town, but one where they're testing out the future in the form of impossible products, science, technology and culture. To people in the outside world, it's a sort of urban legend. A Midwestern town that sometimes appears in one state or another, a place where you can see things that shouldn't exist. And the reason it features so heavily in our story is because our main character is obsessed with finding it.
DF: Who is Aleph Null? What can you tell us about this protagonist as a character? What challenges do they face right out of the gate in Test?
Chris Sebela: Aleph is a lot of things. They grew up as an orphan and learned how to hustle to stay alive, eventually wandering into the field of human guinea pigging, which is an actual profession of sorts. People volunteer for research studies, which are like focus groups except the groups are made up of people getting dosed with new drugs or undergoing some sleep study or psychological stress test in action. Some people make it a career, bouncing from one study to another. That's what life is like for Aleph. Their present is this nightmare they're forever trying to survive and the future is like this golden rainbow. The only way they can cope with trading their body and health for cash is by trying to go beyond being human through self-surgery and implants and chemical engineering to make themselves something better. And they get addicted to this being a posthuman, being a future being, so Laurelwood offers up this sort of ultimate high for them. Or a way to cure themselves. Aleph is trying to decide.
DF: Other characters important for readers to know as we pick up this mag in June?
Chris Sebela: Well, short of spilling the beans on everything, there's a good amount of people in this town. Some of them are completely into this vision of what their town has become and some people oppose it to a violent degree. Some are riding the fence to see who comes out the winner. All of them are being deeply affected by living in a future that's being sprung on them. What I can reveal is that Aleph is being hunted by a Repo Squad trying to take back what they consider corporate property so Aleph isn't just lackadaisically wandering through this world, they've got their past breathing down their neck and their future in front of them, so Aleph ends up as divided as the townspeople themselves.
DF: Truth: Is drawing on your early employment background for this story's foundation painful or cathartic for you? I know there are some very early days in my newspaper career I would never want to relive, even in the morphed form of a comic!
Chris Sebela: Nah, enough time has passed that all that stuff functions as fun stories to tell whenever I'm in that particular mood. It's like any relationship that's passed, you focus on the good and interesting bits and try to keep the painful stuff at bay. Especially with something like Test, it's a good vehicle to take any of the anxiety or disbelief of that part of my life and channel it into something permanent, turn it into something productive.
DF: Talk about the expressive works of artist Jen Hickman and colorist Harry Saxon.
Chris Sebela: I've been chasing Jen to collaborate with on this book for a bit now, and it's been a matter of making our schedules line up, but I was more than happy to wait to get the chance. I've been a fan of theirs for awhile now, back when they were putting out books with my friend James Maddox. Their AfterShock book, Moth & Whisper, was just confirmation of how good they are. I'm not sure how to put it in words. Jen brings a sort of European comics sensibility to stuff, which is something I love to see my stuff through the lens of. Jen's pages shape my story and my ideas with every new page, which is about the best you could ask for from a collaborator.
I haven't worked with Harry before, but I feel like he's totally on the same page with us and it's fun to watch him and Jen hash things out about how to approach a page, the kind of stuff I never get to see, normally. I think everyone's really clicking with each other on this book, making something really strange and singular.
DF: Chris, buddy, what other projects current or near-future are you juggling these days?
Chris Sebela: The trades for High Crimes and Shanghai Red just came out from Image earlier this year and the first volume of my book Crowded will be out later this month, with our second arc starting up in June. I also have a new book from AfterShock with Chris Visions called TRUST FALL that starts this summer and is a crime book with teleportation in the mix. If that doesn't sell you, I dunno what will. Heartthrob is coming back for our 3rd and final arc and, fingers crossed, a couple of surprises I can't mention right now.
Dynamic Forces would like to thank Chris Sebela for taking time out of his busy schedule to answer our questions. Test #1 from Vault Comics hits stores June 26th!
For more news and up-to-date announcements, join us here at Dynamic Forces, www.dynamicforces.com/htmlfiles/, "LIKE" us on Facebook, www.facebook.com/dynamicforcesinc, and follow us on Twitter, www.twitter.com/dynamicforces.
KISS/VAMPIRELLA #1 ATLAS COMICS SIGNATURE SERIES - SIGNED CHRIS SEBELA EDITION
KISS/VAMPIRELLA TRADE PAPERBACK
AGENT 47 VOL. 1: BIRTH OF THE HITMAN TRADE PAPERBACK
AGENT 47: BIRTH OF THE HITMAN #1
---
NEW! 1. 11/30/2020 - SKYLAR PATRIDGE
5. 11/16/2020 - RYAN O'SULLIVAN