JUSTIN JORDAN

SEND THIS TO A FRIEND!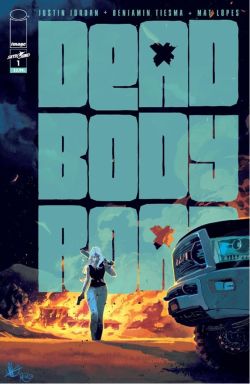 DF Interview: Justin Jordan returns to 'Dead Body Road', this time with some really Bad Blood
By Byron Brewer
Bree Hale has left a lot behind in her life. Crime. The military. But she can't leave behind her own family, and when the local crime boss puts a hit out on her brother, there's nothing she won't do to save him. Absolutely nothing.
Skybound's pulse-pounding action series Dead Body Road returns, with writer Justin Jordan (Reaver, Luther Strode) and artist Benjamin Tiesma delivering an explosive tale of revenge like you've never seen before. From here out, it's just Bad Blood!
DF was anxious to hop aboard this series' new outing, so we tracked down writer Justin Jordan and put the Qs to him.
Dynamic Forces: Justin, you are back with one of your best: Dead Body Road! So, why the six-year hiatus?
Justin Jordan: Mostly, it was a matter of finding the right artist, getting it all done, and random stuff that just happens. The scripts were actually written a bit ago -- before Reaver, actually -- it just sometimes takes a while to do it right.
DF: What do readers coming into this six-issue miniseries need to know about the original Dead Body Road? Any necessary connective tissue?
Justin Jordan: Nope. They do happen in the same world, but it's more or less along the lines of something like the television version of Fargo.
DF: Give us an extended elevator pitch for "Bad Blood". No fair using the solicit! (I'm doing that, LOL.)
Justin Jordan: Bree Turner has a bad past and an uncertain future, and now she has to protect her asshole brother from the man who wants him dead. The problem is, Bree's brother might deserve it.
DF: Tell us more about Bree. Tell readers what you can about her life and the challenge(s) she faces in Bad Blood.
Justin Jordan: Bree is from a family of assholes. That's certainly Bree and everyone else in her county's opinion. The Hales are a group of low rent criminals, and Bree wanted to be better, and was certainly more dangerous than the rest of her family.
She's gone straight by the time the story starts, and has a medium good life going running a local bar. This is all blown to hell when her brother f*cks up and gets the resident crime boss gunning for him.
DF: What can you tell us about Bree's brother, her relationship with him, and their relationship (if any) to the local crime boss.
Justin Jordan: Well, Bree and her brother don't get along. But he's family, and she can't let someone kill him, even if he might deserve it. So it's complicated, and gets more so as we learn exactly why Monk Sinclair is trying to kill Hunter Hale.
DF: What is it about gritty revenge thrillers that gets your creative juices pumping? Certainly makes for great comics!
Justin Jordan: Oh man, I don't know. But I love them. I was just talking about how the seventies was a golden age for the kind of gritty crime thriller I love. Charlie Verrick, The Taking of Pelham 1 2 3, The French Connection, Serpico, etc. It evidently imprinted on me.
Plus, I love crime fiction in prose. So this, to some extent, is a love letter to Elmore Leonard. The first one leaned more towards Richard Stark, a pseudonym of Donald Westlake when he was writing the Parker novels. The hypothetical third would be more George Pelecanos.
DF: Talk about the work of new series artist Benjamin Tiesma.
Justin Jordan: It's amazing. It's hard filling the shoes of someone like Matteo Scalera, who did the first series. But Ben brought an awesome style to the book that complements the first one without being too similar. He did a phenomenal job on it.
DF: Justin, what other products of the Jordan mind will be coming our way?
Justin Jordan: Well, assuming the world – or just the direct market – doesn't end, there's more Reaver, Breaklands and Urban Animal coming. I've just pitched a pair of projects and I'm getting ready for a third. So staying busy, as always.
Dynamic Forces would like to thank Justin Jordan for taking time out of his busy schedule to answer our questions. Dead Body Road: Bad Blood #1 from Skybound/Image Comics was slated to hit stores on May 20th. Due to ramifications of the coronavirus pandemic, this date may have been changed. Keep watching DF News and comics-related social media for more information.
For more news and up-to-date announcements, join us here at Dynamic Forces, www.dynamicforces.com/htmlfiles/, "LIKE" us on Facebook, www.facebook.com/dynamicforcesinc, and follow us on Twitter, www.twitter.com/dynamicforces.
EVIL ERNIE: GODEATER PAPERBACK
DEEP STATE #1 SIGNED BY JUSTIN JORDAN!
SPREAD #1 THIRD PRINTING VARIANT EDITION SIGNED BY JUSTIN JORDAN!
SPREAD #1 SECOND PRINTING ACTION FIGURE VARIANT EDITION SIGNED BY JUSTIN JORDAN!
SPREAD #1 FIRST PRINTING SIGNED IN BLOOD RED BY JUSTIN JORDAN!
GREEN LANTERN: NEW GUARDIANS: FUTURES END #1 3-D MOTION ULTRA-LIMITED GOLD SIGNATURE SERIES ELITE EDITION SIGNED BY JUSTIN JORDAN!
GREEN LANTERN: NEW GUARDIANS: FUTURES END #1 3-D MOTION ULTRA-LIMITED EDITION SIGNED BY JUSTIN JORDAN!
---
NEW! 1. 11/30/2020 - SKYLAR PATRIDGE
5. 11/16/2020 - RYAN O'SULLIVAN