CULLEN BUNN, DANNY LUCKERT & MARIE ENGER

SEND THIS TO A FRIEND!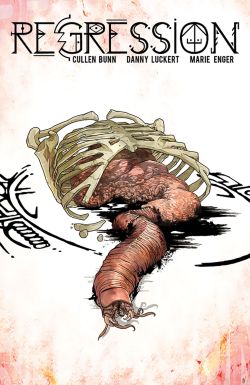 DF Interview: Cullen Bunn, Danny Luckert & Marie Enger build a world of mystery, insanity, horror in Regression
By Byron Brewer
Adrian is plagued by ghastly waking nightmares. To understand and possibly treat these awful visions, Adrian reluctantly agrees to past life regression hypnotherapy. As his consciousness is cast back through time, Adrian witnesses a scene of horrific debauchery and diabolism. Waking, he is more unsettled than before, and with good reason: something has followed him back!

Presented by Cullen Bunn (Harrow County, The Sixth Gun, The Empty Man), Danny Luckert (Haunted) and Marie Enger (Pistolwhip, 2 Sisters), Regression is a tale of supernatural terror and intrigue unlike any horror comic. And to learn more, DF spoke to the whole creative team.
Dynamic Forces: Cullen, Danny and Marie, since I have the whole team assembled, let's start this interview on your new book from Image Comics, Regression, a little differently – not unlike the series itself: Guys, I know it is early, but what is your favorite aspect of creating this comic book thus far?
Danny Luckert: The best part would have to be working with Cullen and Marie. I'm always super excited to get script pages from Cullen and to see what Marie does with the colors. Also my dreams are a heck of a lot more interesting.
Cullen Bunn: For sure! I 100 percent echo Danny's sentiment here! I love turning in these scripts and seeing how Danny and Marie both elevate the material in their own way.
Marie Enger: Aw, I feel the same! I've never gotten to color so much ... slime ... before.
DF: And – AND – what is the thing you look forward most to doing in a future issue of Regression? (That WAS different.)
Cullen Bunn: I've got big, crazy plans for this series. It starts as a "fairly" straightforward horror story, but then it evolves into something much bigger. I think that readers will think they know where the story is going, but by issue 4 we turn that on its head. Then we turn it on its head again with issue 5. And again in issues 6 and 7. I'm excited to see the reaction to the payoff of where this is all headed!
Danny Luckert: I don't really know honestly. Cullen has been pretty great at knowing what I may want to draw before I even know. If I have to say something, I'd say just more weird bug-creature things.
Marie Enger: I'm with Danny. I'm the last one to know what's coming -- and I've been surprised (and horrified?) at each new issue. As gross as it sounds ... I guess I'm most excited to color some more blood and guts.
DF: Cullen, tell us a little about how this series came about. What is the initial storyline?
Cullen Bunn: If you look at many of my bios, you'll see that I claim to have once performed as the "World's Youngest Hypnotist." Most folks think that's fake, but it is totally true. My dad was a stage hypnotist for some time, and I was part of his act when I was 3 or 4. My dad also conducted past life regressions from time to time, and they were strange and creepy and surreal. Watching those regressions all those years ago planted the seed of this story.
In Regression, we meet a guy—Adrian—who is plagued by horrifying hallucinations. In an effort to rid himself of these visions, he undergoes hypnotherapy and past life regression. That's when things go really, really wrong for him. Because something follows him back into the present. Something vicious and evil.
DF: Who is Adrian as a character? Tell us what you can about this protagonist and the world you and your collaborators are creating here.
Cullen Bunn: Adrian is an everyman. He has a mindless dead-end job. He has a group of friends he feels disconnected from (with just a couple of exceptions). He doesn't really believe in much and doesn't stand for much. But these visions that torment him are shredding him mentally. He's soon to find out that his life is intertwined with the life of someone else. That connection has a ripple effect through everything he has ever done. What's more, there is this huge conspiracy connected to the past life (and now to Adrian) and it is threatening to consume him.
DF: Danny and Marie, what can you tell us about designing this world Adrian must inhabit, where you're dealing with "occult conspiracy, mystery, reincarnation and insanity"? The locales almost sound like they will very much be characters in the tale.
Danny Luckert: I've tried to make Adrian's world resemble ours as close as possible so that when things get weird, they get REALLY weird. A lot of the locations are actually based around my hometown, from the opening bbq scene, to Adrian's apartment, and the hypnotist club. That said, I've hidden symbols and sigils all over this book. Some may be a little obvious to spot, but most are very well-hidden. As are their meanings.
Marie Enger: Hmm. Well, I have the added bonus of having words and pictures when I'm working, so when I'm going into each issue I'm less concerned with the images (Danny has already made them so creepy) and more concerned with the atmosphere. While you're looking for all the hidden symbols, check out the outfit/skin hue changes on the locales...the way the sky has changed. I guess I'm trying to make sure Danny has second thoughts about going back to those places from his hometown after the series wraps.
DF: Which is your favorite character or set piece thus far to render? How much of a role does the color palette play in accenting the rest of the art design?
Danny Luckert: My favorite character has to be Adrian because he's the point on which everything pivots. And in regards to set pieces, I've loved the page structure freedom that comes along with a character who may or may not be losing his mind.
Marie Enger: I mean ... Adrian. I also really like all the bugs -- those suckers are nasty, but they're unlike anything I've ever gotten to color before. I like to think the color palette adds a ton -- with repeating patterns in the color choices becoming more and more indicative of what's to come as the series progresses.
DF: Guys, tell me about collaborating with your fellow creators, as long as I have you three together.
Cullen Bunn: When you have a great team—as we do here—every issue is a joy. It's an absolute thrill to see the pages come in as Danny completes them. Then, it's thrilling all over again when Marie works her magic. It reminds me that I have the greatest job in all the world.
Danny Luckert: This experience has been nothing but great! I feel like Cullen's writing is pushing me to be a better illustrator with every page. And with Marie, every time I feel like maybe an image is feeling a little flat I know she's gonna pump some wild juice into it and make it dance. Or in Regression's case, squirm.
Marie Enger: I've really loved it. This whole book has been like nothing I've worked on before. Cullen has created some truly disturbing ideas for Danny to convey, and I can honestly say I haven't gotten a page yet that has been boring to color ... or I haven't been super-pumped to see show up in my dropbox folder.
DF: Cullen, Danny and Marie, what projects current or near-future can each of you tell our readers about?
Danny Luckert: Well, I have this book coming out in the not-too-distant future called Riptide by Scott Chitwood and the awesome folks at RED 5 Comics. And people can always check out Tethered with me and writer David Precht as well as Haunted Volumes 1 and 2 from Scott, myself and RED 5 Comics.
Cullen Bunn: In addition to Regression, I have The Damned coming from Oni Press. The Damned is a noir story with demons, and it was my introduction to working on comics professionally all those years ago. We're returning to that story, though, and launching it as an ongoing series, and I couldn't be more happy about that. I'm also working on Harrow County for Dark Horse. That book is starting to barrel toward its eventual climax, so I'm excited to see what readers think of what we have planned. I'm also working on The Unsound for BOOM! That is a creepy fantasy set in the bowels of a haunted asylum. I have lots of other creator-owned books in the works, too, and I'm hoping to announce them soon!
Marie Enger: Some stuff I can't talk about yet BUT right now folks can read my short horror collection We Are in a Dark Place and my ode to my punk and horror roots – Punx Win Vol. 1. If you're part of that comic/punk hybrid scene, you can also look forward to my collaboration with PUP that will be hitting grimy merch booths (and Lollapalooza) this summer.
Dynamic Forces would like to thank Cullen Bunn, Danny Luckert & Marie Enger for taking time out of their busy schedules to answer our questions. Regression #1 from Image Comics hits stores May 10th!
For more news and up-to-date announcements, join us here at Dynamic Forces, www.dynamicforces.com/htmlfiles/, "LIKE" us on Facebook, www.facebook.com/dynamicforcesinc, and follow us on Twitter, www.twitter.com/dynamicforces.
X-MEN: BLUE #1 SKOTTIE YOUNG VARIANT ULTRA-LIMITED BLUE SIGNATURE SERIES SIGNED BY CULLEN BUNN
X-MEN: BLUE #1 ULTRA-LIMITED BLUE SIGNATURE SERIES SIGNED BY CULLEN BUNN
X-MEN: BLUE #1 SIGNED BY CULLEN BUNN
DARTH MAUL #1 ULTRA-LIMITED CRIMSON RED SIGNATURE SERIES EDITION SIGNED BY CULLEN BUNN
MONSTERS UNLEASHED #1 SIGNED BY WRITER EXTRAORDINARE CULLEN BUNN
DEADPOOL BACK IN BLACK #1 SIGNED IN BLOOD RED BY CULLEN BUNN
MICRONAUTS REVOLUTION #1 SIGNED BY CULLEN BUNN
IDW'S REVOLUTION #1 SIGNED BY CULLEN BUNN
CIVIL WAR II: X-MEN #1 SIGNED BY CULLEN BUNN
MICRONAUTS #1 CLASSIC ACTION FIGURE COVER SIGNED BY CULLEN BUNN
DEADPOOL AND THE MERCS FOR MONEY #1 BLOOD RED SIGNATURE EDITION SIGNED BY CULLEN BUNN
DEADPOOL AND THE MERCS FOR MONEY #1 SIGNED BY CULLEN BUNN
---
NEW! 1. 11/25/2020 - STEVE SKROCE
4. 11/16/2020 - RYAN O'SULLIVAN
5. 11/16/2020 - RYAN O'SULLIVAN