CHRIS DINGESS

SEND THIS TO A FRIEND!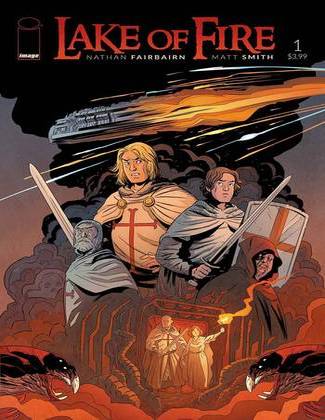 DF Interview: Chris Dingess brings something big – REALLY big – to Manifest Destiny
By Byron Brewer
Lewis and Clark didn't lead the first expedition west … nor were they the first to encounter the biggest mammal in all the land. Writer Chris Dingess and artist Matthew Roberts return with a new arc and a BIG surprise in Manifest Destiny #19 from Image Comics' Skybound brand.
Intrigued? Us to, so DF sat down for a chat with writer Chris Dingess.
Dynamic Forces: Chris, what has it been running this wonderful book called Manifest Destiny?
Chris Dingess: It's been an amazing experience. I've been a fan for so long, but never attempted to write a comic. So this has been the learning experience of a lifetime and I've had wonderful teachers like Robert Kirkman, Matt Roberts, Sean Mackiewicz and Sina Grace along the way.
DF: Hard to believe it is time for issue #19 already?
Chris Dingess: Already?! We've been chugging along on this book forever! Big thanks to the fans who have supported us through this process.
DF: For the uninitiated, tell us how this book came into being.
Chris Dingess: I was hanging out with friends years ago, complaining about the glut of alternative history fiction out there and jokingly talked about Lewis, Clark and Sacagawea on a secret mission to fight monsters. Then the joke turned into a real idea and through a series of fortunate events I got to pitch it to Robert.
DF: For the vaunted "new reader," what do we need to know before we plunge into a first purchase of the book with #19? Tell us a little of what has come before, please.
Chris Dingess: Lewis and Clark set out on what they believed to be a wild goose chase to hunt down monsters in the area of the Louisiana Purchase. They and their crew soon realized that the stories were true and the land is full of creatures. The crew consists of volunteer soldiers working for glories and riches, as well as criminals attempting to gain their freedom. Lines get blurred as we learn that some of the convicts become heroes and some of the soldiers, including Lewis and Clark, show their darker sides.
We also learn of an earlier expedition that seems to have met with a tragic end.
DF: Issue #19 brings us a new arc with … Sasquatch?
Chris Dingess: Yeah. We wanted to come back from hiatus with something big. So… BIGFOOT! At least, our spin on Bigfoot. Or Bigfeet, since it's plural. Whatever. Sasquatches! You get the picture.
DF: So are you a big proponent of lost legends? Sasquatch/Bigfoot/Yeti, Loch Ness Monster, et al?
Chris Dingess: I don't think I actually believe in any of it. But tall tales and spooky stories are fun to tell.
DF: Any favorite stories about same from other media?
Chris Dingess: Too many to name. I love all of the stuff in Hellboy. The creatures and lore surrounding Pan's Labyrinth is pretty cool too. And don't sleep on Harry and the Hendersons!
DF: How do you enjoy working with Matthew Roberts, Tony Akins and Owen Gieni?
Chris Dingess: I'm constantly and consistently amazed by the art Matt and Owen have produced since day one. Tony joined more recently and has just fit right in and hit the ground running with us. Another incredibly valuable member of the team is Patrick Brosseau. His lettering adds so much dimension and personality to every character in the story. He's truly invaluable.
Dynamic Forces would like to thank Chris Dingess for taking time out of his busy schedule to answer our questions. Manifest Destiny begins a new arc with issue #19, in stores May 18th!
For more news and up-to-date announcements, join us here at Dynamic Forces, www.dynamicforces.com/htmlfiles/, "LIKE" us on Facebook, www.facebook.com/dynamicforcesinc, and follow us on Twitter, www.twitter.com/dynamicforces
---
NEW! 1. 01/14/2021 - MARIA LIOVET
3. 01/07/2021 - DARICK ROBERTSON
4. 01/04/2021 - CONOR MCCREERY
5. 12/31/2020 - BRANDON GRAHAM