DAVID PEPOSE

SEND THIS TO A FRIEND!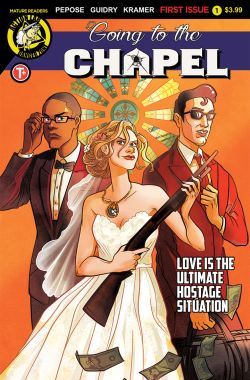 DF Interview: David Pepose pulls a 'Die Hard' at a wedding in 'Going to the Chapel'
By Byron Brewer
Emily Anderson's big day had become the wedding from hell – and that was before the bank robbers showed up. What do a conflicted bride, her dysfunctional family, a gang of Elvis-themed crooks, and one relentless sheriff have in common? They're all about to discover love is the ultimate hostage situation.
Get ready to say yes to distress in Action Lab's Going to the Chapel, an insanely action-packed romantic comedy from Ringo Award-nominated writer David Pepose (Spencer & Locke) and artist Gavin Guidry (The Death Defying). DF wanted to crash this wedding and learn more, so we took a trip to the groomsmen's room and, among the Elvises, found and talked with scribe David Pepose.
Dynamic Forces: David, comedy, I have found, is very hard to do in comic books. And I would imagine a romantic comedy with heist caper trappings would be a real challenge. How did you come to choose these genres for Going to the Chapel? What is the genesis of this book?
David Pepose: The idea for Going to the Chapel came when I was the best man at my oldest friend's wedding — I was in charge of planning the bachelor party, and let me tell you, it was cursed. Everything that could go wrong did go wrong — the AirBNB was trashed, the inflatable sumo set I rented wouldn't fit in the backyard, a bunch of groomsmen bailed without paying, I got hospitalized 48 hours before the party started… I said to myself, "Well, at least this nightmare didn't happen during the wedding." But then I thought to myself… what's the worst thing that could have happened if it did?
The more I thought about it, the more interesting the idea became – romantic comedies don't get a ton of play in the Direct Market, and I think that's because there's a lot of preconceived notions about the genre, and who it's meant for. Which is nonsense – romcoms are for anybody who's ever been (or wants to be) in love! So taking romantic comedies and splicing them together with the most classic of action tropes – while also juggling a sprawling and diverse cast and locking them in one location – felt like the perfect way to try something new and bring as many people to the table as possible.
DF: Can you give readers a little bit of an extended elevator pitch for the series? Tell us about the overall storyline?
David Pepose: The easy pitch for Going to the Chapel is "What if Die Hard got hitched to Runaway Bride?" It's about the wedding of a wealthy heiress that is taken over by a gang of Elvis-themed bank robbers. But similar to my bachelor party curse, everything that could go wrong on this heist does go wrong, and once the police surround the chapel, it's up to our bride to become the unlikely ringleader of her own hostage situation if she hopes to get everyone out in one piece. We're tapping into a lot of fun stories for this series, ranging from Dog Day Afternoon and Inside Man to Bridget Jones' Diary and Death at a Funeral. It's an eclectic mix, but the result is a something that I think brings laughs and action at a fun and frenetic pace.
DF: Tell us a little about our bride-slash-criminal-ringleader, Emily Anderson. Wassup with her?
David Pepose: This is all supposed to be Emily's big day, but all she's got is a serious case of cold feet. We'll learn a bit about Emily's past as the series continues, but she has her reasons of being wary of lifelong commitments. But before she can come clean, she's going to have her hands full when her wedding is crashed by some guests from the wrong side of the law. Emily's the linchpin of our entire story, because she's going to have to work overtime navigating the various factions of this wedding while coming to terms with her unresolved issues and her fear of walking down the aisle. Granted, as we'll see by her supporting cast, she comes by her neuroses honestly, but Emily's evolving dynamic with Tom and Jesse will be the driving force behind this series, as well as the creative ways she manages to leverage her wedding day accommodations to survive.
DF: Can you introduce us briefly to some of the other characters who may be important to this wedding-turned-hostage situation?
David Pepose: We'll meet Emily's extended family, who are about as dysfunctional as it gets — think of the Bluths from Arrested Development if they were stuck dealing with one another during a bank robbery, and you'll be on the right track as to what the Andersons are about. But most important is going to be Emily's fiancé, Jesse — he's an awkward but genuinely sweet architect, and he'll stop at nothing to rescue his bride-to-be, even if he unintentionally blows up her best-laid plans.
DF: Soooo … Elvis-themed crooks, eh? 'Splain. (laughs)
David Pepose: The Bad Elvis Gang is a group of notorious bank robbers that have found a lucrative new niche for grand larceny — namely, weddings! (Laughs) Tom, Vegas, Motown and Romero have had a good run for their smash-and-grabs, but not even they could possibly predict just how difficult the Anderson family would be, even as they're being relieved of all their valuables. But there's a reason why the Elvises hit this particular wedding, and watching their dynamic evolve with the various wedding guests after some extremely prolonged close contact is one of my favorite parts about this story.
DF: Introduce us to our "relentless sheriff" [Action Lab solicit] please.
David Pepose: Sheriff Walter Reagan is the long arm of the law in Rockland County, and he's playing a hardcore game of cat and mouse with the Bad Elvis Gang. He's the kind of guy who shoots first and asks questions never, which is not a great thing for any hostages who might become human shields. But Walt is kind of a bloodhound, both in the sense that he will relentlessly go after the Elvises no matter what tricks they have up their sleeves, but also in the sense that he's smart enough to occasionally get one step ahead of these so-called master criminals.
DF: Talk about the works on this book by artist Gavin Guidry and colorist Liz Kramer. How are they doing in meeting your expectations for this insanely action-packed romantic comedy?
David Pepose: Gavin and Liz, along with our letterer Ariana Maher, have been just a terrific team. Gavin operates in a similar wheelhouse to Chris Samnee or Doc Shaner – just a very clean style of line work that I think plays up both the dramatic elements of this series as well as the expression-driven comedy. Liz, meanwhile, I think is the secret weapon of this series – she and I discussed very early on how we wanted our series' palette to look, but she has this beautifully textured style that I think brings Gavin's already incredible work to just a brand-new level. And Ariana has been so crucial in making this book flow as smoothly as it does, and is really my biggest partner in terms of making sure all our one-liners hit the way we need them to.
DF: To wrap, David, what other projects are on a slow boil on the Pepose oven?
David Pepose: In addition to wrapping up production on Going to the Chapel, I'm also hard at work promoting the sequel to my Ringo Award-nominated series, Spencer & Locke 2, which pits our hard-boiled Calvin and Hobbes analogues against a murderous parody of Mort Walker's Beetle Bailey. Meanwhile, I'm also working on scripts for my upcoming sci-fi, time-travel heist series Grand Theft Astro with artist Jordi Perez. It's still early on in the process, but I'm loving where the story is headed so far. And beyond that, I've got a few other projects in development, each connecting with the tone of Chapel or Spencer & Locke to some degree, but also experimenting in terms of genre and subject matter. Sci-fi, fantasy, war, horror, comedy, romance… I've got a lot of fun stuff in the pipeline that I'm really eager to show people. If Going to the Chapel has taught me anything, it's that readers want to see creators taking risks and bold choices with their storytelling, and that's exactly what I aim to bring them.
Dynamic Forces would like to thank David Pepose for taking time out of his busy schedule to answer our questions. Going to the Chapel #1 from Action Lab hits stores in the Fall!
For more news and up-to-date announcements, join us here at Dynamic Forces, www.dynamicforces.com/htmlfiles/, "LIKE" us on Facebook, www.facebook.com/dynamicforcesinc, and follow us on Twitter, www.twitter.com/dynamicforces.
---
NEW! 1. 01/18/2021 - STEVE ORLANDO
4. 01/07/2021 - DARICK ROBERTSON
5. 01/04/2021 - CONOR MCCREERY