KIERON GILLEN

SEND THIS TO A FRIEND!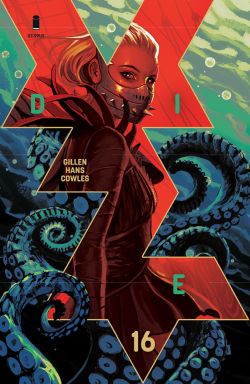 DF Interview: Kieron Gillen begins the countdown for the sinister finale of 'DIE'
By Byron Brewer
To go into the dark, you have to get to the dark. They never put a dungeon anywhere accessible, do they? Past sins haunt our party, and future sins permeate the landscape. DIE's closing arc begins as we began: with regrets and screaming.
Bestselling series DIE by Kieron Gillen and Stephanie Hans will kick off its final story arc—ominously titled "Bleed"—beginning with DIE #16, out from Image Comics this May. The highly-anticipated conclusion for the series will be revealed in DIE #20. To whet our reading appetites, scribe Kieron Gillen talked with DF about the finale of this popular book.
Dynamic Forces: Kieron, when you began this white-hot book at Image, did you dream the fan response to DIE would be as popular as it seems? Quite a reception for a book where no one is wearing spandex.
Kieron Gillen: This is, to use the idiom of my people, a sticky wicket to play.
The reality is that you hope for a book to do well and especially on a book with a lot of effort behind, you believe it can find an audience, and you believe the audience will care about it. As I've said a few times, I didn't get into writing to be sh*t. I certainly dream of books having powerful responses, as I'm looking to really hit people hard.
I felt the odds weren't bad. DIE also came off the back of one of the bigger anglophone indie books of the 2010s, in the form of the Wicked + the Divine. That immediately implied it'll get some attention. Stephanie is an astounding artist – I knew it'd look like nothing else on the shelves, and she had never done an ongoing. In terms of a lack of spandex, the majority of the biggest indie books aren't superhero books – WicDiv certainly wasn't and none of the wave of the books were either. In terms of more specific genre – that of a fantasy - Monstress is simply a titan in terms of audience. Metafictional fantasy has always been huge in comics, as Sandman will tell us.
I suspect the question that nagged was whether role-playing games were still too niche to be the backbone of a hit book. That's a good question, but not really one I stressed too much about. It's beyond my control... except in how we chose to do the book. We are deep in RPG culture, but we're using it as a setting, talking about bigger ideas.
As I always say, you don't need to be into carpentry to like the Narnia books. You don't need to like RPGs to like DIE.
DF: Why is now the time to bring this great comic to a conclusion, with the final arc coming with May's issue #16 and the finale in #20? Is this something that was planned from the beginning?
Kieron Gillen: Yup, this is what we planned. The back of every issue has a number, filling in the shape of the 20 sided dice. We have an exploded shape of a four-sided-dice on the trade, with one number filling in each time. 20 issues in a comic set on a 20-sided dice just is something I knew was irresistible.
I also knew that after WicDiv, I didn't want to go into another 50-issue run – plus Stephanie has never done anything that long and I suspect the shorter deadline keeps our spirits up. I figured about half the length of WicDiv was a good idea – that DIE issues are longer than WicDiv ones by 4-5 pages means it does round out about half the size of WicDiv.
DF: Before we go on to the finale of DIE proper, let me ask you something that readers are always asking me: You have often described DIE as "Jumanji with goth sensibilities". Please 'splain.
Kieron Gillen: Goth Jumanji has been my go-to description. Basically, people get dragged into a game world but rather than the joyous popcorn rollercoaster, DIE takes people to a bleak world born of alienation, ennui and all the bad stuff. Basically, it's got a lot more horror notes, and a lot more a general mid-life-crisis vibe. The cast all got lost in a game world as teenagers... and are now dragged back as 40-something people. It's about comparing their teenage fantasies with their adult realities. That's the core of it.
I say "core" as there's a lot of other things. DIE is a lot.
DF: Pandemic aside, the timing for this book has been particularly interesting. Role-playing games have become huge again, just as they were in my late '70s/early '80s college days. Coincidence, or was that at least in part the genesis of the series? Were you in fact an RPG enthusiast?
Kieron Gillen: The timing has been fascinating, right? I had the idea just as the wave was starting to break, so it does seem to be part of the zeitgeist. To that end, in the last arc I started doing a series of interviews with RPG talents about the present RPG scene, to talk about all the whys of this. My thesis was that the 2010s were the most exciting time for the form, in terms of all its developments, since the 1970s, and it's been a fun one to approach from the angles of each of these creators. I'll be doing a few more in the final arc. I've interviewed Lee Gold of Alarums and Excursions (basically the first D&D fanzine) about her experiences in the 1970s for it, which is really interesting. I want as wide a focus as possible.
So, yes, I've been involved in RPGs, to various levels, basically all my life. DIE emerged to me falling back in love with RPGs hard circa 2013 or so, and grew from me thinking about the nature of fantasy, and where this weird form actually came from. It's another of my books about how the art we consume and use shapes us – kind of a sister book to Phonogram.
DF: Kieron, for those who have been under a rock (and who could blame them these days, LOL), summarize the storyline of DIE a bit as we approach May's issue #16 and "Bleed" begins.
Kieron Gillen: Teenagers got dragged into a weird-horror world via their creepy RPG back in the early 1990s. One person got left behind. They've got dragged back in their 40s, to discover their friend is now the villain who's dragged them back. They can't leave until everyone agrees to go home. They defeat their friend... by which point several party members have decided to stay in the world. Cue, a war between them, which brings whole countries into the story... and also reveals the truth of DIE. Our world is in active danger from it if they can't stop the planet becoming sentient.
The war stops after a huge emotional climax, and they realize to stop this they have to delve to the very heart of the planet to intercept the creepy magical dice before they cross over.
So, after 15 issues, the party is finally going down a dungeon.
DF: Can you give us, especially readers who have been following loyally since #1, a thumbnail sketch of what to expect from this final arc?
Kieron Gillen: Well, a dungeon.
Being DIE, this isn't just a dungeon. It's a deconstruction of the whole ideas of dungeons, and very much dungeoneering as therapy and psychogeography. The group is going to go deeper, and uncover all the truths – both about themselves, and the world they find themselves in.
And, as it is down a dungeon, it's pretty dark.
DF: Talk about this great collaboration between you and artist Stephanie Hans. Has the art related well what you wrote?
Kieron Gillen: She's a goddess, this tempest on the page. After over a decade working with Jamie, where everything is like a Daft Punk record in terms of being machine-engineered, this is much more like a voyage across an ocean. I write a lot on the page to give ideas, and then highlight what is absolutely essential, and then step back and make a world on the page.
In a real way, one of the main goals of DIE was to allow Stephanie to create a fantasy world. I knew that place would enchant people, and it's never disappointed.
DF: Kieron, what other projects inside or outside comics in which you are involved can you tell readers about?
Kieron Gillen: Eternals is running over at Marvel, and it's a whole lot of fun. Esad is one of my favorite artists in all of comics, and the weird exercise of trying to take decades of continuity and transmute it into mythology is unlike anything else. I'm also with Dan and Tamra over on Once & Future.
Other stuff I can't talk about yet. Ludocrats came out in trade since we last talked, I think? Yes, it did. Yay Ludocrats! The Ludocracy will not be curtailed, and is available in all good book shops now.
Dynamic Forces would like to thank Kieron Gillen for taking time out of his busy schedule to answer our questions. "Bleed", the final arc of DIE, begins in issue #16 which hits stories May 5th!
For more news and up-to-date announcements, join us here at Dynamic Forces, www.dynamicforces.com/htmlfiles/, "LIKE" us on Facebook, www.facebook.com/dynamicforcesinc, and follow us on Twitter, www.twitter.com/dynamicforces.
PETER CANNON: THUNDERBOLT OVERSIZED HARDCOVER - SIGNED EDITION
ORIGIN II #1 SIGNED BY STAN "THE MAN" LEE
JAMES BOND: CASE FILES VOL. 1 HARDCOVER
ETERNALS #1 1:50 VARIANT BY BOSSLOGIC!
ETERNALS #1 ART ADAMS VARIANT CGC GRADED DUAL PACK!
ETERNALS #1 J SCOTT CAMPBELL VARIANT CGC GRADED DUAL PACK!
---
NEW! 1. 06/10/2021 - CHRIS CONDON
3. 06/04/2021 - PHILLIP RUSSERTT