JOE KELLY

SEND THIS TO A FRIEND!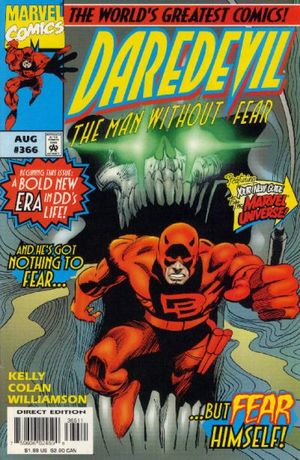 DF Interview: Let's Level About Daredevil - Part 5: Joe Kelly
By Byron Brewer
With the second season of television show Marvel's Daredevil available on Netflix and a new incarnation of his comic book on the stands, Daredevil – the blind attorney Matt Murdock who has been policing the mean streets of NYC (and San Fran, for a time) since 1964 – is more popular with more people than ever.
We at Dynamic Forces thought we would take this opportunity to talk to some of the comic book creators who, over the last half century, have added or embellished the mystique of mighty Marvel's original street hero.
Are his creators of one medium (comics) watching a re-creation of ol' Hornhead on another (TV)? How important was DD to their own careers? Did they have a favorite supporting character? What was their favorite arc … or least favorite?
Over the course of the week, DF has been posing some of these questions to those who have made the Man Without Fear the hero he is today.
*****
Joe Kelly
Karl Kesel was finishing up his tenure on Daredevil in 1997, during which Joe Kelly had written a DD fill-in with #358. DD editor James Felder felt that Kelly's humor and sense of story was a good follow for Kesel's more light-hearted, wise-cracking Daredevil (think early Stan Lee days … or Spidey any day).
Kelly took over the book with #365 with art by Cary Nord. One issue later, Kelly was joined for a period of time on the book by the artist most associated with ol' Hornhead before the coming of Frank Miller, none other than Gene Colan (of Tomb of Dracula, Howard the Duck and Dr. Strange fame). Colan and DD had been inseparable for about eight years, rivaling Jack "King" Kirby's run on Fantastic Four and Thor, and John Romita on Amazing Spider-Man.
At around the same time, Kelly produced a Daredevil/Deadpool Annual with artist Bernard Chang which pitted the two characters against each other and was generally well received by fans and critics. In a 1997 interview with Manwithoutfear.com, Kelly said the annual "was something that James [Felder] and I had talked about ages ago. Plus, [Editor-in-Chief] Bob Harras never liked the idea that DD had killed someone, so it was a great way to tighten some things up and deliver a one-two punch to the fans. A no-brainer, so to speak."
He also recalled that Daredevil and Deadpool were fun to write together because "… with DD and DP, you can get comedy, comflict, etc. The dynamic is great."
Kelly left Daredevil with #375 in 1998.
In 2000, Kelly along with comic book writers Joe Casey and Duncan Rouleau formed Man of Action Entertainment, a bi-coastal creative studio and writers' collective. Under the brand, they created the megahit Ben 10, a $4.5 billion dollar boys' action empire that has been called the most successful superhero launch of the past decade, and Generator Rex, both for Cartoon Network. Man of Action has its own imprint at Image Comics.
Kelly's current work includes the comic Four Eyes: Hearts of Fire, which tells the story of Enrico, a boy growing up in Brooklyn during the Great Depression who discovers that dragons and real and fought for sport in an underground league … after one kills his father! As Kelly said, "It's a crime story and a revenge story played out in our alt-historical setting."
And now, let's level about Daredevil with Joe Kelly.
Dynamic Forces: Joe, Daredevil and Deadpool are certainly very different characters, and yet you have written both successfully. I believe you produced a DD/Deadpool annual in 1997 that was very well received. Tell us about mixing these two very diverse characters up in one book.
Joe Kelly: The Daredevil/ Deadpool Annual still stands as one of my favorite issues, due in no small part to Bernard Chang who is a super-genius. Pitting these two guys against one another -- one deadly serious but supremely pure-hearted and the other, well, Deadpool -- made for great chemistry. Typhoid Mary was very important to both of their lives and continuity, so it all came together for me in a messy, chaotic and gorgeous package.
DF: Also in 1997, when doing Daredevil, you were teamed with iconic Marvel artist Gene Colan. What was it like working with this great artist?
JK: It was an honor to get to work with one of the greats. Gene had great stories about working with Stan, his take on the character, etc. It's rare that you get a chance to learn from a legend so early on in your career. I was lucky.
DF: During your run on Daredevil, was there any plot thread you would like to see seen more story on? Was there something you did that, in hindsight, you wish you would not have done as writer? Or vice versa?
JK: I would have enjoyed more time on DD. We had to wrap up my run rather quickly. Sales were down and they were bringing on Kevin Smith to revitalize the character -- which, of course, he did in a big way! There's nothing specific that I can remember that I wanted to do. I just enjoyed that world so much it would have been cool to stick around a while longer.
DF: Joe, do you watch the Netflix Daredevil program? If so, what are your impressions of it and can you please compare and contrast the TV DD/Matt Murdock with YOUR DD/Matt Murdock?
JK: I love Netflix Daredevil. Love it. It's well written and shot -- the cast is great. As far as contrasting our DDs, I feel like I can't even make a comparison because the show is based on the themes that Kevin and Joe Q. hit a lot harder after my run -- Matt's Catholic guilt, his special relationship to the city, etc. Both of our Matts suffer living two lives, but I couldn't go near the level of suffering we get on the Netflix show... there used to be a Comics Code, y'know?
Dynamic Forces would like to thank Joe Kelly for taking time out of his busy schedule to answer our questions.
For more news and up-to-date announcements, join us here at Dynamic Forces, www.dynamicforces.com/htmlfiles/, "LIKE" us on Facebook, www.facebook.com/dynamicforcesinc, and follow us on Twitter, www.twitter.com/dynamicforces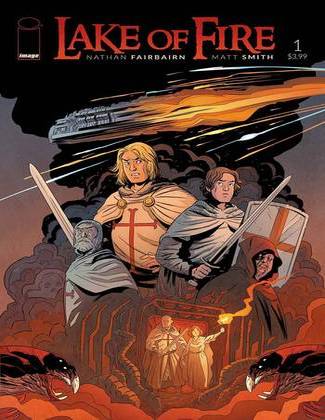 JUSTICE LEAGUE ELITE #1 - SIGNED BY WRITER JOE KELLY!
SPIDER-MAN/DEADPOOL #1 HIP HOP VARIANT SIGNED BY DEADPOOL CO-CREATOR FABIAN NICIEZA Written by Joe Kelly
M-REX #1 (FIRST APPEARANCE OF CARTOON NETWORK SENSATION, GENERATOR REX) Written by Joe Kelly
---
NEW! 1. 11/25/2020 - STEVE SKROCE
4. 11/16/2020 - RYAN O'SULLIVAN
5. 11/16/2020 - RYAN O'SULLIVAN