KARL KESEL

SEND THIS TO A FRIEND!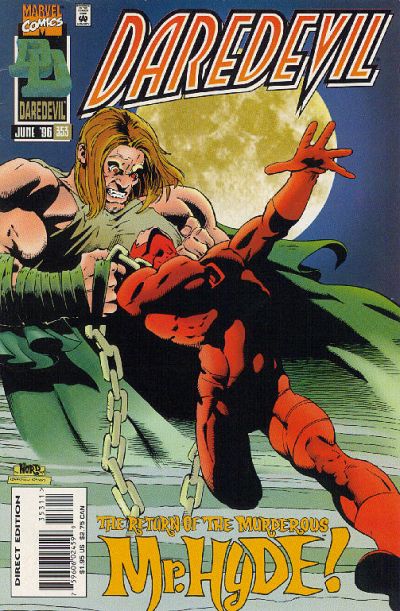 DF Interview: Let's Level About Daredevil - Part 4: Karl Kesel
By Byron Brewer
With the second season of television show Marvel's Daredevil available on Netflix and a new incarnation of his comic book on the stands, Daredevil – the blind attorney Matt Murdock who has been policing the mean streets of NYC (and San Fran, for a time) since 1964 – is more popular with more people than ever.
We at Dynamic Forces thought we would take this opportunity to talk to some of the comic book creators who, over the last half century, have added or embellished the mystique of mighty Marvel's original street hero.
Are his creators of one medium (comics) watching a re-creation of ol' Hornhead on another (TV)? How important was DD to their own careers? Did they have a favorite supporting character? What was their favorite arc … or least favorite?
Over the course of the week, DF will be posing some of these questions to those who have made the Man Without Fear the hero he is today. So join us here daily this week and see if we talked with your favorite DD creator.
*****
Karl Kesel
Like his influence over the Batman books – except perhaps even more so – Frank Miller's domination of Daredevil's world was a hard chestnut to crack … if it has been done to this day.
Following what readers and critics alike panned as a less than successful "New Look" run, a storyline by writer J.M. DeMatteis reset the crime-story, noir status quo on Daredevil, making way for inker-turned-writer Karl Kesel.
Immediately Kesel turned in a unique and refreshing performance on the Man Without Fear, unbelievably and seamlessly doing a balancing act between the gritty urban world feel of Miller and the light-hearted, fun stories of Stan Lee's early days. The skill with which Kesel pulled this off in his handful of issues has probably never properly been appreciated by DD fandom.
Kesel hit the ground running with his first issue (he wrote Daredevil #353-364, June 1996-May 1997) by bringing in an old standard, Mr. Hyde, and attempting to make him a big cheese, as Miller had done with Kingpin, originally a Spidey rogue gallery member. In interviews of the day, Kesel said he wanted to make Hyde into DD's prime foe because he represented chaos to Matt Murdock's order. Hyde actually gets a new look during this period, courtesy of John Romita Jr.
No Magneto or Doom he, Mr. Hyde's lofty post as DD's mainstay big-bad lasted only as long as the opening storyline. And when Kesel left the book, the villain was back to the boonies of so many Silver Age foes.
Making Kesel's run more entertaining was the absolutely gorgeous art of Cary Nord. While leaning more toward the animation-based stylings of Paul Smith and the like, Cord's work ensured ol' Hornhead had one of the prettiest books on the stands in the late '90s. With spot blacks to give the mag that noir feel, Nord's pencils were very effective and made Kesel's scripts shine.
Let's level about Daredevil with Karl Kesel.
Dynamic Forces: Karl, you began writing Marvel's Daredevil book in 1996. If you can, tell us a little about what DD was involved in storywise at that time. Also, what was the one thing you brought to DD during that stint on his book of which you are most proud, and why?

Karl Kesel: I had been hired to very specifically bring DD back to his more wise-cracking, swashbuckling roots. Which I totally agreed with, and felt I could do. At the same time, I didn't want to simply ignore all the Frank Miller-inspired storylines that had been going on for years— it was just as essential a part of the character. So I tried to find a balance, where DD could joke around, but still be menacing when the moment called for it. Probably the thing I'm most proud of is the issue where people called into Karen Page's radio show and described who and what they THOUGHT Daredevil was. It occurred to me that unlike most heroes, the average citizen had no idea what DD's real powers and abilities were (he hid the fact he was blind, of course, but also never mentioned his radar sense out loud— unlike Spider-Man who told everyone and their mother that his "spider-sense is tingling!") and so they'd fill in the blanks with all sorts of interesting, wild and off-beat ideas.

DF: From Foggy to Karen to Natasha to Elektra, Daredevil has always had a slew of interesting supporting characters. Which one(s) was your favorite(s) and how did your stint on the book influence/affect that character.

KK: I love Foggy Nelson. The deep friendship he has with Matt (and DD) is unlike anything else in comics. I don't think I realized that until I was writing the book.

DF: During your run on Daredevil, is there any plot thread you would like to see more story on? Was there something you did that, in the light of hindsight, you wish you would not have done as writer?

KK: Mark Waid always said "Don't be afraid to drive the car off the cliff." By that he meant: put your characters in situations you have NO IDEA how they'll escape from and trust that you have the ability to figure a way out. I tried that with DD, and found I was HORRIBLE at it! I'm not afraid of driving the car off the cliff, but for me: I need to know how I'm getting out BEFORE I put it in print, because that can color how I stage the scene, or shade the dialogue.

As for what I would have liked to have done more with: I had hoped to introduce a new Mr. Fear then reveal that his secret identity is ... Matt Murdoch (Matt's way to operate more openly in the criminal underworld, and bring in more of the Miller dark side of the character), and I would have loved to have had Matt become mayor of NYC— both of which were editorially vetoed at the time.

DF: Karl, do you watch the Netflix Daredevil program? If so, what are your impressions of it and can you please compare and contrast the TV DD/Matt Murdock with YOUR DD/Matt Murdock?

KK: Don't have Netflix, so I haven't seen it. But I hear good things! And I think casting Jon Bernthal as the Punisher is INSPIRED!
Dynamic Forces would like to thank Karl Kesel for taking time out of his busy schedule to answer our questions.
Join us here tomorrow for another insight into the life of Daredevil and Matt Murdock as seen through the eyes of the character's various creators.
For more news and up-to-date announcements, join us here at Dynamic Forces, www.dynamicforces.com/htmlfiles/, "LIKE" us on Facebook, www.facebook.com/dynamicforcesinc, and follow us on Twitter, www.twitter.com/dynamicforces
FANTASTIC FOUR VOLUME 5: DISASSEMBLED TPB Written by Karl Kesel and Mark Waid
---
NEW! 1. 11/25/2020 - STEVE SKROCE
4. 11/16/2020 - RYAN O'SULLIVAN
5. 11/16/2020 - RYAN O'SULLIVAN