JUSTIN JORDAN

SEND THIS TO A FRIEND!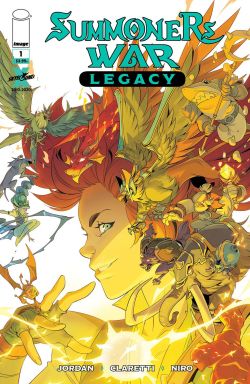 DF Interview: Justin Jordan brings mobile game world to life in a prequel comic, 'Summoners War: Legacy'
By Byron Brewer
Skybound and Image Comics dive into the wondrous world of Summoners War, the popular mobile game where magical monsters are summoned in a never-ending battle of good vs. evil!
Rai knows there's only one way out of her nothing town – to become a Summoner! But when she's recruited by Abuus Dein as an apprentice, she embarks on the adventure of a lifetime and is thrust into a war for the fate of the world.
Journey to Alea courtesy of writer Justin Jordan (The Strange Talent of Luther Strode, Reaver) and newcomer artist Luca Claretti for Summoners War: Legacy, an action-packed fantasy like none other. DF wanted to take that same journey a little early, so we sat down with old friend Justin Jordan to discuss the new series.
Dynamic Forces: Justin, tell readers about how your involvement with Summoners War: Legacy, a comic book expansion of the mobile game IP, came about. Are you a fan of the popular game, and did you know its "worlds"?
Justin Jordan: I wasn't actually. That's not a knock on the game, I'm just not a guy who plays video games at all, and especially not on my phone. So I came into this blind. I've worked with Skybound a lot, and they thought I'd make for a pretty good fit for the project, which I hope is correct.
But once I got the gig I immersed myself in the world and lore as much as I can, which
has proved to be great fun.
DF: Speaking of worlds, tell us a bit about the one(s) that you will be building and/or expanding here for the comic book series. What is the overall storyline of the series?
Justin Jordan: Well, it's set on Alea, where Summoner's War takes place, which is a place with a rich history – many lands, many races, and a lot of magic. The story takes place a couple of decades before the game's current time, when the kingdoms were actively at war, before they'd created the Summoning Arena to try and limit the damage.
The book is about Rai Holder and Tomas Dredger, a beginner Summoner and an
inexperienced Proto who end up having to travel across Alea alone to protect the world
from a dangerous artifact.
DF: Introduce us to Rai. Who is she when we first meet her in #1?
Justin Jordan: Rai is a very quick, very clever woman who grew up in, essentially, the backwaters of Alea. A place where nothing ever happens and one she's desperately trying to escape. She manages to learn how to summon, which she thinks is her ticket out of the rural area she's from.
She's entirely right, but not necessarily in the way she expects.
DF: Who – or what – is a Summoner?
Justin Jordan: A Summoner is someone who, like the name implies, can summon monsters from other dimensions to fight for them. This automatically makes you a very powerful person in Alea, but it also means your life is likely to be … er … eventful.
DF: Can you introduce readers to Abuus, Tomas and some characters we might be on the lookout for who are important to Rai's chosen path?
Justin Jordan: Tomas is a Proto, a person trained to protect a Summoner while they're doing their jobs. Basically Tomas is there to stop someone from coming up and sticking a knife in Rai's back while she's distracted by summoning a monster.
Abuus is a master Summoner who has taken on the mentor role for Rai and is, basically, trying to make sure she doesn't get herself or someone else killed before she gets the experience to use her abilities wisely.
DF: Just briefly, can you compare and contrast the process of working on a licensed IP like this versus writing your own characters like Luther Strode.
Justin Jordan: On something like Strode, I pretty much only have to satisfy myself. Which to be fair, I am fairly hard to please. But generally, for better or worse, I am making the final call on what makes it into the book.
Licensed IP by its nature isn't that. There's a number of stakeholders, and you're writing for them and navigating that process. This isn't actually inherently a bad thing, it's simply different, and a fair amount of work.
That said, as licensed IP goes, Summoners War has been pretty smooth and a lot of fun.
DF: Talk about the art of Luca Claretti.
Justin Jordan: Oh, Luca is amazing. I actually had him on my 'artists I want to work with' list before the book, and was really pleased when our editor suggested him. But he has managed to hit exactly the right tone with his work. We've got a really good groove where he understands what I'm actually trying to get across and then makes it better. Which also makes me look better which, obviously, I am a fan of.
DF: Haha! … Justin, what other projects of yours, current or near-future, can you tell readers about?
Justin Jordan: Well, Urban Animal over at Webtoon is just wrapping its third season as I write this, and we'll be back for a fourth season this summer. I'm also writing the comics within the Call of Duty Mobile game and no, the irony of me writing two video game IP stories when I don't game is not lost on me.
Aside from that, I've got two creator-owned things going I can't talk about yet, and a fair bit of non-comics writing work I ALSO can't talk about.
Dynamic Forces would like to thank Justin Jordan for taking time out of his busy schedule to answer our questions. Summoners War: Legacy #1 from Skybound/Image Comics hits stores April 28th!
For more news and up-to-date announcements, join us here at Dynamic Forces, www.dynamicforces.com/htmlfiles/, "LIKE" us on Facebook, www.facebook.com/dynamicforcesinc, and follow us on Twitter, www.twitter.com/dynamicforces.
DEEP STATE #1 SIGNED BY JUSTIN JORDAN!
SPREAD #1 FIRST PRINTING SIGNED IN BLOOD RED BY JUSTIN JORDAN!
GREEN LANTERN: NEW GUARDIANS: FUTURES END #1 3-D MOTION ULTRA-LIMITED GOLD SIGNATURE SERIES ELITE EDITION SIGNED BY JUSTIN JORDAN!
EVIL ERNIE: GODEATER #1 (OF 5)
---
NEW! 1. 05/09/2021 - JOE HENDERSON
3. 05/03/2021 - DECLAN SHALVEY
5. 04/26/2021 - PORNSAK PICHETSHOTE