TONY DOUG WRIGHT

SEND THIS TO A FRIEND!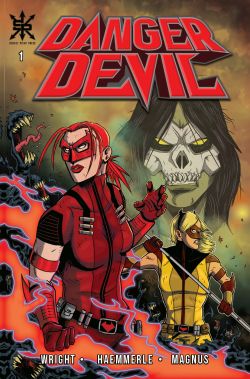 DF Interview: Tony Doug Wright brings the world a new heroine against all threats supernatural in 'Danger Devil'
By Byron Brewer
A bounty hunter from the underworld, a demonic goddess, a cursed mythical kingdom rising from the depths of below, and a mouthy twelve-year-old are no match for Danger Devil and her sidekick Kid Diabla. These masked agents from the Mystic Bureau are dedicated to protecting the world from all supernatural threats, especially the Order of Methalia, an ancient society hellbent on returning the Wicked One to her throne as the ruler of the ancient civilization of Tragg Magnar.
From Source Point Press comes Danger Devil, written by Tony Doug Wright with art by Joseph Haemmerle. DF wanted to get in on the beginning of this awesome adventure, so we got all the 411 from scribe Tony Doug Wright.
Dynamic Forces: Tony Doug, before we dive into Danger Devil, tell readers a bit about how you came into comics AND about your unusual compound first name.
Tony Doug Wright: Tony Doug is basically a blend of two nicknames. Everyone who has met me knows me as Tony, there are a couple of people from high school that call me Doug because a teacher constantly got my name wrong, and there's a group of people who know me as Tony Doug.
It doesn't hurt to have an interesting nom de plume, so I couldn't go wrong with Tony Doug. Besides, that's the way people can find me on social media. Now you know and knowing is half the battle.
DF: What can you tell readers about the genesis of this new book?
Tony Doug Wright: From 2009 until 2014, I was involved with webcomics at a site I created called Champion City Comics. I was always searching for additional artists and writers, and it was sometime in 2010 or 2011 when I met an artist named Erik Roman. His artwork was great, and I pitched him this webcomic that bombed the first time it was posted. Also, I learned we lived in the same town, so we decided to meet at a bookstore and talk comics. I really wanted to resurrect the series that bombed.
Erik kindly turned it down and pitched me an idea of a pulp-inspired series called The Red Devil. The main character was a man who reminded me of The Spirit, plus he had a teenage sidekick. We bounced ideas around and developed a female Red Devil as the main character and Kid Diabla, a teenage girl, as the sidekick. Our webcomic for The Red Devil was in a strip format and readers were very kind in their comments. It blended everything we love about Buffy, James Bond, and Batman.
Joe Haemmerle, my cousin and longtime comic book collaborator, was responsible for the color and lettering for the webcomic. Erik eventually had to walk away from doing the art, so Joe worked with me on The Red Devil and became a creative owner in the series. Things were on-again/off-again for years.
I joined Source Point Press around 2016 as a writer, published a comic book, and started to work on a new version of The Red Devil with Joe and Erik. Source Point Press was really interested in the comic and told us to develop a one-shot or mini-series. We knew using the name and title The Red Devil could land us in possible legal trouble, so we changed the name and design of the characters. Danger Devil was born, and we developed a three-issue series for Source Point Press.
DF: Can you introduce us to our heroes, Danger Devil and her sidekick Kid Diabla. (No matter the bad press, it is great to see a hero with a sidekick again!)
Tony Doug Wright: Danger Devil and Kid Diabla are the top agents for a group known as the Mystic Bureau. It's an international organization sworn to protect Earth from any supernatural threats. Danger Devil is the older and more experienced hero of the group, plus she can teleport using canisters filled with a potion. Kid Diabla is something of a jack-of-all-trades sidekick that's a top pilot and a fierce fighter that uses a staff to take down the villains.
DF: What is the Order of Methalia?
Tony Doug Wright: Their goal is to return Methalia, a demoness that once ruled an ancient kingdom, back to power and to avenge her banishment from this world.
DF: What other characters are important to this saga as readers approach issue #1 in May? Can you describe some of them here?
Tony Doug Wright: A few characters from the first issue are Xenia Urbana, Beatty Maxwell and Jenny Maxwell. I won't give too much away, but they are key players. There are some other characters that I haven't mentioned because I love surprises for the readers.
DF: Without spoilers, what can you tell us about the REAL big-bad of this piece?
Tony Doug Wright: Methalia once ruled an ancient kingdom and was banished to the underworld following a major battle. Her goal is to assemble a team of supernatural super-villains to return her to power and to punish the rest of humanity for her imprisonment.
DF: Talk a little about the art of your cousin Joe.
Tony Doug Wright: It's amazing, in my opinion. Joe has his own style that seems to blend an '80s or '90s style of Saturday morning cartoon animation along with a unique form that reminds me of graffiti art in a way. I wish I could explain it better because I do not want to come off on the wrong foot. All I can say is that Joe has impressed me with his artwork since 2003 or 2004 when we started collaborating. He is an artist that can put on the page what I have in my head, and it's scary at times how much we are on the same wavelength. He's a super talented dude that will be a big name in comics.
DF: Tony Doug, what other projects, inside or outside comics, do you have coming that you can tell readers about?
Tony Doug Wright: There are the three issues of Danger Devil coming out this year, and after that I'll need a break from writing. A quick one, but something to get my brain refreshed. I have a script for something finished, but I don't want to say anything about it at this time.
You can still order my supernatural World War II horror story, Day 165, and my crime-noir superhero horror thriller, The Chronicles of Doctor Death, from Source Point Press.
Dynamic Forces would like to thank Tony Doug Wright for taking time out of his busy schedule to answer our questions. Print copies of Danger Devil #1 from Source Point Press should be available May 27th from stores which ordered directly through the Ox Eye Media Retailer Portal and to readers who ordered from the publisher's webstore.
For more news and up-to-date announcements, join us here at Dynamic Forces, www.dynamicforces.com/htmlfiles/, "LIKE" us on Facebook, www.facebook.com/dynamicforcesinc, and follow us on Twitter, www.twitter.com/dynamicforces.
---
NEW! 1. 11/30/2020 - SKYLAR PATRIDGE
5. 11/16/2020 - RYAN O'SULLIVAN