ZACK KAPLAN

SEND THIS TO A FRIEND!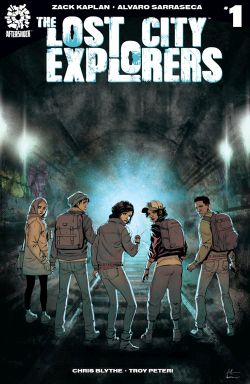 DF Interview: Zack Kaplan writes a love letter to underground NYC with Lost City Explorers
By Byron Brewer
Lost cities aren't just the stuff of myths. They exist, hidden right under our noses. But when a mysterious expedition is disrupted by supernatural activity and an antiquities professor goes missing, his teenage daughter and her friends must become underground urban explorers, follow his tracks on a coming-of-age journey through subterranean tunnels, and ultimately find the holy grail of lost cities: Atlantis, buried right under New York City!

Explore science fiction and archaeology in this new adventure series by Zack Kaplan (Eclipse, Port of Earth) and Alvaro Sarraseca (Magnus, Turok).
Oh, you wanna know more? So did we, so DF spoke with scrive Zack Kaplan.
Dynamic Forces: Zack, tell us about the origin of Lost City Explorers as a series and its connection for you to … The Goonies?!
Zack Kaplan: I'm a child of the '80s, I love adventure stories, and Goonies has always held a special place in my heart. After I saw Goonies, I always wondered what secrets that mysterious tunnel might hold or what lay below the urban jungle in cities like New York. Exploration is part of the human spirit, and I think teenagers have a wanderlust that adulthood can beat down. So I always wanted to tell a modern adventure story about exploration, urban exploration, and I decided to combine that with my fascination with archaeology, lost cities and specifically Atlantis. Lost City Explorers has been a story I've been playing with for a long time, and I'm really excited to bring it to readers.
DF: Give us the elevator pitch for this book.
Zack Kaplan: A group of millennial teenagers go on an underground adventure to rescue one of their fathers, a scientist who has become trapped in the lost city of Atlantis, hidden underneath New York City. It's a real mash-up of sci-fi, supernatural, archaeology and adventure all in an emotional coming-of-age story.
DF: What can you tell us about your main cast? Can you introduce them, please?
Zack Kaplan: The protagonist is Hel Coates, a rebel without a cause, a seventeen-year-old facing college applications, a bit lost and frustrated in life. She and her older brother, Homer, hold a funeral for their missing father, only to discover he's not dead, and the siblings must overcome their differences and work together on their journey. They are joined by Hel's streetwise best friend, Maddi, Homer's social mavin girlfriend, June, and Hel's nerdy ex-boyfriend, Edwin. The characters are empowered, mature and very 2018.
DF: Any other characters in Explorers readers should be aware of?
Zack Kaplan: Hel's father, Dan Coates, his colleague Leigh Whipple and their research project are all sponsored by a company similar to a Tesla or a Google, a company named Sagan Labs. The manager of the project is a young twenty-something named Adam Glenn, and he has to handle the problems the project faces, balancing between helping the teenagers and covering up the supernatural dangers the project has unlocked.
DF: Can you describe, non-spoilery, your iteration of Atlantis?
Zack Kaplan: Nope. Hahaha! Atlantis has been done a number of ways, but we're hoping to give you some new surprises and interpretations. For starters, we've got a pretty good pitch for why Atlantis might actually be on or under Manhattan island. We dig into Plato's research and all we know about Atlantis, and well, after we're done, the archaeologist might actually want to take another look in New York! But as far as how Atlantis might appear, you're gonna have to read the series!
DF: If memory serves, Zack, you reside in Los Angeles. How "New York" does Explorers get? Any trips to the Big Apple for research by you or artist Alvaro Sarraseca?
Zack Kaplan: It's very New York! Not only have I visited New York and read about the history, but I've actually taken the dive into the secret hobby of urban exploration underneath Manhattan to see abandoned subway stations and sewer tunnels. I've jumped the subway tracks and gone off the grid into the dark recesses below. It's as much as a love letter to underground NYC as I can pack into the sci-fi action adventure. I'm headed back to New York for New York Comic Con this year, and I'd love nothing more than for Alvaro to join me from Spain. Who knows, maybe we'll hold a secret signing in one of those abandoned subway stations.
DF: Speaking of Alvaro, talk about your collaboration here.
Zack Kaplan: Amazing. Alvaro is relatively new to the comics game, he's done a few titles and his work stood out to me, but I have to say, what he's bringing to this series is simply amazing. One page he's capturing the world-building and sci-fi adventure and then he switches gears on a dime to find an emotional moment from the teenagers. It was really important to find an artist who could do it all. We've also got a great colorist, Chris Blythe, and my favorite letterer, Troy Peteri, so we're bringing some real talent here! I would be remiss not to mention how awesome it's been to work on this one with AfterShock. I've loved everything they've been doing and I'm so pumped to be joining their amazing list of new titles.
DF: Any new projects on the horizon?
Zack Kaplan: Port of Earth is continuing with an amazing second arc coming this summer, Eclipse comes back and Giovanni Timpano and Flavio Dispenza are going to blow you away, and there might be a few new projects on the horizon, but I can't say anything about those right now. Stay tuned!
Dynamic Forces would like to thank Zack Kaplan for taking time out of his busy schedule to answer our questions. Lost City Explorers from AfterShock hits stores June 20th!
---
NEW! 1. 01/21/2021 - RORY MCCONVILLE
5. 01/07/2021 - DARICK ROBERTSON