DF INTERVEIW: LISA FARY OF PINKRAYGUN.COM

SEND THIS TO A FRIEND!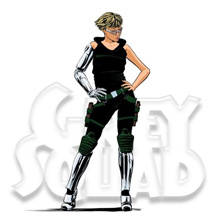 Interview with Lisa Fary of PinkRaygun.com
By Beth Delaney

BD - Let's start out with a little introduction. You started the website Pink Raygun. Tell us about that and other projects you have worked on.

LF - Pink Raygun came out of a moment of frustration. I'd been looking for places online to promote our first comic, Intergalactic Law, and was having a hard time finding places where women were talking about sci-fi and having fun with it. A search for women in sci-fi brought up the usual "hot babes of sci-fi" sort of thing, and some feminism sites. What I was looking for was pink and shiny and fun and it wasn't out there at the time (this was around Thanksgiving of 2006). And so, Pink Raygun was born.

BD - Your Zuda comic, Grey Squad is described as Barney Miller fused with Serpico set in outer space. What does Grey Squad offer comic readers?

LF - Grey Squad offers a "one screen, one scene" format, in which each screen stands alone - like an episode of a television show - while moving the bigger story arc forward. Comics on Zuda are delivered one screen at a time, so John and I think our approach will satisfy readers both in the short and long term.

We're not just doing a gag a day - there is a long term story to Grey Squad that's quite dark. The humor gives it a balance.

BD - Your current Grey Squad campaign at Zuda is also an important fundraiser. Tell us what you're doing and how people can help.

LF - We're raising money for our local police survivors fund. We live in Philadelphia, where seven officers have been killed in the line of duty in a short period of time, depleting the fund that aids their families in the aftermath. For every vote and comment that Grey Squad earns, we're donating 25 cents to the fund with a goal of $1000. We're also launching a virtual yard sale this month to raise money for the fund. That will include books, DVDs and box sets, artwork, and collectibles, among other things. Regardless of the outcome of the Zuda competition, the donation is being made to the survivors fund.

John and I knew that we would be putting in a lot of effort promoting, and we wanted that effort to be beneficial regardless of the outcome. The state of the survivors fund is a pressing issue here - other communities around the country are in similar situations - and now we have this chance to get some eyes on it.

BD - Do you think having a degree in Special Education properly prepared you for dealing with fans or perhaps comic industry executives?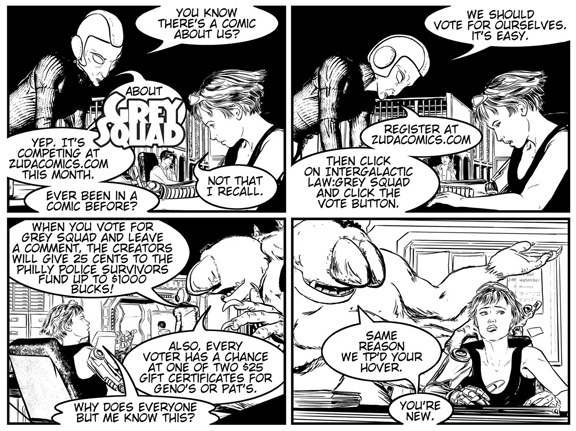 LF - It prepared me to deal with all kinds of people, and with the self-check out lane at the grocery store (which I'm pretty sure is self-aware. And hates me).

BD - What outlet is your favorite way to connect with fans and other creators?

LF - In person, so I can dazzle them with my dorky smile and glasses.

BD - How do you really feel about garden gnomes?

LF - They're slightly less menacing than plastic flamingos. However, if they team up, the world is doomed to burn in a flamingo-gnome apocalypse.

BD - How did you come up the characters Madge and Janet? Madge's hair style looks pretty familiar to a nerd so how much parody can readers expect.

LF - Janet came together pretty easily. We knew going in that she would be a hardcore law enforcer, and that would inform everything about her. I didn't want Janet to be the only female, so Madge was born. Madge is more about loyalty to the squad, she's older, and has had a lot more experience than Janet.

About the hair, John and I are geeks, so we may make references, but we're not aiming for parody.

BD - Do you prefer your superheroes/villains to have super powers or do you prefer them to be natural beings enhanced by gadgets, weapons, or martial arts?

LF - I prefer natural beings. Having powers can twist a person, making them not so much evil as a victim of their own power, kinda like Sylar on Heroes. Natural beings have to have real evil to be successful supervillains. It's all in my correspondence course, which is based on the principles of Ming the Merciless.

BD - What super powers would you like to have?

LF - Flight. Just so I could avoid taking my shoes off at airport security. Otherwise, I'd like the ability to decide what shows are cancelled. That's a super power, right?

BD - What advice do you have for someone that is looking to get started in comics?

LF - I'm getting started myself, but have asked that question of many people. They've all said get your own original work out there by any means necessary and talk to people. You never know who is going to see and like what you're doing, whether it's a photocopied minicomic you're selling on the sidewalk outside of the Alternative Press Expo or a webcomic.

BD - Do you think hard copies of comics are going the way of the dodo and being replaced completely by web comics?

LF - Eventually, but probably not until readers like the Kindle totally supplant paper books across the board. Webcomics are still a new medium and trying to emulate print. I think we're just scratching the surface of what can be done with them.

BD - What convention/event appearances do you have scheduled?

LF - John and I are planning to attend the East Coast Black Age of Comics Convention in May and Wizard World Philly in June. I'm also hoping to make it to the Small Press Expo and DragonCon this year.

On the net:
www.pinkraygun.com
www.greysquad.pinkraygun.com

Journalist Elizabeth Delaney freelances for Dynamic Forces among other websites. For more of her intriguing coverage on comics and costuming refer to her blog at herofashions.blogspot.com and her video channel youtube.com/user/amberthestylist.

---
NEW! 1. 09/17/2020 - CRAIG HURD-MCKENNEY
4. 09/09/2020 - STEVE ORLANDO & PHILLIP KENNEDY JOHNSON