KURT BUSIEK

SEND THIS TO A FRIEND!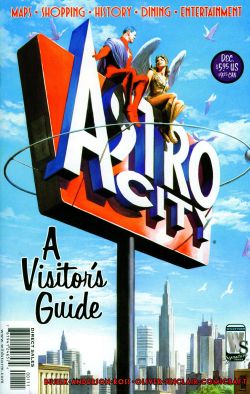 DF Interview: Kurt Busiek talks his Astro City comics becoming a TV series
By Byron Brewer
When DF heard about Kurt Busiek's Astro City comics possibly being developed as a TV series, excitement abounded. The universe contained here may be as cohesive an entity as any in comics, and especially one not yet seen by non-comic book audiences.
To get the 411, we hit the trail and sat down with the man himself, comics creator Kurt Busiek. Here's what he told us.
Dynamic Forces: Congratulations, Kurt, on your Astro City comics being developed as a live-action TV series! Tell us how this came about, if you would.
Kurt Busiek: There's been pretty consistent interest in Astro City as a movie or TV project from fairly early on in the series, so it's unusual that we haven't been under option to one company or another over the years.
In this case, Rick Alexander knew Fremantle would be interested, and brought us together. We were just finishing up an option period with another company, so we were free to make a new choice. We talked with Fremantle and we seemed to be a good fit in terms of what we, Rick and Fremantle all saw as possibilities, so we made the deal, and bam, here we are!
DF: Just to clear up a point I have already been asked about: Astro City's current publisher is DC, owned by Warner Bros., but you – Kurt Busiek – own all the rights to said comics franchise, correct? DC is not involved in the deal with FremantleMedia North America?
Kurt Busiek: Alex and Brent have a share in the series, but pretty much yeah, I control the TV/movie rights, though I keep them posted and ask for their input when there's input to be had. DC isn't involved in the deal -- but of course, if we make it through to TV-show-on-the-air status, I'm sure DC will be interested in taking advantage of that in the comics publishing, and Fremantle would likely be open to whatever synergies we could develop.
But overall, yes, it's our book and we get to license it.
DF: Will you be involved personally in any way with the development and production of the television series? Will Astro City artists Brent Anderson and Alex Ross?
Kurt Busiek: Absolutely. I'm a producer on the project, so I'm helping develop the show, and co-writing the pilot as well. It's been a lot of fun, and I've been thrilled with the collaboration so far -- everyone involved wants to make a show that feels like the comics, while also working for TV. And they're happy to have me aboard, at least so far -- having me as co-writer was a selling point for Fremantle, and they seem to like having me around to help shape things, because I can articulate what's going on under the surface of the stories, and easily adjust bits that we need to play a different way for TV without losing the flavor of the comics. And I haven't become an utter prima donna yet, apparently, because they keep inviting me to stick around and dig in deeper.
Brent and Alex haven't been involved much yet, aside from commenting on stuff so I know we're on the same page when I go to L.A. But I'd love to get both of them as involved as they're willing to be, whether it's having them design settings and technology or do promo artwork. Or just weighing in when we're casting. However we can get the whole team involved.
DF: At this point, and for the education of the uninitiated (you know who you are), please explain the source material. Tell us about Astro City comics.
Kurt Busiek: Astro City's an ongoing series that's about what it's like to live in a world of superheroes, villains, mad scientists, monsters and more. For over 20 years, we've been telling stories about what it's like to deal with that kind of world, from various viewpoints -- ordinary people, alien spies, the heroes themselves -- any viewpoint that'll give us a fresh angle on the human side of a superhuman world.
We've done a mess of book collections and won a large stack of awards, which is nice, but the main thing is that we've had an audience that's stuck with the series and let us keep telling the stories we want to tell.
We're undergoing a format change -- as I write this, #51 is about to come out, and #52 will be the final issue of the Vertigo-published series. But we're rolling from that right into the first of a series of original graphic novels, since our audience is largely buying and reading the book in GN form these days. That's going to allow us to do a whole new approach, telling longer stories without having to break them up into 24-page chapters. It should be a lot of fun.
DF: Can you clue us in at all as to what viewers might expect from the pilot and subsequent (fingers crossed!) TV series?
Kurt Busiek: Hah! I'm reliably told that if I do any such thing, Fremantle will send paid assassins out to my house to scare my dog and rip out my fingernails.
Seriously, I think readers will really like what we're doing, but I'm not allowed to say a thing. Except that there'll be superheroes, there'll be ordinary people, there'll be a city, and there'll be stories of coping in such a world. But what shape those stories will take, which heroes, what settings, all of that -- I'm under a gag order. Hopefully you'll get to see by watching!
DF: What aspects of Astro City are you most excited about being portrayed in live-action?
Kurt Busiek: Again, I can't really say in terms of anything that'll actually show up or not -- fingernails, dog -- but if I'm ever on a set where there's a life-size Beefy Bob's restaurant or a statue of the Silver Agent, I'll be delirious. That would be so much fun.
DF: If up to you, which of your other titles would you like to see come to TV or film (no fair saying "All of them," LOL)? I'm thinking Arrowsmith, Shockrockets, The Wizard's Tale, Jonny Demon, Ransom … ?
Kurt Busiek: Well, "all of them" sure sounds good!
But sure, I'd love to see Arrowsmith on screen (big or small), or Jonny Demon as a kind of Mad-Max-with-magic. We've had interest in most of the books, at one point or another, so hopefully it's just a matter of which ones happen to come next.
Nobody remembers Ransom, though. But it'd make a fine TV series!
DF: Kurt, back to "the source," what are you up to currently or in the near future comic book-wise?
Kurt Busiek: Currently, I'm writing Astro City, as mentioned, and finishing up Batman: Creature of the Night. And I'm trying to get enough Autumnlands scripting done to get that book back on schedule.
I also have a 6-page story, beautifully drawn by Andrew MacLean of Head Lopper fame, in Where We Live, an astounding anthology of stories coming out soon from Image Comics, and benefiting survivors of the Las Vegas mass shooting. It's an incredible collection of talent, pulled together by J.H. Williams, Wendy Wright-Williams, Will Dennis and Eric Stephenson, so I can't plug it enough.
Beyond that, I've got stuff in the works but not stuff that'll be out soon, so this'll have to be enough!
Dynamic Forces would like to thank Kurt Busiek for taking time out of his busy schedule to answer our questions. Stay tuned to DF News for more on this story as it develops!
For more news and up-to-date announcements, join us here at Dynamic Forces, www.dynamicforces.com/htmlfiles/, "LIKE" us on Facebook, www.facebook.com/dynamicforcesinc, and follow us on Twitter, www.twitter.com/dynamicforces.
THE BEST OF VAMPIRELLA MASTER SERIES OMNIBUS TRADE PAPERBACK
KIRBY GENESIS #0 - CGC GRADED 9.8
KIRBY: GENESIS #2 ALEX ROSS "VIRGIN ART" DF EXCLUSIVE COVER
DARKMAN VS. THE ARMY OF DARKNESS TPB COLLECTION MASS MARKET EDITION
VAMPIRELLA MASTERS SERIES VOL 5: KURT BUSIEK TPB
VAMPIRELLA MASTERS SERIES VOL 4: VISIONARIES TPB
---
NEW! 1. 11/25/2020 - STEVE SKROCE
4. 11/16/2020 - RYAN O'SULLIVAN
5. 11/16/2020 - RYAN O'SULLIVAN