STEPHANIE PHILLIPS

SEND THIS TO A FRIEND!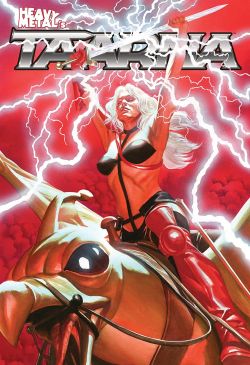 DF Interview: Stephanie Phillips to pen stories on Heavy Metal icon 'Taarna'
By Byron Brewer
To readers of Heavy Metal magazine and especially fans of the animated film of the same name, the warrior woman Taarna is an icon.
The final segment of Ivan Reitman's 1981 Heavy Metal movie was the story of Taarna, the last member of a great warrior race. For many people, there's something enduring in that tale. From the white-haired woman's flight over the neon wasteland marked with corroding pipeline to the silence of Taarna's sacred sanctuary (concealed in the sub-levels of an abandoned mega-factory), it explored aesthetics of science fiction and fantasy that seem fresh, beautiful and strange to this day.
And now Taarna will find a new voice in writer Stephanie Phillips.
As told to Dynamic Forces by Heavy Metal CEO Matthew Medney in an exclusive side interview, "Taarna will be the lynchpin to the Heavy Metal Universe … or the HMU, if you will. She'll appear both in the magazine as well as in standalone comics. This is represented well by Stephanie [Phillips] who is both doing an 'In-The-Mag' prose piece for Taarna as well as a comics series outside of the magazine.
"Working with such a talented team brings talented people to the fold. [Co-Managing Editor] Joseph Illidge is nothing short of brilliant when it comes to crafting a team to bring a character to life," Medney said. "When he wanted to bring in Stephanie to write Taarna, I knew that the quality of work that was coming to the table was stellar even before reading her sample work. I am thrilled to bring Heavy Metal into a new decade with a team and a writer who can carry the weight."
Much of the Taarna project is under wraps, but still Stephanie Phillips agreed to discuss what is to come as best she could.
Dynamic Forces: Stephanie, I know many of these details are still hush-hush, so I really appreciate you doing this interview with DF. Tell me, how did you working on the iconic female warrior character Taarna come about?
Stephanie Phillips: I am lucky enough to have worked with editor Joe Illidge on a previous project, and he wanted to bring me on to really helm the Taarna relaunch. I love working with Joe and I love Taarna, so the decision to say "yes" was obvious and immediate. I have also worked with Heavy Metal in the past and always love the opportunity to work with [Editor-in-Chief] Tim Seeley and a publication that has been so pivotal to science fiction since its inception.
DF: Can you without spoilers describe the nature of the adventures readers can be anticipating?
Stephanie Phillips: I can't say much, but I can say that it will be a very different approach for me as a writer. My work tends to be very grounded and often rooted in history. Taarna will take us as far away from Earth as I think we can get and really give me a new kind of challenge and a new kind of sandbox as a writer. It will be big, bad ass, and everything readers love about Taarna with my own personal approach to the character and universe. Oh, and she will kill a lot of things with her giant sword.
DF: Taarna has been around the pages of Heavy Metal for awhile. Tell readers your take on the skilled warrior woman.
Stephanie Phillips: It's definitely a responsibility to take on a character that readers know and love. Before I jumped into writing, I made a list of all the reasons why I love Taarna – her giant, winged stead named Avis, the quiet, violent justice that comes with each swing of her sword, and her unapologetic and sexy confidence. Taarna really doesn't care what you think, and that's a really cool character to get to write. Did I mention the sword? Because it's really cool.
DF: What artist will be bringing your scripts to life?
Stephanie Phillips: I actually can't say anything about the art team yet, but the series will look amazing!
DF: Were you a reader of Heavy Metal? What are some of your favorite tales/characters from the mag?
Stephanie Phillips: Heavy Metal back issues are where I first saw the work of legendary artists like Druillet, Manara, Corben, and even Moebius. Their work is so inspirational to this industry and I can definitely say that their various styles have also lent a hand in how I am thinking about Taarna and her world.
DF: Did you ever see the 1981 Canadian adult animated SF film version of Heavy Metal directed by Gerald Potteron? If so, was your mind blown as much as my own?
Stephanie Phillips: Ha, yes, I have seen it. I have re-watched it pretty recently as a prelude to writing Taarna and I think I somehow forgot just how insane (in a good way) that film is.
DF: Stephanie, what are some of the other projects to come from the Phillips backburner?
Stephanie Phillips: Well, a few releases have definitely changed with the global pandemic, but we still hope to get titles like Artemis and the Assassin, A Man Among Ye, and Red Atlantis out to readers and retailers as soon as possible. There will also be a few other announcements coming soon, so feel free to follow along on Twitter for updates - @Steph_Smash
Dynamic Forces would like to thank Stephanie Phillips and Matthew Medney for taking time out of their busy schedules to answer our questions. Phillips' Taarna prose piece publishes in Heavy Metal Magazine #300, set for on-sale July 17th! A mini-series is then slated to launch this fall! Stay tuned to DF News and comics social media for more!
---
NEW! 1. 12/04/2020 - JOSH BLAYLOCK
3. 11/30/2020 - SKYLAR PATRIDGE