DAN ABNETT

SEND THIS TO A FRIEND!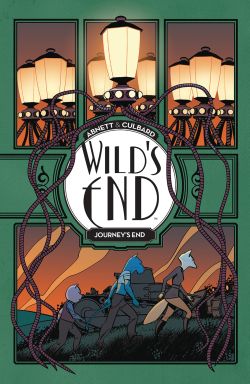 DF Interview: Dan Abnett concludes an epic adventure in the Wild's End: Journey's End OGN
By Byron Brewer
The conclusion to the celebrated, anthropomorphic, sci-fi comic series is finally here, presented as an original graphic novel.
Despite the military's best efforts, the alien invaders have seized a firm grip on the world. Cities have been invaded and the countryside overrun, leaving little hope for humanity's resistance. With few options left, the survivors will need to look to the very people they once feared to make a last ditch effort to turn the tide of the war.
Written by Dan Abnett (Guardians of the Galaxy, Aquaman Rebirth) and illustrated by I.N.J. Culbard (Doctor Who), Wild's End: Journey's End reveals powerful acts of humanity persevering in the face of war on a worldwide scale.
You know DF needed to know more about this monumental OGN from BOOM! Studios, so we sat down with scribe Dan Abnett.
Dynamic Forces: Dan, what has working on this impressive SF trilogy (and bringing the storyline to a conclusion in a graphic novel) with artist I.N.J. Culbard meant to you as a creator?
Dan Abnett: It's a wonderful opportunity. Ian and I love working together, and have produced some projects which we're really proud of (New Deadwardians for Vertigo and Brink for 2000AD). But Wild's End has been a real labor of love, and one that's engaged us deeply. We're very pleased to have the chance to finish off this "trilogy".
DF: For the uninitiated (you know who you are!), is it possible to summarize the first two volumes of Wild's End so as to know what has gone before?
Dan: It's set in a version of England in a version of the 1940s or 1950s, and it concerns an alien invasion and how the local people react to the threat. The key thing is the "people" are all anthropomorphic animals, though we treat them as human characters. Our idea was to both undermine and reinforce the horror by making them the sort of animals you might find in a classic children's book. We wanted the feeling of, say, H.G. Well's aliens from The War Of The Worlds invading the pages of, say, The Wind in the Willows. The serious elements of the story -- the threats, the dangers, the deaths, the characters -- seem to have been heightened by this creative choice.
DF: Introduce us again to our protagonists please.
Dan: Clive Slipaway (a dog) is an ex-Navy man with a dark past -- quiet and reserved, he is the determined hero. There's Alph (a pig), the young boy, Peter Minks (a -- you guessed it -- mink) the nervous but plucky little reporter, Upton (an arctic fox), who's a brave and determined female army officer, and Susan Peardew (a cat) who is a neurotic and reclusive writer who is nevertheless utterly valiant.
DF: When we first begin the OGN, what is the challenge that our anthropomorphic friends face?
Dan: The full-on invasion has begun, and the countryside is in tatters. Up to now, the invasion hasn't been known to the general public. In the chaos, our heroes are scattered and helpless. They need to find each other and work out if there's anything they can do about the situation. Its bleak -- the best they can probably do is try to hide and survive!
DF: Are there any new characters coming in Journey's End?
Dan: Oh yes! Some minor supporting character from the previous volumes get more major roles alongside our heroes, and there's a new rascal joining in the fun, a "spiv" and black-market hoodlum named Jakes. We also have the most adorable pack of refugee school kids who were supposed to be evacuated to the country. Nowhere is safe, and they quickly become our heroes' responsibility.
DF: There is great subtext in these Wild's End pieces, IMHO. How are these themes reflective of the "real" world?
Dan: I think they're relevant to real events, both past and present. More than anything else, this series is character-driven, so it's about human reaction and relationships under duress (I say "human" even though they're presented as animals). Despite the "fantasy" element, we've tried to make it feel very real. I must mention the "back matter" pieces we've put in every issue and in the graphic novel -- text and prose pieces, such as extracts from books, newspapers, letters, diaries etc. Most of these have been brilliantly written by my wife, the novelist Nicola Abnett, and really help to strengthen the authenticity, both of the world and the personal struggles. Nik's back matter alone has received rave reviews! (smiles)
DF: Talk about the wonderful art of I.N.J. Culbard.
Dan: Ian is superb. His storytelling is incredible. We create together, during long phone calls which we call "omelette sessions" where we talk for hours and mix the ingredients up until we're happy with them. I build the characters, through dialogue, and he creates a fully-realized world in which to frame them. You'd be amazed at the painstaking details we sometimes spend hours discussing.
DF: I've noticed that both you and Ian refer to this story as the end of an "arc." Are there more Wild's End adventures to come, and if so can you hint as to any plot thread in the trilogy from which they might spin off?
Dan: This is the definite close of this trilogy, but the world is created and ripe for other stories. We'd love to do more at some point, so we'll have to see how well this third volume is received by readers.
DF: Dan, what other projects present or near-future can you tell our readers about?
Dan: I'm writing Titans, Aquaman, Mera and The Silencer for DC, plus some series for 2000AD (including Brink with Ian), and I have some new novels underway too.
Dynamic Forces would like to thank Dan Abnett for taking time out of his busy schedule to answer our questions. The Wild's End: Journey's End OGN from BOOM! Studios hits stores June 27th!
For more news and up-to-date announcements, join us here at Dynamic Forces, www.dynamicforces.com/htmlfiles/, "LIKE" us on Facebook, www.facebook.com/dynamicforcesinc, and follow us on Twitter, www.twitter.com/dynamicforces.
AQUAMAN REBIRTH #1 CGC GRADED!
BATTLESTAR GALACTICA: THE DEATH OF APOLLO #1 RARE MIKE MAYHEW "VIRGIN ART" EDITION FEATURING SILVER ELITE EDITION SIGNATURE BY MIKE MAYHEW
BATTLESTAR GALACTICA: THE DEATH OF APOLLO #1 RARE MIKE MAYHEW "VIRGIN ART" EDITION
GUARDIANS OF GALAXY #14 100TH ISSUE ANIVERSARY CELEBRATION CGC GRADED 9.8!
BATTLESTAR GALACTICA #1 EXCLUSIVE SUBSCRIPTION VARIANT
WAR OF KINGS #1 (OF 6) - SIGNED BY COVER ARTIST BRANDON PETERSON!
BATTLESTAR GALACTICA: THE DEATH OF APOLLO TRADE PAPERBACK
BATTLESTAR GALACTICA VOL. 2: THE ADAMA GAMBIT TRADE PAPERBACK
BATTLESTAR GALACTICA VOL 1: MEMORIAL TPB
---
NEW! 1. 11/25/2020 - STEVE SKROCE
4. 11/16/2020 - RYAN O'SULLIVAN
5. 11/16/2020 - RYAN O'SULLIVAN