PATRICK MEIGHAN

SEND THIS TO A FRIEND!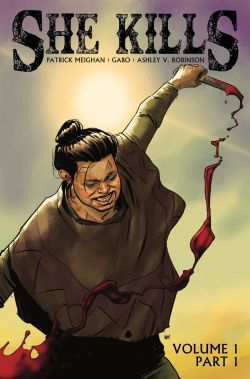 DF Interview: 'Family Guy' EP Patrick Meighan weaves mother-daughter tale of violence, repression in 'She Kills' comic; releasing online for free
By Byron Brewer
She Kills has one knife, one daughter, and zero yū-ah's to give. Based on historical events of the indigenous southwest, She Kills struggles to survive lynch mobs, lawless psychopaths, and worst of all her daughter, Joaquin Dos, who is about to turn 13. Dos will soon learn what kind of person her mother really is. And She Kills will learn just how far her daughter is willing to go to claim her independence. With violence and evil trying to drive a wedge between them at every step, if they survive, will the fury leave deep, debilitating scars?
From the mind of Patrick Meighan, writer and executive producer of the hit animated series Family Guy, with art by Harvey and Eisner award winner GABO (Elephantmen), comes She Kills, the tale of one bad madre. She Kills Part 1 is online now and is completely FREE! DF obviously wanted to find out more, so we spoke to the man himself, Patrick Meighan.
Dynamic Forces: Patrick, something like She Kills – online, and for free! – is exactly something fans starving for their favorite comics are looking to. How did the decision come about to basically do it yourself digitally and launch all parts for free?
Patrick Meighan: Well, from the beginning, I was just so taken by these characters and this setting that I knew I wanted to get this story told, one way or the other. But to do so via television, you've first gotta convince a studio to invest millions of their dollars. In mainstream comics, you gotta convince a publisher to invest, I dunno, tens of thousands of their dollars, at least. But to do it yourself digitally, the only person you have to convince is yourself (and, of course, a handful of talented creative mf'ers willing to take the journey with you). Well, I knew that I was on board, and once I was lucky enough to find that handful of geniuses who could help make this possible, it was: let's f*ckin' do this! Let's get it created, and let's make it available to as many readers as humanly possible… which means offering it for free.
DF: Tell readers the genesis behind this comic. I understand it is something that has been on the Meighan backburner for awhile now.
Patrick Meighan: Yeah, an affliction of mine is that every non-fiction book I read leads me to ten more books about that first book, and so on, until I'm absolutely buried in whatever the subject is. In this case the subject was Southern California history, in all of its forgotten squalor, and I've been buried in that subject for a decade-plus. Eventually I decided to write a story about it, but that decision happened to come just as my baby daughter became my "entering-her-teen-years" daughter… and that transformation kind of buried me too, as a parent and a person. What I ended up writing was a story of parent-teen brutality, set against a story of historical brutality. Hey: a little light reading for your coronavirus-time!
DF: Can you give readers an overview of the storyline? An abbreviated pitch, if you will?
Patrick Meighan: I've been saying that the story is like if Lady Bird were a bonus chapter in The Ballad of Buster Scruggs. Basically, it's a tale of an itinerant native worker (that's She Kills) who's had to be harsh and violent in order to shelter herself and (especially) her adolescent daughter. But now her daughter (Joaquin Dos) doesn't want that shelter anymore. She's rebelling. And that's a problem, because this is the wrong historical time and place for a young native woman to rebel. And She Kills is absolutely the wrong person to rebel against. The ways that Joaquin defies her mother (and the ways that She Kills responds to the defiance) touch off events that scar Los Angeles forever.
DF: What can you tell us about She Kills – the character, the woman?
Patrick Meighan: She Kills is pretty much what the kids today would call an "extra bitch." But put yourself in her shoes: she was raised in violence, cast out by her mother when she was very young, and forced to drift from pueblo to pueblo, scrounging what she can to survive, in a time when people like her are basically considered non-persons. Oh, and now she's got this little girl to protect. Well, if you're her, what's the most effective way to do that? With kind words and a smile for all? Or with a big f*cking knife? She Kills chose the knife.
DF: Who is Joaquin Dos? Tell about her importance to She Kills and to your story.
Patrick Meighan: Dos is a normal-enough girl, but she's living in a very not-normal time. All of her life she's been told (understandably so) to always stay by her mother's side, and to always follow her mother's commands, but there's an expiration date on any kid's willingness to do that. Joaquin Dos is hitting that expiration date. Also: Joaquin Dos isn't cynical and hard the way her mother is. She doesn't understand where that's coming from. All it does is push her away further. I mean, Joaquin loves her mother. Her mother is really all that she has, and vice versa. And that's wonderful! But it's also a big problem. As we'll see.
DF: I love stories in historic periods. (Of course, I guess EVERY story takes place somewhere in history, eh, as time goes by.) Tell readers what kind of research you and/or artist GABO did for this tale.
Patrick Meighan: Well, my aforementioned reading list probably ran into the triple-digits, between books and journal articles and primary documents. And once I decided to tell the story from the POV of a native worker, I reached out to a local First Nation council which referred me to an elder who very graciously read and consulted on every single one of my drafts. He gave me a much fuller education on the times and the people than otherwise would have been possible. I know that GABO had his own research process as well, and now we've spent years trading that acquired knowledge back and forth, just making sure every little thing is as authentic as possible (i.e. no facial hair on the natives because they couldn't grow it, no second-stories on buildings because LA didn't have 'em then, etc.).
DF: Speaking of GABO, talk about his eye-popping art and your collaboration.
Patrick Meighan: I mean, GABO's a genius. He just is. I'm so grateful I got hipped to him by my editor, Ashley V. Robinson. Between Gabo and our amazing letterer, Taylor Esposito, the craft of this book is just off-the-charts. We've been at the production of this series for like two-plus years now, so part of me would've been unsurprised to see the artwork somehow get rote or stale, but the exact opposite is happening. Each issue that GABO produces is X% more vivid and striking than the one preceding it. You have no idea what amazing work he's put in the pipeline! Trust me, you're in for a treat.
DF: Patrick, before we wrap can you say anything about one of our faves, Family Guy? (For those not in the know, Patrick is a writer and EP on the animated series.)
Patrick Meighan: I've been at Family Guy for 16 years, which is more than a third of my entire existence on this planet. That's a lot of diarrhea jokes! It's been great, but also a pain in the ass to have to explain to my kids why I won't let them watch the show when all of their classmates watch the show (people: don't let your kids watch the show). It's been nice to press pause on all that and produce this comic book… which I also won't let my kids look at. Sigh. I dunno, maybe I didn't think this through very well.
Dynamic Forces would like to thank Patrick Meighan for taking time out of his busy schedule to answer our questions. She Kills Part 1 is online now for FREE at https://shekillscomic.com/. Part 2 will be live May 13, and Part 3 on June 10th. They will also be free!
For more news and up-to-date announcements, join us here at Dynamic Forces, www.dynamicforces.com/htmlfiles/, "LIKE" us on Facebook, www.facebook.com/dynamicforcesinc, and follow us on Twitter, www.twitter.com/dynamicforces.
---
NEW! 1. 11/25/2020 - STEVE SKROCE
4. 11/16/2020 - RYAN O'SULLIVAN
5. 11/16/2020 - RYAN O'SULLIVAN