ZACK KAPLAN

SEND THIS TO A FRIEND!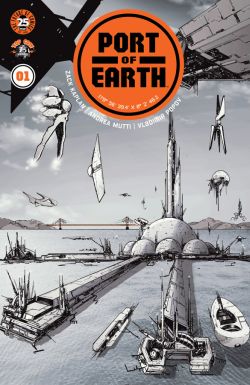 DF Interview: Zack Kaplan talks 'Port of Earth' TV adaptation
By Byron Brewer
When the Port of Earth opened (as a concept and as a comic book) in March 2018 from Top Cow and Image Comics, there was something fresh and exciting about writer Zack Kaplan's approach to this particular sci-fi series. Critics and readers concurred.
Now Skybound Entertainment is developing the property for television with Amazon Studios.
Kaplan, who will have an active part in the adaptation and hoped-for series following, took a few moments to discuss the ongoing process with DF. We are appreciative of Zack's courtesy and time.
Dynamic Forces: OK, Zack, before we get to whatever details I can pull out of you about Skybound and Amazon adapting your comic Port of Earth as a possible TV series, congratulations and tell readers how it feels. How is the reality of seeing your work slide from one medium to another?
Zack Kaplan: It's very exciting! I think the subject matter in Port of Earth lends itself beautifully to the TV medium as well, as it's both visual and dramatic, and I'm thrilled to see Skybound Entertainment and Amazon Studios think so as well. Both Eclipse and The Lost City Explorers are also in development for TV, but Port of Earth has Amazon as a network, so currently it is the furthest along and the closet to production. Having watched sci-fi outer space and alien stories on TV my whole life, from Star Trek and Battlestar Galactica to modern stuff like Expanse, so to think that Port of Earth might be added to that catalog, well, it's a very surreal thing I can't wrapped my head around yet.
DF: To go back a little, and for those who've been under a rock (and who could blame them these days, LOL), explain to readers the genesis and basic story of Port of Earth please. How did it come about and what is it about?
Zack Kaplan: Port of Earth explores the premise that aliens, called the Consortium, have come to Earth, not in war or peace, but with a business deal. The deal is that they will give us advanced technology and end our energy crisis, and in exchange we host an alien gas port here on Earth for galactic travelers. The problem is that the travelers are the customers of the Consortium, and we have a responsibility to protect them even when they come into human cities and human-alien conflicts occur. The story follows the characters surrounding a newly-formed Earth Security Agency and its struggle to protect the sovereignty of humanity over our own planetary security. It's one big metaphor for colonialism and it came from my love of history and maybe seeing one too many familiar alien invasion movies.
DF: Give us the most detailed lowdown you are able on how this adaptation took place.
Zack Kaplan: When the series first came out over a year ago, Skybound and Amazon immediately expressed interest and the process began. With the comic returning this April, we were excited to have enough pieces in place to share the news with the readers and the comics community.
DF: Will you be an active part of this adaptation, administratively and creatively? And if so, how so?
Zack Kaplan: I'm an Executive Producer, alongside Marc Silvestri and Matt Hawkins of Top Cow. If the show goes to series, I'll be in the Writer's Room, but we've brought in a seasoned TV writer to write the pilot. My current focus is on making a great comic book series and trying to help the TV adaptation in whatever way I can.
DF: Now that you are looking at Port of Earth through the lens of television, are there any changes that you would like to make to the product that may exist differently in the source material?
Zack Kaplan: I'm not in a position to discuss the content of the TV show yet.
But since I'm so mum on the TV show, I will tell you I'm locked in for the next season of the Port of Earth comic book, eight more issues this year, and I'm so excited to let readers return to that world. I've gotten a chance to really expand the world. There's new characters, new conflicts and the stakes have never been higher. I think for fans of the first two arcs, or the first season, as it were, they will be blown away by how fast-paced and intense this season gets. It's still the same Port of Earth, but it's kind of bigger, and I won't lie – I'm empowered to take this comic series deep.
DF: Wow! Exciting, thanks! … Port is the third of your comic book series to be optioned in the past two years for adaptation, following Eclipse and Lost City Explorers. Is this an arena you would like to enter in a bigger way someday (television and/or film), or do you still enjoy telling stories in comic books? Are you still a comics guy?
Zack Kaplan: I am a comics guy, and I will always be writing comics. But I'm very inspired by comic book creators like Remender, Millar, Brubaker and others who have expanded into film and TV, and yes, I very much would like to follow in footsteps like that. Those creators didn't segway, but added. They did both. Right now, I'm very dedicated to my comic book content, to telling great stories and giving fans something to look forward to.
DF: Zack, what else is going on with you project-wise, in or out of comics (or television, LOL)?
Zack Kaplan: I've got a lot of comics in the works, and I can't wait to get them out!
Dynamic Forces would like to thank Zack Kaplan for taking time out of his busy schedule to answer our questions. Stay tuned to DF News for more on Port of Earth's adaptation for television by Skybound Entertainment and Amazon Studios!
For more news and up-to-date announcements, join us here at Dynamic Forces, www.dynamicforces.com/htmlfiles/, "LIKE" us on Facebook, www.facebook.com/dynamicforcesinc, and follow us on Twitter, www.twitter.com/dynamicforces.
---
NEW! 1. 11/25/2020 - STEVE SKROCE
4. 11/16/2020 - RYAN O'SULLIVAN
5. 11/16/2020 - RYAN O'SULLIVAN