BRANDON THOMAS

SEND THIS TO A FRIEND!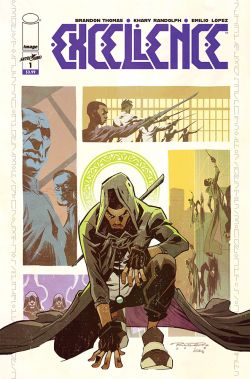 DF Interview: Brandon Thomas explores a hidden, magical world and its secret society of black magicians in 'Excellence'
By Byron Brewer
Spencer Dales was born into a world of magic. His father belongs to the Aegis, a secret society of black magicians ordered by their unseen masters to better the lives of others – those with greater potential – but never themselves.
Now it's time for Spencer to follow in his father's footsteps, but all he sees is a broken system in need of someone with the wand and the will to change it. But in this fight for a better future, who will stand beside him?
Khary Randolph (We Are Robin, Noble, Black, Tech Jacket) and Brandon Thomas (Horizon, The Many Adventures of Miranda Mercury, Noble, Voltron) ignite a generational war in the action-fantasy series, Excellence. DF wanted to know more, so we sat down with the book's scribe, Brandon Thomas.
Dynamic Forces: Brandon, big one first: What does it mean to you that Excellence is produced by a team made up of creators of color?
Brandon Thomas: I'm a firm believer in the power and potency of representation, and the kind of specificity that helps create worlds that feel real and three dimensional. Thankfully, it's getting easier and easier to find examples of this in things like Black Panther, Get Out, Atlanta, etc. -- stories that are really closely aligned with the people making them, and that being seen as an actual benefit.
Excellence is rooted in universal themes and emotions, making it a book for everyone, but if you want to dig deeper, you'll find these little moments and interactions that are culturally specific to both the black experience, and the common role black and brown characters often play within certain segments of popular fiction. That last bit will be right there on the surface, and probably resonated even more after watching Green Book win Best Picture at the Oscars.
But on top of all that, there have been for years a number of incredibly talented (and often overlooked) creators of color working in comics, and this book will do its best to assemble and celebrate some of those voices. There's still a few layers to be revealed on this end, but ultimately, this was the right time and the right project to attempt something like this, and we think it'll be another thing that sets the book apart and makes it and its point of view really special.
DF: What can you tell us about the storyline?
Brandon Thomas: It's a coming of age story that deals with generational rifts and the relationships (or lack thereof) that come to define us.
Our main character, Spencer Dales, has been born into this secret world of magic, and wants more than anything to be loved and respected by his legendary father, but a twist of fate makes that impossible. He's essentially left behind, and by the time he's finally ready to ascend within this magical order called The Aegis, the relationship between father and son has been damaged, possibly irrevocably, by years of neglect and animosity.
You add a strong dose of teenage rebellion into the mix, and you have a young man who feels like his father's devotion to this arcane order and its so-called tenets cost him everything. He looks around, and his youth and inexperience tells him that everything is wrong, and deserves to be torn down to nothing. This push towards revolution does little to repair the bond that he needs fixed more than anything else, proving that a magic wand can't solve everything.
Excellence is all about navigating this conflict, as a father and son fight to understand each other, and work to undo the damage they believe the other has done. We spend half the book engaged in these amazing action sequences from Khary and Emilio, and the other half ripping your heart out and tossing it into the street.
Very proud of the book, and it's the most emotional/personal thing I've ever done in comics, and I think it shows.
DF: What other protagonists do readers need to know about as we begin this series? Can you introduce a few here briefly?
Brandon Thomas: The main story really revolves around the relationship between Spencer, his father Raymond Dales, and another young man named Aaron Mills, who has become a surrogate son to Raymond over the years. Instead of becoming something like an older brother to Spence, the two young men became rivals for the father's love and affection, and this is at the heart of Spencer's desire to tear down The Aegis.
He essentially holds this entire organization responsible for driving a permanent wedge between him and his dad, and honestly, for doing the same thing to countless other families for decades, with their oppressive system of "traditions" that have been passed down from father to son.
This main trio ensnares a host of other characters that have important parts to play as things evolve, but emotionally, this is where a lot of the story rests, in this tension and desperate need to be accepted and understood. And in an obvious bit of irony, there is no magic spell that will fix this for them. What seems to be a relatively easy thing to accomplish in a world of magic often seems impossible.
DF: Yes, as Stan wrote, with great power comes great responsibility. How does Spencer face his responsibility, and can you hint (very non-spoilery) of how this might affect the character as the story progresses?
Brandon Thomas: Big aspect of this series is about privilege and how it's applied. For all of the things Spencer has working against him, he does maintain a lot of privilege because of who his father is. He's allowed to take things a little further, and behave a little more disrespectfully towards the higher ups than other young magicians.
So the question quickly becomes, what does he do with that slightly elevated status? There are very specific and insidious ways that dissent is squashed by The Aegis, but some of them Spencer is mostly protected from, so if he isn't willing to put it on the line, how will others? Look for him to learn quick that if he has any chance of effecting change, he's gonna have to lead by a dangerous example.
DF: Thoughts about the art of Khary Randolph and Emilio Lopez?
Brandon Thomas: Hah, how much time do we have? In short, their work helps this book live up to its name. They've been working together for a long time, but their stuff on Excellence is a clear escalation of their previous work, and it's just astounding to watch them discover new artistic heights together. They are breathing life into this book and these characters, and as amazing as their stuff is now the art I'm looking at for several issues down the road is even better.
And that's not where their contributions end either -- all of us are constantly talking and debating and theorizing on how to make every issue of the book feel like an actual event that can't be missed. A lot of great collaboration happening, and this started out as something that was very much me, but now it's some of all of us. So much love for comics and the celebration of them in every moment of Excellence.
DF: Brandon, what other projects are bubbling for you on the Thomas backburners?
Brandon Thomas: Hah, hate to be that way, but I have to get all vague with this question. Let's say that Excellence won't be my only exciting project for this year, and people should look forward to some brand new things from me, and the return of some older things that I've been sitting on for awhile. As always, I tend to develop really strong bonds with creators that I work with, so keep your eyes open for some familiar creative pairings in some new places. Should be a great year, and really looking forward to it.
Dynamic Forces would like to thank Brandon Thomas for taking time out of his busy schedule to answer our questions. Excellence #1 from Skybound/Image Comics hits stores May 8th!
For more news and up-to-date announcements, join us here at Dynamic Forces, www.dynamicforces.com/htmlfiles/, "LIKE" us on Facebook, www.facebook.com/dynamicforcesinc, and follow us on Twitter, www.twitter.com/dynamicforces.
VOLTRON VOL. 1: THE SIXTH PILOT TP
---
NEW! 1. 11/25/2020 - STEVE SKROCE
4. 11/16/2020 - RYAN O'SULLIVAN
5. 11/16/2020 - RYAN O'SULLIVAN