KYLE STARKS

SEND THIS TO A FRIEND!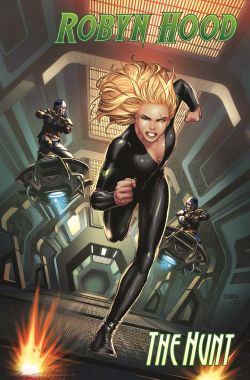 DF Interview: Kyle Starks takes readers up Rock Candy Mountain
By Byron Brewer
Eisner-nominated comic creator Kyle Starks (Sexcastle) would like to invite you to enter the magical world of hobos. Yes, that's right: hobos.
The world's toughest hobo is searching through post-World War II America for the mythological Rock Candy Mountain, and he's going to have to fight his way to get there. Lots of hobo fights. So many hobo fights.

Rocky Candy Mountain is a new action-comedy series from Image Comics full of high action, epic stakes, magic, friendships, trains, joking, a ton of hobo nonsense, and the Literal Devil. Yeah. The Literal Devil.
How did the writer/artist come up with this new, most unusual comic? DF asked him that and more.
Dynamic Forces: Kyle, Rock Candy Mountain has to be one of the most unusual concepts for a comic book I've ever seen. Tell us a little about its creation and any inspirations for it please.
Kyle Starks: I'm glad you think it's unusual -- I really wanted to do something that would stand out. At this point in my career, I think comics are best if their volume is a little louder than average. I actually came up with the idea for this comic Hobo Epic Journey while, believe it or not, watching old martial arts films. I had discovered the wuxia genre and was really interested in what the Western equivalent of that would be -- which was, by what I saw, sort of these journey films with big action and some slight supernatural or magical elements that I was really into. Coincidentally, I had been reading about hobos a lot over the prior year and it all snapped together.
DF: The period for this piece is post-World War II America, and I can imagine the era becoming as much a character in Mountain as any of the hobos. Tell us a little about what research, if any, you did for bringing this atmosphere alive … especially since you are both writer and artist.
Kyle Starks: I think someone who was more historically fascinated would make it more of a "character" than I have -- I'm not a history buff at all. That being said, the setting is very important for how the protagonist, Jackson, became who he is so I need it to feel accurate and to breathe as an environment for these characters to exist in. I know when I started, my colorist Chris Schweizer, who's done some of probably the best historical fiction comics out there (check out the Crogan series from Oni Press) was like, "Why isn't it in the 20s? That's the Golden Age of Hobos." And it is, but the war plays an important role in the story; it's a few years after, so it's more like a critical origin point.
The research I've done on that era has been great, though -- I really love late 40's early 50's America a lot more than I ever thought I would. I'm going to make a big admission here: I sort of hate period pieces. But, like, I like the challenge of making things I don't think are great entertaining, at least to me. So it's been a lot of fun. It's a lot of library trips and google image searches and a lot of cross referencing. But a great period in American history and a fun one to play in.
DF: The post-World War II period offers a lot of rich storytelling, as you say. Will we be seeing any events of historic significance along the travels of Jackson?
Kyle Starks: Yeah, like I said -- it plays an important role in the main hero's backstory, but we won't see that for awhile.
DF: What can you tell us about "the world's toughest hobo" and Jackson's search for Rock Candy Mountain (a song I learned a long time ago in elementary school)?
Kyle Starks: Jackson's a man of mystery when we start and frankly will remain that way for awhile. He's very private but also an unbelievable, maybe unnaturally good fighter and he's looking for this legendary, mythical utopia. Why? Like I said, he's a man of mystery! I'm really hoping his slowly unfolding backstory really draws readers in.
DF: What other interesting characters might we meet in Issue #1?
Kyle Starks: In Issue #1, we meet Pomona Slim, a failed actor forced to ride the rails back to mediocrity in his home town who Jackson takes under his wing. We meet Boss Flimbo, head of the Hobo Mafia and his gang. And, oh yeah, the Literal Devil who's looking for our mononymous hero. I'm going to tell you -- there are more interesting characters to meet in this series. Lots of crazy characters and escalating situations to come. Issue #1 is the roller coaster going up that crazy hill. It's setting up a wild ride.
DF: How do you work, both as writer and artist, in balancing exciting action in this book as well as bringing comedy to the mix? That is sometimes a tough tightrope to walk.
Kyle Starks: I think balancing action and comedy is really just the type of stories I like and have been come to be known to tell. It's what's in my blood. The hardest part for sure is trying to get the heart and depth that I want to be in there along with a ton of good goofs and fight scenes. I like a funny book, I like a fighty book, but I think both need to be really about something ultimately relatively serious to really be successful. All the various portions of the story need to lift the other.
DF: Kyle, any projects current or near-future that you can tell us about?
Well, I continue to be the ongoing writer and occasional artist for Adult Swim's Rick and Morty from Oni Press. I'm really proud of the work I've done over there. I think if you love the cartoon you will absolutely love the work me and the team have done. Volume 4 just came out which collects my first five issues on the series. Oni is also going to publish the book I just Kickstarted last year called Kill Them All, which they're doing in a larger format and in color. It is basically what I'm calling a reverse Die Hard. I'm really proud of that book and the color looks great and look, look, I maybe got some stuff that hasn't been announced yet and I can assure you of one thing: I think comics should be fun. And I'm making fun comics.
Dynamic Forces would like to thank Kyle Starks for taking time out of his busy schedule to answer our questions. Rock Candy Mountain #1 from Image Comics hits stores April 5th!
For more news and up-to-date announcements, join us here at Dynamic Forces, www.dynamicforces.com/htmlfiles/, "LIKE" us on Facebook, www.facebook.com/dynamicforcesinc, and follow us on Twitter, www.twitter.com/dynamicforces.
---
NEW! 1. 11/30/2020 - SKYLAR PATRIDGE
5. 11/16/2020 - RYAN O'SULLIVAN