SEAN PHILLIPS

SEND THIS TO A FRIEND!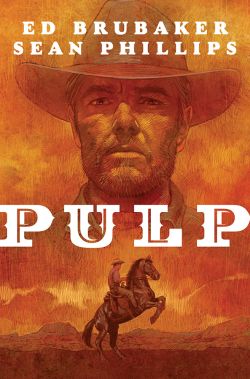 DF Interview: Sean Phillips immerses readers in 1930s crime drama with 'Pulp' graphic novel
By Byron Brewer
Max Winters, a pulp writer in 1930s New York, finds himself drawn into a story not unlike the tales he churns out at five cents a word—tales of a Wild West outlaw dispensing justice with a six-gun. But will Max be able to do the same when pursued by bank robbers, Nazi spies and enemies from his past?
The multiple Eisner Award-winning creative powerhouse behind such hits as My Heroes Have Always Been Junkies and Bad Weekend—Ed Brubaker and Sean Phillips—spin an original graphic novel tale of '30s era crime in the forthcoming Pulp. DF was fortunate enough to get a chance to get the full 411 on the OGN from talented artist Sean Phillips.
Dynamic Forces: Sean, you and writer Ed Brubaker have become one of the industry's most celebrated creative teams. What inspired your collaboration for Pulp?
Sean Phillips: After the success of My Heroes Have Always Been Junkies, we always planned on doing more OGNs, hopefully every year or so. I wanted to try a Western, something far from the usual urban stuff I do, but it didn't quite work out like that.
DF: What can you tell us about the overall story of this graphic novel?
Sean Phillips: Turns out I still have to draw a lot of urban stuff, as most of the story is set in 1930s New York, with occasional flashbacks to the Wild West.
DF: Introduce readers here to Max Winters as you can, and tell us what challenges this 1930s New York pulp writer faces – spoiler-free, of course.
Sean Phillips: The back cover text from Ed sums it up…
"What do you do when you expected to die young but somehow didn't?
"Max Winter used to have a different name and a different life, a long time ago. Now, in 1930s New York, Max survives by writing thinly-disguised tales of the man he used to be for the pulp magazines, tales of the forgotten frontier and a wild west outlaw dispensing justice with a six-gun. But as his life begins to crumble, and he watches the world move to the brink of war, with Nazis marching across Europe and in the streets of New York City, Max finds himself thinking like an outlaw again... And once he starts down that path, there may be no way back."
DF: Explain, as you can, how this western tale of Max's works within the story: A Wild West that is the writer's fiction working its way into the real-life era of bank robbers and the Great Depression. Can you tell readers about any research you did for both periods?
Sean Phillips: The Wild West parts of the story include both what really happened and Max's fictionalized version he writes for the pulp magazines.
At the start of this project, I bought a lot of cowboy comics, mostly French and Italian ones by some of my favourite European artists like Blueberry by Moebius, and Tex by a variety of artists including Victor de la Fuente, Alfonso Font and Jose Ortiz. Along with some classic Western DVDs, like the Clint Eastwood spaghetti Westerns and Stagecoach. Never got around to watching any of them though, and most of the comics didn't get looked at either! It was much easier to figure out what things looked like as I drew the pages than to immerse myself in lots of other comics or films.
For the 1930s New York sections, I luckily already had a lot of books of old photos by photographers such as Berenice Abbott and Vivian Cherry. They were very useful.
DF: This is really different from anything Ed or you have turned out before, IMHO. Tell us a bit about how you used your artist's toolbox to create the atmosphere of Pulp: moments of adventure, thrilling moments, and moments of calm. How do you convey that?
Sean Phillips: Pulp looks like a lot of my other recent comics, especially the last Criminal series. The only conscious change I made to my stuff was for the cowboy sections. The art there is a lot more textured than I would usually do, mostly because of the natural materials I had to draw: old wood and rocks and mountains. I had a specific color treatment in mind for those pages and tried to explain it to Jake as best as I could. He ran with my few suggestions and did some really interesting color work for this book, I couldn't be more pleased with his work!
DF: You asked Ed for a western and you got one, but surrounded by a world on the brink in the 1930s. Which of the many characters in the OGN did you really enjoy drawing … or dread? Was there a set piece you particularly liked, or one that was challenging to translate to the page?
Sean Phillips: The two main characters, a couple of men in their 70s, made a nice change from the usual young, chiseled leads I draw a lot of. The biggest challenge was drawing horses! What was I thinking?
DF: Talk about your collaboration with writer Brubaker, if you will, and tell us how this teaming has translated into so many diverse stories, Pulp being different from almost everything heretofore.
Sean Phillips: We were very lucky to find each other! We were first put together when I started inking Michael Lark on Scene Of The Crime. Thanks to Shelly Bond for that! Then we started on Batman: Gotham Noir in 1999, but I had to put that on hold for a year or so to draw Wildcats, so I didn't finish it until 2001. By then, Ed was writing the regular Batman book too. Scott Dunbier, who was my editor on Wildcats, put us together on Sleeper and the rest is history.
I did a few years drawing other stuff, including Marvel Zombies. After the first volume of that, Ed asked if I'd be interested in a creator-owned book with him. The financial success of Marvel Zombies meant I could take a risk on Criminal as it only paid backend. Luckily Criminal was successful enough for us to continue and we've worked almost exclusively together ever since. Ed writes stuff I like to read and draw, and he likes my drawings. We've got an exclusive deal with Image where they'll publish whatever we want, so there's no need to go elsewhere.
DF: Sean, I realize the work that must be going into Pulp. But if you can, tell us what else, inside or outside comics, you might be working on.
Sean Phillips: Just before Pulp, I painted another bluray cover for Criterion, for the classic movie The Great Escape. I've done about thirty covers for different DVDs over the last few years and it makes a nice change from drawing comics. Comics take up most of my time, around 250 pages a year, plus covers, so I don't have much spare time for anything else. Nothing else planned at the moment apart from a new series with Ed starting this summer.
Dynamic Forces would like to thank Sean Phillips for taking time out of his busy schedule to answer our questions. The Pulp OGN from Image Comics was slated to hit stores on May 20th. Due to ramifications of the coronavirus pandemic, this date may have changed. Keep watching DF News and comics-related social media for more information.
For more news and up-to-date announcements, join us here at Dynamic Forces, www.dynamicforces.com/htmlfiles/, "LIKE" us on Facebook, www.facebook.com/dynamicforcesinc, and follow us on Twitter, www.twitter.com/dynamicforces.
THE ART OF SEAN PHILLIPS HC - SIGNED BY SEAN PHILLIPS AND EDDIE ROBSON
HEART OF THE BEAST HC 20TH ANNIVERSARY EDITION - SIGNED AND REMARKED BY SEAN PHILLIPS, JUDITH DUPRE, AND DEAN MOTTER
THE COMPLETE RAISE THE DEAD TRADE PAPERBACK
---
NEW! 1. 11/25/2020 - STEVE SKROCE
4. 11/16/2020 - RYAN O'SULLIVAN
5. 11/16/2020 - RYAN O'SULLIVAN