JOE HENDERSON & LEE GARBETT

SEND THIS TO A FRIEND!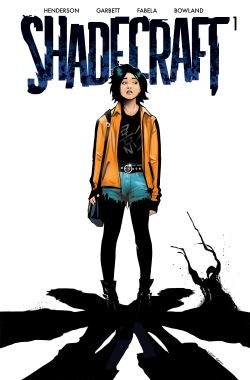 DF Interview: Joe Henderson & Lee Garbett transport readers into an abyss of dark shadows in 'Shadecraft'
By Byron Brewer
Zadie Lu is afraid of her own shadow. She's a teenager, so she REALLY should have grown out of it by now, right? But something weird is happening in her small town. Zadie could swear the shadows are coming to life. Watching her. Trying to KILL her. But how do you fight something you can't even touch? And how does all of this tie into her FAMILY, of all things?
From the creative team that brought you the Eisner-nominated Skyward comes Shadecraft, written by Joe Henderson (showrunner of Netflix's Lucifer) and illustrated by Lee Garbett (Captain Marvel). Join Zadie Lu as she ventures into the shadows to face her fears and discovers a legacy she never knew she had.
DF wanted to do the deep dive into this one, so we spoke with both Joe Henderson and Lee Garbett to bring the full 411 to you!
Dynamic Forces: Joe and Lee, after the awesome reception of Skyward, how did you decide to again team on the coming series Shadecraft? Is this something that has been brewing on the backburner a while?
Joe Henderson: We always planned on doing a second book (and more)! The only delay was that I felt so much pressure to make sure the story was a worthy follow-up to Skyward that it took a lot longer than we expected to be ready. But when I finally found the heart of this story… oh man, I couldn't STOP writing.
Lee Garbett: Yeah, Skyward was just the start. We love working together and have plans for much more. There was that 'difficult second album' cautiousness when it came to what our next book might be. The reception for Skyward was so positive, we wanted to make sure we had something strong and vital as a follow up. As Joe said, once we found Zadie and the world of Shadecraft, it just wanted to come alive.
DF: Joe, tell readers the inspiration for this … horror story? Coming of age story? Family drama? Okay, define Shadecraft and THEN tell us your intellectual muse.
Joe Henderson: It comes from two places. One, I'm the middle of two brothers who were, to put it simply, much cooler than I was. I always felt like I was living in their shadows, always trying to shine my light, as it were. That sibling rivalry and struggle with insecurity is something I think so many people relate with, ESPECIALLY in your teens.
Secondly, I've always been obsessed with shadows. From when I was a kid, and I swore they were following me, or there were monsters in them. To my adulthood, when I realized there aren't imaginary dangers in shadows… but all too real dangers can lurk within them. And now, to my life in parenthood, when I get to make shadow puppets with my kids… but they won't go downstairs without me because they're afraid of the dark. Like I was.
I don't know about 'muse', but what inspires my projects is when I can find a simple concept that has inherent fun and danger. Skyward's low gravity had wish fulfillment – 'what if you could fly?', mixed with horror – 'if you jump too high, you never come back down'. Similarly, shadows conjure wonder and terror for everyone's imaginations.
That's a great canvas to paint on.
DF: Can you give us the general storyline for the book?
Joe Henderson: Zadie's story is one of confronting the shadows inside and out. She's lived in her older brother's shadow her entire life. He's that kid who always had it easy – brilliant, handsome, charming, you name it, that's him. Any younger sister has no choice but to live in the shadow of a star that shines that bright. Their relationship is the biggest part of the book, and integral to Zadie's journey. He's a big part of her figuring out why these shadows are after her, and how she can fight back.
DF: I take it Zadie's family heritage comes into play in some way in Shadecraft. Will we be meeting any of her family other than her older brother as part of the story? If so, can you throw a little spotlight on a few of them here?
Joe Henderson: As much as this is a sister/brother story, this will definitely be about the entire Lu family. We'll examine how everyone's been living in the shadows of different familial expectations, and yes, whether they've kept a secret or two from their children…
DF: Lee, what is the most enjoyable aspect for an artist of creating a brand new book, building a brand new world? Did you get to design the characters for Shadecraft?
Lee Garbett: It's daunting and exciting. Character design is one of my favorite things to do. I design the looks of our characters but Joe's writing feels so alive it's not hard. I knew how Zadie looked by the first couple of pages. I share my rough concepts with Joe and if we're both into it (and so far, we've always been on the same page) then we're good to go.
The world building is one of the best parts of comics. This world is very much our own real world so it was more a case of working out how I was going to manifest the living shadows and how they'd interact with their environment.
DF: How do you utilize your artist's tool box, as it were, to dictate the style of art sections of the book have? I know the script has indicators of drama, calm, action etc. – or at least I am assuming it does? But are there any certain things you do in panel layout, "acting" with the characters, etc. to bring that home to the reader? And does that change from work to work, from book to book for you?
Lee Garbett: The scripts don't tend to indicate drama, calm, etc, as a separate tonal note. It's in the script itself, in the scene or the dialogue. As the artist, you have to be both the director and actor of that scene, work out what angle would best sell that moment and then decide the emotion and expression that gets that beat across. The layout stage is the hardest but most creative part as there are so many options to choose. The acting is probably my favorite. I love to try and make those beats land. Joe gives me a lot of comedy stuff to play with too, which are rare in a lot of comics. I eat that stuff up because, not only is it fun, it helps the character become more rounded and likable to the reader and makes us bond with them so much more.
This general approach doesn't change, book to book. It's the template for all good storytelling, really – but I will definitely change the art style to be a little more goofy for a comedy moment and get a little more serious and realistic for the scarier moments, for sure. It's all in service to whatever is the best way to tell the story.
DF: Was there a character that was difficult to design, or conversely one that you were surprisingly pleased with in Shadecraft? A difficult or incredibly pleasing set piece?
Lee Garbett: Zadie was pretty much there from the outset but the living shadow characters that would interact with the world, going from flat 2D to '3D' beings – and go up against other shadows – was a head scratcher. I decided to do 90% of it on the board, building up from a light inkwash to give it levels and depth and then I tweaked that a little in photoshop to add more darkness or light to pick out a face. It's been a challenge but in the best way. Getting inspired is what makes it all so much fun. Especially if, going in, I don't have a clue how I'm going to make it work!
There's a scene in issue #1 where we have some 'shadow on shadow' action and that was incredibly tough to balance but it's one of my favorites from the whole arc now. Once the fabulous Antonio Fabela put the colors down, I knew we were going to be okay.
DF: Lee and Joe, what other projects current or near-future, inside or outside comics, of which you are a part can you tell readers about?
Joe Henderson: I'm co-showrunning the final season of Lucifer. We've got a couple of episodes left to film, and can't wait for people to see what we we've done – I am so proud of how we are ending it! And then I have a couple of TV and movie projects that are floating around; nothing I can announce right now, but lots of exciting possibilities. And, of course, keeping Lee busy so that no one else steals him from me!
Lee Garbett: I'm still waiting to be cast in the Lucifer show. With only a couple of episodes left, I guess it's any day now, right, Joe?
I've just wrapped an arc of Captain Marvel and right now I'm very busy with Shadecraft. I do have a couple of projects in the works (the ol' "I can't talk about it yet" stuff) but Joe and I are always cooking and already have another book we're dying to get going on as soon as we're able.
Dynamic Forces would like to thank Joe Henderson & Lee Garbett for taking time out of their busy schedules to answer our questions. Shadecraft #1 from Image Comics is slated to be in stores March 31st!
For more news and up-to-date announcements, join us here at Dynamic Forces, www.dynamicforces.com/htmlfiles/, "LIKE" us on Facebook, www.facebook.com/dynamicforcesinc, and follow us on Twitter, www.twitter.com/dynamicforces.
---
NEW! 1. 05/09/2021 - JOE HENDERSON
3. 05/03/2021 - DECLAN SHALVEY
5. 04/26/2021 - PORNSAK PICHETSHOTE