DAVID PEPOSE

SEND THIS TO A FRIEND!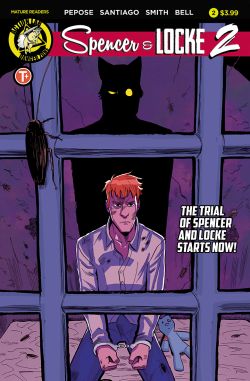 DF Interview: David Pepose has our heroes in handcuffs in 'Spencer & Locke 2' #2
By Byron Brewer
The trial of Spencer and Locke starts now! After turning the city upside-down to stop Roach Riley, our hard-boiled heroes suddenly find themselves on the wrong side of the law. But what happens when Roach crashes their hearing with a sixty-ton tank?
From writer David Pepose and artists Jorge Santiago Jr. and Jasen Smith comes the trial of … wellll, if not the century at least the week of its publication, "The Trial of Spencer and Locke"!
To get the full 411 for Spencer & Locke 2 #2, DF secured visiting rights to another inmate and sat down for a monitored interview with Prisoner 328437, aka scribe David Pepose.
Dynamic Forces: David, before we're even out of the gate, as we say here in Kentucky horse country, for those who've been living under a rock (and who could blame them these days), please explain the concept behind your creation of Spencer & Locke.
David Pepose: The easy elevator pitch for Spencer & Locke is "what if Calvin and Hobbes grew up in Sin City?" It's the story of hard-boiled Detective Locke and his unlikeliest of partners — his seven-foot-tall imaginary panther, Spencer — as they solve the most senseless of crimes while grappling with the scars of their traumatic pasts. It's a little bit True Detective, a little bit Fight Club, and 100 percent a love letter to the classic works of Bill Watterson and Frank Miller. And with our sequel, we're taking the Fables approach across the funny pages — no comic strip is safe, with pitch-black parodies of Beetle Bailey, Brenda Starr, Hi and Lois, Dilbert, Marmaduke and more.
DF: How did you enter into this homage/send-up of the Sunday newspaper "funnies"? Was reading the comic strips a big thing in your house growing up, as it was in mine?
David Pepose: Absolutely — I was such a religious reader of the St. Louis Post-Dispatch's comics section as a kid that I actually wound up pursuing a career in journalism as a crime and politics reporter. Calvin and Hobbes was a particular favorite of mine — my mother used to cut out the strips from the newspaper and tape them all over the house. And that was a big inspiration for our sequel — all these different comic strips lived on the same page of the newspaper, so why wouldn't they all exist in the same universe as well? Just like the comics section had all these different flavors of stories, we were able to mix together all these different archetypes and characters together in our sequel.
DF: Tell us what is going down with our detectives in Spencer & Locke 2 #2 (in a non-spoilery manner, of course).
David Pepose: Things haven't been great for Spencer and Locke since the fallout of their last investigation, but the stakes have only gotten more dangerous since a murderous former soldier named Roach Riley has blown into town. Without spoiling too much, Spencer and Locke's first encounter with Roach has shown them just how dangerous an enemy he is, and they're tearing the city's underworld apart to bring this killer to justice before the bloodshed gets any worse. Unfortunately, as our previews have shown, Locke's colleagues in the police department have other ideas…
DF: How must it feel to a man like Locke to be on – or even be perceived to be on – the wrong side of the law?
David Pepose: Honestly, it's kind of incredible this hasn't happened sooner — while Locke is absolutely a relentless pursuer of justice, I wouldn't necessarily say he holds a lot of respect for actual rules, you know? (Laughs) Locke is defined by his intensity and his directness — all coming from that deep well of rage that his imaginary friend Spencer barely keeps in check — and that sort of attitude isn't tolerated by polite society for too long. That's sort of the sad irony here — the qualities that make Locke such a good detective might be the same qualities that kill his career as a cop altogether.
DF: We've talked of this before, but for the newly-arrived tell us about Roach Riley, his inspiration and what's going on with him in this issue.
David Pepose: If Spencer and Locke are our pitch-black parodies of Calvin and Hobbes, then Roach Riley is our nihilistic analogue for Mort Walker's Beetle Bailey. I see Roach as Locke's mirror opposite — they're both creatures forged by trauma, but whereas Locke has had an entire lifetime to form his own unorthodox coping methods, Roach has sustained the same amount of horror in a much more accelerated time frame, which has made him bigger, stronger and even more dangerous than our heroes could ever imagine. We'll see Roach's violent mission escalate in a much bigger way in issue #2, and Spencer and Locke are going to have to dig deep inside themselves if they hope to survive.
DF: Talk about the wonderful art of Jorge Santiago Jr. and Jasen Smith.
David Pepose: What can I say about Jorge and Jasen that hasn't already been said? They are just a tremendous dream team to work with — Jorge's artwork is just so expressive and dynamic, and he's only upped the ante with this sequel. (He's got a couple of incredible action sequences in this issue that I'm excited for readers to pick up.) And Jasen's colors just elevate Jorge's already masterful artwork to the next level — in particular, this issue is fun because we actually get to see Spencer and Locke operating in the daytime, dealing with the outside world in a way that our first series only hinted at. Our heroes are at their best at night, but Jasen's going to show what happens to them when all their secrets are laid open in the sunlight for everyone to see.
DF: David, what else is on the Pepose backburner awaiting to be turned up to a boil?
David Pepose: I've got a few other projects in the hopper right now, and readers might hear about some of them sooner rather than later. Without spoiling too much, there's such a wide range of genres that comics all do so well, and it's been incredibly exciting getting to explore them. Of course, crime is still my first love, so fans of Spencer & Locke will definitely find lots to enjoy about my next few books as well. And who knows — if the demand is there for Spencer & Locke 2 and readers preorder our series, who's to say there can't be more adventures for these unlikely heroes down the line? (Laughs)
Dynamic Forces would like to thank David Pepose for taking time out of his busy schedule to answer our questions. Spencer & Locke 2 #2 from Action Lab hits stores May 29th!
For more news and up-to-date announcements, join us here at Dynamic Forces, www.dynamicforces.com/htmlfiles/, "LIKE" us on Facebook, www.facebook.com/dynamicforcesinc, and follow us on Twitter, www.twitter.com/dynamicforces.
---
NEW! 1. 11/25/2020 - STEVE SKROCE
4. 11/16/2020 - RYAN O'SULLIVAN
5. 11/16/2020 - RYAN O'SULLIVAN