KEVIN EASTMAN

SEND THIS TO A FRIEND!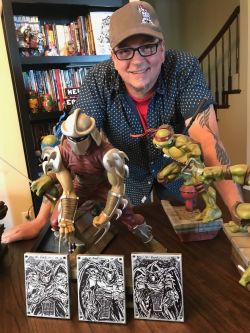 DF Interview: Kevin Eastman artwork on the International Space Station! Shredder in Spaaa-aaace!
By Byron Brewer
Late last year, original artwork illustrated by Teenage Mutant Ninja Turtles co-creator Kevin Eastman depicting the character Shredder was launched into space to reside on the International Space Station, thanks to California aerospace company, Made In Space.
The Braskem Recycler is designed to turn plastic waste and 3D printed objects into the type of feedstock that serves as the raw material for the Made in Space Additive Manufacturing Facility, already on the space station. A shredder is one of the features of this facility and now a Kevin Eastman space flight-approved, sharpie-on-metal illustration of the TMNT character Shredder has been attached to the structure of these devices.
Two of the illustrations will remain on the ISS and one will be returned to Kevin.
DF was honored to have an opportunity to sit down and chat with Kevin Eastman about his artwork orbiting the Earth. This is what he told us.
Dynamic Forces: Kevin, I know that your iconic co-creations, the Teenage Mutant Ninja Turtles, have accomplished much and on several platforms, as have you. But what does it feel like to now have three pieces of your original artwork residing on the International Space Station? And – AND – one of those trio will be returning to you!
Kevin Eastman: Even putting into perspective all the unimaginable awesomeness the TMNTs have accomplished over the last thirty-six years, as well as the blessing bestowed upon me as you mention – to have one of the characters I co-created orbiting Earth on the ISS as I write is truly mind-blowing! What an incredible honor!
DF: Tell us how this all came about, if you would, and why the Ninja Turtles' arch-foe Oroku Saki (aka The Shredder) was chosen for the art pieces (although I have a feeling the telling of the first part will reveal the second).
Kevin Eastman: It is solidly rooted in the incredible fans, whose love of the TMNT has such a special place in their hearts, and an impact on their lives. I was the same growing up: superheroes, and later on the artists and writers who created them, had a huge importance in my choices in life. I would never have dreamed about following them in a career in comics without them – and in turn the outreach from the Made in Space team to me.
And yes, you are one hundred percent correct – the nickname for the device – the shredder – was the direct link to the art that would be created! How cool is that?
DF: What can you tell us about working on the project with Michael Snyder and the Made in Space people? And is Michael a fan of the Teenage Mutant Ninja Turtles?
Kevin Eastman: Beyond wonderful! Michael and his whole team had already accomplished so much in their area of expertise, creating incredibly important technological advances and improvements to our space program, to be included in the vision for one of their ideas was overwhelmingly special to me.
Michael grew up as a huge fan of the TMNT – he sent me some REALLY wonderful snapshots of him as a child in a TMNT Halloween costume, and of some of his early collection of TMNT toys! Cowabunga!
DF: Tell us about the execution of the art pieces themselves and where their new homes will be.
Kevin Eastman: The art was designed and created to fit on NASA-approved four-by-six-inch aluminum plagues, and I used medium and chisel tip black Staedtler pens for most of the art, with white highlights using a Posca acrylic white pen. They were pre-drilled with holes specifically measured to be mounted on two high tech "shredders" already in place on the ISS.
DF: When the third piece of your original art, after orbiting the third rock from the sun on the International Space Station, returns from space to terra firma, where in Kevin Eastman Studios will be its area of proud placement?
Kevin Eastman: Oh man – great question! I hadn't thought about that yet! I think I should create a special plaque or frame where in could hang in my studio next to my other precious treasures! Michael mentioned it is possible it could be back sometime in [the spring] and we've promised to have a proper lunch/meeting – as we've only talked on the phone so far, we haven't had the chance to meet in person yet. I'm really looking forward to meeting him.
DF: Let's hop in the Wayback Machine, Kevin. Tell readers about your 1984 co-creation of the Ninja Turtles, The Shredder and the mythos that now has become iconic.
Kevin Eastman: It was completely born out of the love and passion of two kids that dreamed of being Jack Kirby when they grew up – Peter Laird and myself. Starting with some joking about "If Bruce Lee was an animal – what would be the silliest animal he would be?" lead to developing the characters and origin story, to illustrating it, and shortly thereafter the self-publication of the first issue.
The Shredder was specially created while doing dishes with Peter one night, when I was drying off a rectangular metal cheese grater... we both agreed an evil villain with the ability to shred you – would be quite sinister indeed!
It is amazing what can happen with a couple of buddies having fun and dreaming big!
DF: As said, the TMNT have accomplished much and on several platforms over the decades. What is happening exciting now for the characters and what can fans look forward to in the not-too-distant future?
Kevin Eastman: On the entertainment side – still enjoying the ongoing TMNT series Rise of the TMNT and hoping to be included in the development of a new film, if that edges forward. And www.kevineastmanstudios.com is where to get all the latest and the greatest news and information [on Kevin].
DF: Kevin, aside from taking over Earth's little acre of our Solar System with your great art, what are you busy with these days?
Kevin Eastman: Always something – drawing and creating remains the center of my universe next to family. After wrapping up one hundred issues of the TMNT with Tom Waltz and the incredible team at IDW, Tom and I are working on a new TMNT-based limited series that will be out later this year called The Last Ronin.
My other main passion project is a new comic series "set in the world of comics" called Drawing Blood, which I created with David Avallone and am producing with main series artist Ben Bishop, and related series Radically Rearranged Ronin Ragdolls with Troy Little.
There are a few other things in the pipeline, but I'll have to wait on sharing that news for another chat – but creating, writing and drawing are a childhood dream I feel blessed to build my life around after nearly forty years in the business. What a gift!
Dynamic Forces would like to thank Kevin Eastman for taking time out of his busy schedule to answer our questions. Stay tuned to DF News for more on this real-life cosmic comics story!
For more news and up-to-date announcements, join us here at Dynamic Forces, www.dynamicforces.com/htmlfiles/, "LIKE" us on Facebook, www.facebook.com/dynamicforcesinc, and follow us on Twitter, www.twitter.com/dynamicforces.
TEENAGE MUTANT NINJA TURTLES #100 DYNAMIC FORCES EXCLUSIVE VARIANT SIGNED AND REMARKED WITH A TMNT CHARACTER HEAD SKETCH BY KEVIN EASTMAN
TEENAGE MUTANT NINJA TURTLES #100 DYNAMIC FORCES EXCLUSIVE VARIANT SIGNED BY KEVIN EASTMAN
TEENAGE MUTANT NINJA TURTLES #100 DYNAMIC FORCES EXCLUSIVE VARIANT BY KEVIN EASTMAN CGC GRADED
TEENAGE MUTANT NINJA TURTLES: SECRET HISTORY OF THE FOOT CLAN #1 DYNAMIC FORCES EXCLUSIVE VARIANT SIGNED BY KEVIN EASTMAN
TEENAGE MUTANT NINJA TURTLES: THE SECRET HISTORY OF THE FOOT CLAN #1 DYNAMIC FORCES EXCLUSIVE BY KEVIN EASTMAN
TMNT: JENNIKA #1 DYNAMIC FORCES EXCLUSIVE SIGNED BY KEVIN EASTMAN
BATMAN TEENAGE MUTANT NINJA TURTLES #1 1:50 RETAILER INCENTIVE COVER BY KEVIN EASTMAN!
---
NEW! 1. 11/25/2020 - STEVE SKROCE
4. 11/16/2020 - RYAN O'SULLIVAN
5. 11/16/2020 - RYAN O'SULLIVAN